It was an all-Connecticut sweep last weekend in ECAC Hockey, as Quinnipiac and Yale were the only two teams to finish with four points.
The Bobcats have been one of the hottest teams in the country, while the Bulldogs recovered nicely with wins at Dartmouth and Harvard after taking just one point at home two weeks ago.
Saturday's win against the Crimson was the first game featuring the newly created Tim Taylor Cup, which will be given to the most outstanding player each year at the Harvard-Yale game at the Bright-Landry Center.
The award is in honor of the late Tim Taylor, who was a member of the Harvard class of 1963 and served as a captain of the 1962-63 ECAC championship team. He returned to his alma mater as a freshman coach and assistant varsity coach to Bill Cleary before winning 337 games as head coach at Yale from 1978 to 2006.
Taylor passed away on April 27, 2013, just weeks after the Bulldogs won the program's first national title.
Sophomore goalie Alex Lyon was the inaugural award winner following a 33-save night in Yale's 2-1 win over the previously undefeated Crimson.
"It was cool for me to see the Tim Taylor award go to a goalie, seeing how I was one of Tim's goalies," said Yale coach Keith Allain, who played for the Bulldogs from 1976 to 1980. "It was more important to me that it went to a Yale player, as it was my understanding that it went to a player on the winning team."
The Bulldogs beat Harvard without injured forwards John Hayden or Nicholas Weberg, each of whom played Friday at Dartmouth. As a result, defensemen Matt Killian and Dan O'Keefe were in the lineup at forward against Harvard.
Killian saw time up front in the NCAA playoffs two years ago, while it was only the second career game for O'Keefe, a sophomore.
"It says a lot about our team character," Allain said of shuffling the lineup. He did not have a timetable for when either Hayden, Yale's leading scorer, or Weberg would return.
Still, the Bulldogs should be in good shape thanks to Lyon and a steady defensive group. Lyon had a solid freshman season and looks to have recovered nicely following getting pulled after one period last Saturday against St. Lawrence.
"I think as a former goalie, I understand the importance of goaltending," Allain said when asked if he took any extra pride in watching Lyon develop. "But I take pride in all our players getting better."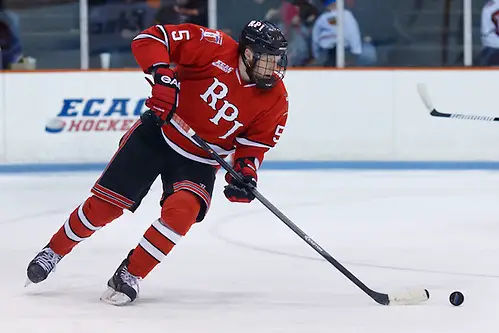 Next man up for the Engineers
If you were a healthy skater on Rensselaer's roster, you were in the lineup Tuesday night at Connecticut.
Coming off a home split in conference play, the Engineers faced the Huskies without injured defensemen Luke Curadi and Chris Bradley, and forwards Milos Bubela, Zach Schroeder and Lou Nanne.
Curadi, Bradley and Bubela missed Saturday's game against Quinnipiac, while Schroeder and Nanne each left that game with injuries. Forward Matt Neal and defender Bradley Bell both played Tuesday after sitting out Saturday. But the Engineers lost forward Mark Miller midway through Tuesday's 1-1 tie with the Huskies, putting RPI down another top-six forward.
"It's our third game in five nights," RPI coach Seth Appert said. "By the middle of the second period we were probably down four of our top eight forwards and two of our top four defensemen. We had a real makeshift lineup in there tonight. Even though we didn't get a win I thought it was good to see our guys battle to get a tie."
The Engineers have a timely off-weekend coming up, and their next game is Tuesday against New Hampshire. Appert said Bubela and Curadi should be back against the Wildcats, and Bradley is probable, while Schroeder and Nanne are doubtful.
Part of RPI's makeshift lineup included defenseman Craig Bokenfohr centering the fourth line.
"It's kind of exciting for some of the guys," said Scott Diebold, who had 33 saves against Connecticut. "When 'Bokes' goes out at center and he makes a good play in the corner and you're not used to seeing him there, it gets the guys going."
Bokenfohr, who finished the night 2-for-5 on faceoffs, had played only one shift at forward for the Engineers earlier this season at Denver before getting a game misconduct.
"I think the only advice I gave to him before the game was, 'Let's see if we can get through the first shift and we'll take it from there,'" Appert said. "But I think it's a great example. … We pulled him aside and said, 'We need you to play center' and he just steps in and does it. I think that says a lot of about the locker room. I like the mentality that we have as a group; we just have to keep getting better."
Saints, Big Red rack up the penalty minutes
There's was plenty of action after the final horn of Saturday's Cornell-St. Lawrence game, a 4-2 win for the Saints. The teams combined for 205 penalty minutes in the game, with 177 as a result of a post-whistle melee.
St. Lawrence captain Gunnar Hughes was given a pair of disqualification penalties for fighting and spearing, while senior Chris Martin was given a disqualification for fighting. Sean McGovern, Eric Sweetman and Tommy Thompson each received misconducts.
For Cornell, Matt Buckles and Holden Anderson were given a misconduct and disqualification penalties, while Jake Weidner, Jeff Kubiak and Cole Bardreau each got a misconduct.
Per NCAA rules, Martin, Buckles and Anderson will sit out Friday's games, while Hughes will miss the next three games. The ECAC will not issue any additional penalties, according to a league spokesman.
Union's Shier feted for bravery
Union snapped a five-game winless streak with a 6-1 win over Princeton on Saturday, but a pregame ceremony was more important than anything on the ice.
Union freshman Kevin Shier was awarded a medal for helping to save the life of New York Army National Guard Capt. Timothy Neild on Dec. 9, 2013.
Shier and his father were on their way to Union for an official visit when they noticed Neild's pickup truck on fire on the side of Interstate 90 in New York.
They pulled over and, along with several other bystanders, pulled an unconscious Neild to safety from his truck, which had collided with a bridge. Shortly after pulling him free, the truck erupted in flames.
Shier was given the Conspicuous Service Medal, which is the second-highest award presented in the name of the governor of New York, and is usually given to members of the New York Army National Guard.
Ken Schott of the Schenectady Daily Gazette has several video interviews here.
Around the league
• Quinnipiac's six-game winning streak is the second-longest streak in the nation behind Michigan Tech's 10-game winning streak. Travis St. Denis scored the game-winning power-play goal Friday against Union, and then had his first career hat trick in a 3-1 win at RPI on Saturday.
• Former Union goaltender Troy Grosenick had quite the NHL debut for San Jose debut Sunday. Grosenick set an NHL record for most saves in a debut in the Sharks' 2-0 win over Carolina. Grosenick, who played at Union from 2010-2013, finished with 45 saves, including this highlight-reel stop.
He got his second start of his NHL career Tuesday in a 4-1 loss to Buffalo.
• St. Denis (player) and Lyon (goalie) each earned weekly honors from the league, while RPI defenseman Jared Wilson was named rookie of the week. Wilson had the game-winning power-play goal Friday against Princeton and added an assist Saturday.