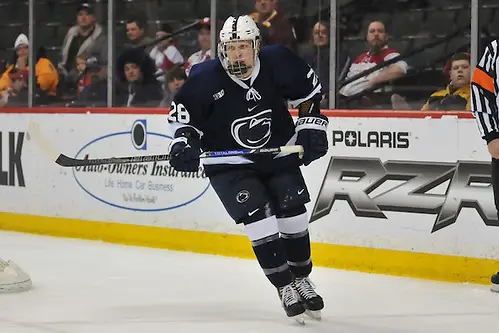 So far during this young college hockey season there have been numerous surprises, and the Big Ten is no exception.
One story line from the "nobody saw it coming" department is Penn State and its 6-2-2 start. The Nittany Lions' season is only 10 games old and they're already close to matching their win total from last season, which ended with an 8-26-2 record.
Penn State is also coming off of a weekend split with then-No. 4 Massachusetts-Lowell.
Oh, what a difference a year makes. So what has propelled this year's Penn State squad to its fast start?
"The differences have come from us, everything was very new to us last year," coach Guy Gadowsky said. "Just getting in this building was very new, playing in any conference was very new, the first games in the Big Ten were really new. Everything it seemed we were doing was new and now I think the whole program is more comfortable.
"We're comfortable in this building [Pegula Ice Arena], we're comfortable in seeing referees now. Last year was the first time we saw referees on a consistent basis from one conference. There's a much more familiar feel with what we're doing now."
Even though Penn State hasn't played any conference games yet, that comfort level is paying off in victories.
"If someone said that was going to be our start, I would have said that we must have retained a lot of our lessons from last year well," Gadowsky said. "I think that's what happened. I still think that we obviously have a long way to go, but we've certainly started a lot further ahead this October than we did last October, and that's good to see."
One of the bright spots this year has been the play of senior forward Taylor Holstrom, who is tied for the national points lead with 16 points. Holstrom's 13 assists give him sole possession of the national lead in that category.
"He's comfortable working extremely hard, because that's what he's doing," Gadowsky said of Holstrom. "His offensive statistics are excellent, but really his all-around game is probably better than his offensive statistics. He's working extremely hard and he's getting rewarded because of it."
Penn State's offensive numbers are solid. The Nittany Lions are tied with Minnesota State for No. 2 in the nation in goals per game, averaging 3.8. The defense is also above average, giving up 2.2 goals per game, tied with conference foe Minnesota for No. 16 in the country.
That doesn't mean Gadowsky is satisfied.
"We still have a lot of areas to improve on," he said. "There's a lot of work to do, and sometime you pick and choose as to where you have to spend your time. We spent some time at the start of the year on our penalty kill and really haven't addressed it much because of other needs, but if you look at our penalty kill numbers obviously those are going to have to improve greatly if we want to have success against the teams in the Big Ten."
Penn State's penalty kill is working at a 23-of-30 pace, which makes it No. 49 in the nation. A fact that lessens the blow of that stat is that the Nittany Lions average only about eight penalty minutes per game. Only three teams average fewer.
The Nittany Lions have gotten off to a hot start, but that doesn't mean they're getting arrogant. When asked what a road win over a top-five team meant for the image of the young program, Gadowsky said, "that's for other people to decide."
When the topic turned to the upcoming games against Michigan, he referred to the Wolverines as "one of the best programs in the country."
"Every time you go play the University of Michigan at Yost Arena, it's a special occasion," he said. "It's something that I think our guys are very excited about."
Berenson knows that Michigan needs to improve
Another surprise in the Big Ten: Michigan's slow start out of the gates.
The Wolverines are 4-5 after sweeping American International last weekend.
When asked what needed to be improved going forward, coach Red Berenson responded with a laundry list, but he insisted that he truly believed there is a brighter future ahead.
"I'm optimistic because, obviously, our best hockey should be ahead of us," he said. "We got off to a bumpy start, whether it was a combination of scheduling or injuries, and I'm not using excuses. We played five of the first seven games on the road and I think we ended up with one win on the road and one win in two home games."
According to Berenson, the problem has been that it has been hard for Michigan to fire on all cylinders in one game; something has always been off so far this year.
"We played pretty well in some games and then we showed signs that we couldn't score," Berenson said. "We showed signs that we give up too many goals against. We showed signs that our special teams weren't that strong — one night we looked pretty good on the penalty kill and the next night we gave up four. So I would say the big thing about our team is that we've been inconsistent."
The veteran coach said that a solution could be rather simple: Give up fewer shots.
"It starts with scoring chances against; part of that is your penalty killing," Berenson said. "We've got to be tougher and stronger on the penalty kill. It could be your goalie, it could be your shot blocking and it could be your defensive-zone faceoffs. We are working on that, so we know our penalty killing has to be better. And we know that our five-on-five hockey has to be better. After last weekend we might be close to the positive side, but most of our team were in the minus column after the first seven games. You can't expect to win games if most of your players are minus.
"We're working on being better with the puck and better without the puck, but if you look at our goals against, there are just too many goals against," he added. "Our average is still over three, I believe. We can't win giving up over three goals per game."
Michigan's offense broke out for 11 goals in two games against American International last weekend, but before that it could have been described as putrid.
"If you look at our offense, it's not good enough, either," Berenson said. "After the first seven games, we had scored 19 goals and given up 27. That's not going to work and we'd only scored three goals on the power play and given up six, plus two short-handed goals. We were negative in all the categories. But as a coach, we can't get any worse than we were in those seven games and we've got to work on getting better, and I think we will."
The Wolverines will have a chance to get better, and get some momentum rolling, at home, where they play their next five contests.
"I think our best hockey is ahead of us, and the schedule didn't help us get back on track," Berenson said. "Sometimes you go on the road and you don't play very well and then you come home and get a little more confidence for your next road series. That didn't happen. In the mean time we've got a chance to get some momentum.
"We had two good games against American International, but they're not a top Division I program, compared to the Big Ten teams we're going to play. But we got through those games and we got some momentum from that and we got to take it into Penn State. We've got a good chance, with our schedule, to reverse this [negative] momentum."
As Berenson eluded, the five-game home stand will start this weekend with a two-game set against Penn State. Berenson returned similar respectful words about the Nittany Lions as Gadowsky did about his Wolverines.
Penn State downed Michigan three times last season, the last one eliminating Michigan from the Big Ten tournament.
"I think there's — not a revenge factor, there's more of a respect factor," he said. "Penn State was an unknown last year. They were essentially an expansion team that just started their program. They hadn't won a game in the Big Ten, so it was obvious that they were the lowest team on the totem poll, but when we played them, they got their first victory against us and I think they got their second victory against us and then they knocked us out of the Big Ten playoffs in that double-overtime game. They definitely left their mark against Michigan and so we have a lot of respect for Penn State."
Three stars of the week
First star — Penn State junior forward Casey Bailey: Bailey had three goals and one assist in the Nittany Lions' weekend split with No. 4 Massachusetts-Lowell. He lit the lamp twice in Penn State's victory over the River Hawks on Saturday and had the game-winning goal. The junior from Anchorage, Alaska, leads the Big Ten with 0.8 goals per game and 5.4 shots per game. This is his first career Big Ten weekly award.
Second star — Michigan junior forward Andrew Copp: Copp had three goals and one assist in the Wolverines' two-game sweep of American International. Michigan's hometown player is currently riding a three-game goal-scoring streak. This is Copp's third career Big Ten weekly award.
Third star — Penn State senior forward Taylor Holstrom: Holstrom was the dish master during Penn State's split with Lowell. He tallied five assists on the weekend, two on Friday and three during Saturday's game. Holstrom leads the nation with 1.44 assists per game and is second with 1.78 points per game.This is his first career Big Ten weekly award.
B1G in the poll
Minnesota slipped from No. 1 to No. 4 in this week's USCHO.com Division I Men's Poll after it was swept by Minnesota-Duluth last weekend. The Gophers remain the Big Ten's lone representative in the poll. Penn State and Michigan received votes.
My ballot
1. North Dakota
2. Michigan Tech
3. Boston University
4. Minnesota
5. Colgate
6. Miami
7. Massachusetts-Lowell
8. Minnesota-Duluth
9. Minnesota State
10. Denver
11. Vermont
12. Boston College
13. Union
14. Omaha
15. St. Cloud State
16. Providence
17. Northern Michigan
18. Bowling Green
19. Ferris State
20. Quinnipiac
This week's games
Michigan State at Ohio State (Thursday and Friday, Value City Arena)
Penn State at Michigan (Friday and Saturday, Yost Ice Arena)
Wisconsin at Colorado College (Friday, Colorado Springs World Arena)
Wisconsin at Denver (Saturday, Magness Arena)