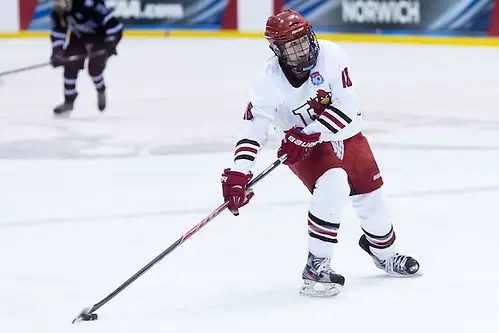 Most hockey players are humble and down to Earth.
Even coming off a national championship last spring, Plattsburgh senior forward Shannon Stewart still has her head on straight.
Then again, coming off three years of big-time success is an even greater accomplishment, but Stewart wants no discussion on the past; it's only about looking forward for her.
"I expect a lot out of this team because we have been so successful in the last three years," said Stewart, a Pickering, Ontario, native. "Everybody is working hard and wants to be back in that championship game again. In order to succeed, we have to focus on one game at a time and not look past anyone. Working hard doesn't just consist of on the ice, but also doing what we're supposed to be doing outside of the rink."
In 2011-12, Plattsburgh finished third in the nation,  then repeated that in 2013. Then came the Cardinals' 28-1-1 campaign of 2013-14, and everything just fell into place.
Stewart said last year was simply a dream, and wants to go through the rigors again this season.
"I think the past three seasons have been very successful," explained Stewart, "As a freshman, we were the underdogs going into the Final Four weekend. We were happy to be there and had a great year. Obviously, my sophomore year was not what we wanted, only losing one game all year and it being the semifinals game, but at the same time, it was still an amazing season for us. Last year was something that I will never forget. We finally ended up on top and it was very exciting."
As a top player in Canada, many schools were after Stewart. After careful consideration, the choice came down to just one — Plattsburgh — and she even got a second opinion on the matter.
"I visited the campus twice before deciding that Plattsburgh was the place for me," Stewart said. "I came up with my mom on one trip and traveled to Potsdam to watch the team play. Later on in the year, I came up with my dad and spent a night with the team. I really liked the way coach [Kevin Houle] talked about the program on and off the ice. Plattsburgh had my major [childhood education], and his coaching record really stood out to me."
Houle has been impressed with Stewart's progression through the years, and isn't sure what the plan is next season.
"Shannon has been an impact player since halfway through her freshman year, but as a sophomore, she became a force," Houle said. "Last season, she was one of the top players in the country and she started to mature as a leader of our team. This season, she has become our leader at the forward position and is off to a great start. She makes plays every shift on the ice. You can't replace a Shannon Stewart with a freshman, as you are not just replacing points, you are trying to replace a role model and the leadership she brings to the team. As a coach, you hope that a current player will step into her role."
Looking back, was it an adjustment for Stewart moving to a foreign land?
"There wasn't a culture shock, but it took time to get used to," admitted Stewart. "I wasn't used to practicing every day and at first, it was very exhausting. It took me a while to adjust, but now that I am so used to it, I love being busy and doing something constantly."
What she has also done on a constant basis is rack up points. In 96 career games, Stewart has posted 53 goals and 53 assists for 106 points, including six goals and eight points through seven games this year.
Just as she won't dwell on the past, Stewart also won't pine over the future, instead choosing to take her approach one day at a time.
"I think that as a team, we are all level-headed," Stewart said. "We don't talk much about last year because this is a new year and anything can happen. We also know how to overcome adversity and give it everything we've got. Coach is always on us about hard work, and I think that has helped us in a lot of situations. We try to be relentless every game."
So what does happen next year when Stewart's college career comes to a close? Her goals are very reasonable.
"I hope to play hockey somewhere, if it's in Europe or the CWHL," said Stewart. "I don't think that I am ready to hang up the skates just yet. At the same time, if a job opportunity arises, I would take it."
Again, Stewart's humility shines through.
Noteworthy
St. Scholastica if off to a 5-1 start and has outscored opponents 29-7, averaging nearly five goals a game (4.83). Saints' senior Nina Waidacher leads the country in scoring with a 7-6–13 line in six games. … St. Anselm senior defenseman Robin Yoshida is the lone New Mexico native in all of NCAA Division I or Division III women's hockey (more on that next week). … Amherst has scored just three goals in its first two games this season, but won both last weekend in a home-and-home with Hamilton, 2-0 and 1-0. … Hamilton is the only team yet to score a goal this season, with the exception of Bowdoin, which hasn't played yet. … Karen Larson and Kayla Goodwin have 10 points each for Wisconsin-Superior this season. … Bethel has scored 18 goals as a team, yet is just 3-2-1. … Plattsburgh freshman Kayla Meneghin leads all D-III freshman and the country with eight goals, including two short-handed snipes. … Senior Ally Ross is 5-0-1 between the pipes for Plattsburgh and carries a 1.64 GAA and a .904 save percentage.