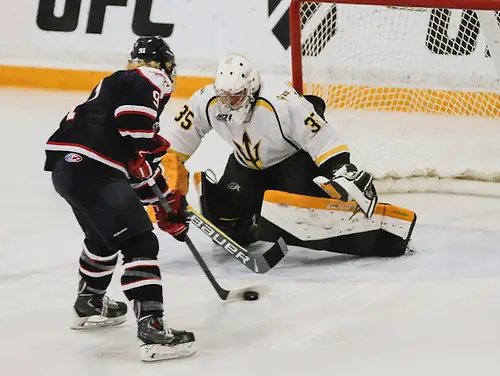 Editor's note: Justin Emerson is the managing editor of HouseOfSparky.com, an SB Nation site, and a student in Arizona State's Walter Cronkite School of Journalism and Mass Communication.
Starting next season, Arizona State will have a Division I hockey team. I never thought I'd type those words. I don't think anyone ever expected to read those words.
I've covered the ASU team for three years now and have seen what this team is, and that's one of the most exciting teams at a school with a ton of excitement. The football team made it to No. 6 in the rankings, the basketball team is in the infancy of its season, the baseball team has a new stadium and a new coach.
And yet, everyone is excited for hockey right now. And why not? This is a region that, while watching the rest of the country, is enjoying the slightly chilly 70-degree weather. I'm sitting outside by my pool as I write this.
This team has always been a little different. It never identifies itself has a club team. It's the "C" word around the program. On my first day on the beat, my headline included the "C" word, and I got called by three people inside the team asking me to not use it when not absolutely necessary. The players don't think of themselves as "C" word players, and now they won't have to.
As for the fan support, that's where it gets fun. The ASU basketball team's student section has what it likes to call the "Curtain of Distraction." Essentially, they have a giant curtain they pull back when the opposing team attempts a free throw to reveal something utterly ridiculous in an attempt to make him miss.
Now take that level of exuberant fandom, stick it in the seats behind the opposing goalie and see what happens. The poor guy. He's going to let in a goal and hear his name serenaded behind him until the final horn sounds.
What's intriguing is the possibility for Pac-12 hockey. ASU and the University of Arizona are extraordinarily competitive, and UA won't like the fact it is losing in anything to its northern neighbors.
Oregon has Nike's Phil Knight in its corner and surely won't be lacking in the funds to make it possible if it is something Oregon wants to prioritize.
Same for the Los Angeles schools. USC and UCLA would have no trouble, and Colorado already has an ACHA team.
There's the six schools the Pac-12 would need to form a hockey conference. And that doesn't include Washington, Washington State, Oregon State, Stanford, California and Utah.
The one thing that is for sure is that it is an exciting time for hockey in Arizona, the West Coast and the college world. ASU brings name recognition to a college hockey landscape that (no disrespect to Union) has a national champion not many outside of New York or the college hockey world has heard of. Obviously, it's tremendous hockey played there and Union deserves far more credit than it receives, but if you ask a random fan who the defending NCAA football, basketball and hockey champions are, they'd probably get two.
ASU is certainly buzzing with hockey fever right now. Next year the team will play a hybrid NCAA-ACHA schedule, followed by a full NCAA conference-independent schedule the following year and joining a conference in 2017-18.
Next season will be my fourth on the beat. I was around when the Sun Devils beat Division I Penn State, I was there for the 37-game winning streak against rival UA and I was at the national tournament. But next year will be the most excited I've ever been for ASU hockey.
Follow Justin Emerson on Twitter at @J15Emerson.