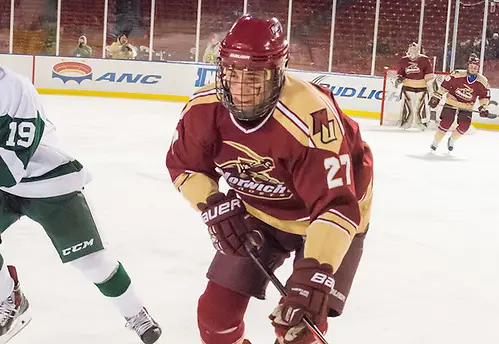 There is much about Norwich sophomore Austin Sorowiec that stokes the curiosity.
The familial connection to the NHL's greatest dynasty.
The familial connection to a state that has not a single NHL link.
Or, for now, how he has emerged as the top scorer on the second ranked team in the Nation.
Where to start?
Well, let's take that last bit, first.
Surowiec, a big 6-foot-2, 215-pound center, is using that size (and skill) to create goal scoring chances aplenty for the Cadets.
He cashed in three of those last weekend in the Primelink tourney at Middlebury – two of those in Norwich's hefty 5-1 win over then-No. 3 Plattsburgh – giving him five goals and eight points (and a share for the team lead in both categories) for the season. He was 3-8-11 as a freshman.
"I'm trying not to think as much out there," said Surowiec, who shifted to center from left wing this year. "I'm just trying to go out and play. If I've had a bad shift, I know what went wrong and forget it. Just build on it and don't do it again."
That's the mental part which goes hand in mitt with the physical demands of his new position.
"I get more of a feel for the puck," Surowiec said. "It helps me get more into the rhythm of the game. The puck's been going in for me. Hopefully, it keeps up that way."
Surowiec is quietly earning his stripes as a big-game performer.
On opening night against defending ECACE regular-season champ Plymouth State, popped in two goals – his second career multi-goal game – in the Cadets' 9-1 rout.
He didn't score again until last weekend, when Norwich and Plattsburgh tangled in what shaped up as D-III's regular season clash of the year (to date) – perhaps even a preview of the Frozen Four championship.
"Hopefully it was," Surowiec said, "for our sake".
If so, the result, a 5-1 pasting of the Cardinals, was much to Surowiec's liking.
Having suffered a 4-2 setback to Plattsburgh at home last year, Norwich felt it had something to prove.
"The whole week, we worked hard on the little things," Surowiec said. "We were really sticking to our game. We tried to break them down and expose them. I think it was a little closer game than the score reflected. I think maybe three or four of our goals were odd-man rushes."
That would include both of his, the first of which came in the second period and broke open a scoreless tie.
"We really capitalized on those [opportunities]," he said. "And that helped us to a big win."
Surowiec scored the next night, too, in a 2-2 tie with Concordia (the Cobbers won in a shootout), in a game that he said Norwich might not have been completely ready for.
"The first 10 minutes, we were all over them," Surowiec said. "I think once we saw that, but couple with the big win the night before, we got a little lackadaisical. We weren't really sticking to our game plan like we normally do. You have to treat each game as though it's a championship game."
For Surowiec, championships games are part of his DNA, although the hockey helix had to first thread its way through Louisville, Ky., where he was born and bred.
The son of Paul and Cathy (she the daughter of John Ferguson – the late Montreal Canadiens great), Surowiec made use of what few youth hockey opportunities existed in Kentucky, a state that has yet to produce a single NHL player.
"There are only two or three rinks in Louisville," he said. "Thankfully, I only lived 10 minutes from one of them. Obviously, hockey there isn't a huge feeder system into the college level."
For Surowiec, the real rivulet came each Christmas, when the brood would make the trip to Ferguson's spread – complete with outdoor rink – in Windsor, Ont.
It was there that Surowiec became steeped in the family's rich hockey tradition, one punctuated by Grampa Ferguson's five Stanley Cup rings earned as a prototype power forward with the Montreal Canadiens in the 1960s.
Add to that the executive resume of his uncle, John Ferguson Jr., who is currently a player personnel chief with the Boston Bruins, and by coincidence played for Norwich coach Mike McShane when the two were at Providence.
"We had a huge Christmas family scrimmage," said Surowiec, an accounting major. "Every year it was always a great time. Growing up, being the grandson of John Ferguson, it's hard not to get into hockey. The things he did, and how people respected him. It was hard not to fall in love with a game like that. A nice heated competition on Christmas day."
Although its been seven years since his Ferguson's passing, Surowiec, who bears a strong resemblance to him on the ice and in the mirror, keeps those Christmas memories close to his heart.
"Growing up having him as a role model and a grandfather, was a real special thing," Surowiec said. "I still look to him today. Not only in hockey.
"Every one I've ever come in contact with who knew him had only the most positive things to say about him. He was a nice guy off the ice, and a (tough) guy on the ice. That's the mentality I try to execute as well."
D-III East Notebook
No. 15 Amherst worked its way back in the national rankings thanks in large part to junior forward Topher Flanagan, who scored both game winners in the Lord Jeffs' twin wins last week, 5-4 over Elmira and 1-0 over Nazareth. He now has four tallies for the season, two away from his career high set last year.
While on the subject of rankings, while Morrisville's 3-2 win over Williams, then ranked No. 15, wasn't enough to get the Mustangs into the latest USCHO.com Division III Men's Poll, it did give them something else. It evened their overall mark at 4-4-2, they had just five wins all of last year, and four in 2012-13. It also gave the improving program its second win over a ranked opponent in the three year stewardship of head coach Kevin Krogol. The previous one came over Utica, then ranked No. 8, (also by a 3-2 count) on Nov. 29, 2013.
A handful of tilts were played Tuesday, including the 1-1 overtime draw staged by Geneseo and Nazareth. Scott Andler scored for the Naz :29 into the second period, which answered the first period tally by Matt Solomon of the Knights … Meanwhile, Elmira's Matt Ciampichini scored twice in a 7-2 triumph over Fredonia, which fired 43 shots at Elmira goaltender Sal Magliocco … Lastly, Tim DiPretoro scored twice for Connecticut College in the final 2:14, but it wasn't enough to prevent the Camels from falling to Manhattanville, 4-3. Jake Mooney scored twice for the Valiants, who had enjoyed a 4-1 lead.