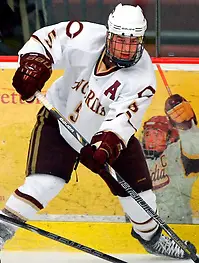 Andrew Deters' athletic talent goes far beyond hockey.
In high school, not only was he a hockey player, but he ran cross country and also played baseball.
And then came his senior year when he decided to put his athletic skills to the test in another sport.
"I decided to play football," Deters said. "I was a wide receiver and actually ended up breaking a receiving record that season. It was a lot of fun."
But hockey was always his first love and he was determined to play it at the college level. Deters accomplished that goal and is now in his fourth season at Concordia (Minn.). The senior forward is part of a Cobbers team that has the talent to contend for a MIAC championship.
The Cobbers (5-3-2) are coming off one of the biggest weekends in program history. They went out East last weekend and won the prestigious PrimeLink Great Northern Shootout at Middlebury. Concordia knocked off the host team 4-3 and then edged second-ranked Norwich in a shootout after skating to a 2-2 tie in regulation.
Deters scored one of the two goals in the shootout. Jon Grebosky scored the other. Austin Reichle did his job between the pipes and the Cobbers became the first team from the West to win the tournament.
"It was exhilarating to win in a shootout, especially being the No. 2 team in the country," Deters said. "We were confident we could win it. The win gives us the confidence that we can play with anyone in the country."
Being able to make a trip to Vermont also gave the team time to bond.
"It was the first time we had taken a plane trip together as a team," Deters said. "It was a great chance for us to build camaraderie. To win the tournament on top of it was a big plus."
Success has been a plus for Deters as well. Unlike a lot of hockey players, he came to college straight out of high school rather than go the junior hockey route.
It proved to be an adjustment as Deters saw limited time as a freshman and scored only one goal. He came through with nine goals and seven assists a year later before turning his junior year into a breakout season.
Deters scored 10 goals and dished out 23 assists a year ago as the Cobbers qualified for the conference tournament. This season, he has scored five goals and dished out six assists.
"I knew it was going to be a process coming out of high school, but I'm thankful for the opportunity I was given here," Deters said. "I stuck with it and it helped me get to where I am today. I go out every game trying to make the most of every opportunity."
Deters considers himself a well-rounded athlete because of his background but chose hockey because the intensity level of the sport is unmatched.
At Concordia, he is part of a balanced and experienced team. The Cobbers, unbeaten in their last five games, have scored 31 goals and allowed only 23. Six players have scored at least two goals, including eight by Jordie Bancroft.
Garret Hendrickson leads the team in points (13), having tallied three goals and 10 assists. Grebosky has added six goals and an assist.
Reichle has been tough between the pipes, allowing only 11 goals and making 155 saves in six games. Jordyn Kaufer has started four games and has allowed just 11 goals.
"This is probably the most depth we've had on the team since I've been here," Deters said. "We have a lot of guys that can score on any given night. We've used that to our advantage."
Concordia faces three-time defending conference champion St. Thomas this weekend in a crucial two-game series on the road. The Cobbers are 2-1-1 in league play and have eight points. The Tommies are 2-1-1 as well and have seven points.
A year ago, Concordia was eliminated in the quarterfinal round of the conference tournament. The Cobbers hope to do much more this season.
"We know we have the ability to play with anyone," Deters said. "The big thing is playing well as a team and being ready to play every night."
Deters wants hockey season to last as long as possible, especially with it being his last one. But his days as an athlete won't end when he hangs up the skates.
"I'm planning to play baseball at Concordia in the spring," Deters said. "Hockey took up too much time to be able to do it the last three years. I'm looking forward to playing and having fun with it."
Streak Ends
Gustavus Adolphus owned a six-game unbeaten streak heading into its Sunday night showdown with Marian in the MIAC/NCHA Thanksgiving Showcase.
But the Gusties were unable to keep that streak intact as a late goal led to a 2-1 loss. It was the first loss for Gustavus since falling 4-1 to Wisconsin-Stevens Point on Nov. 7. The Gusties, who skated to a 3-3 tie against Lawrence a night earlier, are 3-3-4 on the season.
Gustavus won twice during the streak before tying four consecutive opponents.
The Gusties have scored 27 goals but have allowed 28. Offensively, they have been balanced, with six players tallying two or more goals, including four by Jake Bushey. Connor Deal and Andy Pearson are tied for the team lead in points with seven apiece. Deal has struck for three goals and four assists while Pearson has come through with two goals and five assists.
Six goals have come off the power play and Gustavus has been phenomenal defending the power play. So far, opponents are 0-for-27 on the power play against the Gusties.
Gustavus returns to league play this weekend as it battles St. Olaf in a home-and-home series. The Gusties are 1-0-3 in the MIAC while St. Olaf is 1-3. It's a huge series for Gustavus, which is currently tied for second with Concordia. Both teams have eight points.
Back On Track
Lake Forest extended its win streak to two games with a sweep of Finlandia over the weekend in NCHA action. The Foresters also pushed themselves over the .500 mark as they are now 4-3-2 overall and 3-2-1 in the conference.
The Foresters scored 10 goals in the two wins, winning 5-0 in the opener and rolling to a 5-3 win in the finale. Lake Forest won behind a balanced attack as five different players scored in each of the two games. Luke Swardenski and Alec DeAngelo were the only two players to score a goal on both nights.
Lake Forest went into the series against Finlandia on a five-game winless streak. It is now in the midst of its second two-game win streak of the season.
Swardenski has paced the offense through nine games, scoring six goals and dishing out two assists. Seven other players have scored at least two goals for the Foresters, who have tallied 30 on the season. Meanwhile, Leo Podolsky has done a solid job in goal. In nine games, he has allowed only 16 goals.
Feeling The Sting
Wisconsin-Superior has been taking care of business as of late, stinging opponents with a solid offensive attack during a three-game win streak.
The Yellowjackets have scored 13 goals during the streak, the latest win a 5-1 victory over Northland last Wednesday. Superior started the streak with a 4-3 win over Northland on Nov. 21 before taking down Finlandia 4-1 on Nov. 22.
Prior to rattling off three consecutive wins, the Yellowjackets had lost four in a row, including two games by one goal.
While the goal scoring has risen during the streak, goalie Cory Simons has been impressive as well as he has started four games and owns a 1.75 goals against average.
In the Poll
St Norbert remains the No. 1 team in the country, receiving 19 first-place votes this week in the USCHO.com Division III Men's Poll. Three other West Region teams are in the top 10 as well, with Wisconsin-River Falls in fifth, Stevens Point in seventh and Adrian in ninth. St. John's and Wisconsin-Eau Claire are ranked 13th and 14th, respectively, in the national poll.