Despite losing its leading scorer and starting goalie from a year ago, the Bentley Falcons entered this season with high expectations.
Slotted in a tie for fourth place in the preseason Atlantic Hockey coaches' poll, the school returned the majority of its pieces from a historic run last season. In sweeping ECAC Hockey opponent Rensselaer on the road earlier this year, the Falcons showed some of their promise.
But it's been a tumultuous first half of the season so far for the Falcons, one that's been marked with both positives and negatives. In the weeks since defeating the Engineers, Bentley has beaten Niagara by a 6-0 score and taken three points from Mercyhurst, but it also has lost in overtime to the Purple Eagles while suffering one-sided losses against Harvard and Holy Cross.
The Falcons have survived an injury bug robbing them of some of their top skaters, but they've failed to close out opponents in Saturday games four times in six attempts.
Following their Thanksgiving split with Army, Bentley stands at 6-8-1, 4-4-1 in league play. It's not where it wants to be, but that's just fine for right now for coach Ryan Soderquist.
"As a coach, you want your team to be more and you want to have high expectations," Soderquist said. "But realistically with the injuries we've had while breaking in some newer players, we haven't been able to solidify roles. We have been a little inconsistent, but we've had guys who are playing out of their roles on the ice."
Since beating RPI, injury attrition stole time from four of Bentley's top six skaters. Senior captain Alex Grieve and freshman Ryan McMurphy both found themselves out of the lineup after the Friday game against Mercyhurst, while freshman Andrew McDonald went down the next night. McMurphy returned to the lineup this past weekend against Army, but Grieve and McDonald remained sidelined, joined by sophomore Max French. Before last weekend, French was the team's leading goal scorer.
While the lineup remains slightly scattered, the Falcons are relying on the part of their game they've excelled at for the better part of the past four years: special teams. Their power-play unit is succeeding on 32.1 percent of chances, best in the nation and one of only two (along with Harvard) over the 30 percent threshold.
Especially masterful on home ice, Bentley has nine power-play strikes at Ryan Arena in 24 attempts, or 37.5 percent.
Individually, half of French's 10 goals on the season come from power-play situations, while four of junior Andrew Gladiuk's 11 strikes are in those special teams situations. Gladiuk has 24 career power-play goals, well within striking distance of the all-time program record of 26.
Grieve, who scored two of his three goals this season on the power play, has 22 career man-up strikes, also within range of the record.
"[Our power play] skates with confidence," said Soderquist. "We have two units that have players who are staples for the unit. That kind of experience really helps.
"At the same time," he continued, "our system is based on tempo, and our guys have been great at running it. It's not robotic at all, and it's five guys moving together and sharing the puck to find the open player. Every time they're on the ice and they're successful, that helps build the confidence to run that system the next time."
Despite these successes and in light of the injuries sustained up front, the hallmark of the program will forever be its ability to play two-way hockey as a team.
"Defensively, we've done really well at working hard," said Soderquist. "Our defense does a good job of covering the zone and blocking shots. Our guys do a good job of covering corners. We just have to get better with our transition passing. We need to get better at simplifying and making the simple pass."
The "team defense" concept is built to include goaltending, where the Falcons find themselves with an open competition among three capable netminders. Junior Gabe Antoni has the most wins at three, but senior Blake Dougherty's two victories both came via shutout. Last weekend, freshman Jayson Argue, injured during the preseason, made his debut, stopping 50 of 54 shots over two nights while splitting decisions.
"All three of our goalies are capable of winning games," said Soderquist, "and right now no one goalie is sticking out. That type of competition allows [the coaches] to look for the best chance to win. Each guy has made it so we have to examine a night-to-night basis and really take it one game at a time."
Bentley closes out its first half with a home slate this weekend against Air Force before visiting American International next week.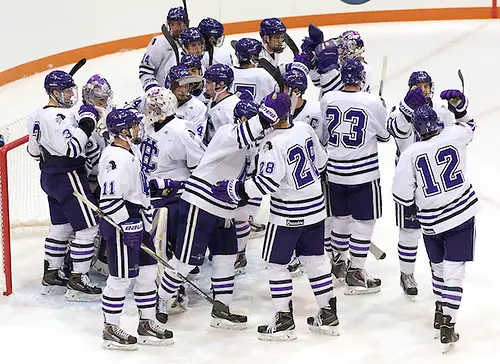 Stuffed standings
Looking at the Atlantic Hockey standings reveals some surprises. Based on points, Robert Morris has a commanding three-point lead over Holy Cross for first place. It's "commanding" because four points separate the second-place Crusaders from the eighth-place tie between Mercyhurst and Rochester Institute of Technology. Six points separate the Crusaders from the two teams tied for last place: AIC and Niagara.
In fact, if the season ended after the weekend, Robert Morris, Holy Cross, Canisius, Sacred Heart and Army would have the first-round byes as the top five seeds while Air Force, Bentley, Mercyhurst, RIT, American International and Niagara would have to play on the league's first playoff weekend.
That said, the number of games played is a major discrepancy. If we reset the standings based on winning percentage, the top two (RMU at .750 and Holy Cross at .667) remains unchanged but the rest goes haywire. Check this out:
Based on points:
| | |
| --- | --- |
| Robert Morris | 15 points |
| Holy Cross | 12 |
| Canisius | 11 |
| Sacred Heart | 10 |
| Army | 10 |
| Air Force | 9 |
| Bentley | 9 |
| Mercyhurst | 8 |
| RIT | 8 |
| AIC | 6 |
| Niagara | 6 |
Based on winning percentage:
| | |
| --- | --- |
| Robert Morris | .750 |
| Holy Cross | .667 |
| Mercyhurst | .571 |
| Air Force | .562 |
| Canisius | .500 |
| Sacred Heart | .500 |
| Bentley | .500 |
| RIT | .400 |
| AIC | .375 |
| Niagara | .375 |
| Army | .357 |
Army has played a league-high 14 games, while Mercyhurst has played a league-low seven games. The majority of teams, including Air Force, AIC, Bentley, Holy Cross, Niagara and RIT all have played eight or nine games.
Bottom line? There's a ton of hockey left to play, and things are going to get A LOT wackier.
Walking tall
One of the things I'm keeping a running tally on this year is how the old pod-based teams are faring against one another.
Even though the new Atlantic Hockey scheduling format is unbalanced and some teams will play more games against their former pod mates than others, it's still interesting to determine which teams are more dominant than others.
In past years, there would be a clear separation, but coming out of the Thanksgiving holiday, the West has a slim lead as opposed to its normal slate of dominance, going 11-8-5 to this point.
That said, there's still some interesting tidbits. Every Western school has at least four games in the books, with one exception: Air Force plays its first series of the season against the East this weekend when the Falcons travel to Massachusetts to play Bentley. Also, of the 24 cross-pod games played, Army has played in eight, losing five. Removing Army from the equation, Eastern schools are over .500 at 7-5-4.
There's going to be ample opportunity for these numbers to skew in the coming weeks. All five weekend series feature cross-pod scheduling with RIT sitting out on a bye.
Road warriors, part one
When Bentley traveled to Holy Cross last Tuesday, its bus had to travel between 40-45 miles between campuses. It's one of the shortest bus trips in the league, one that can be made in around an hour.
Yet with snow looming over the New England forecast for Wednesday, Massachusetts encouraged travelers to head out early on Tuesday. A truck summarily tipped over on I-84, backing up traffic for over 20 miles heading both directions on I-90 (colloquially known as the Mass Pike).
It took the Falcons well over that one-hour ride to arrive at the Hart Center, with the referees also jammed in traffic. The game time, slated for 7 p.m., was pushed back by just under 30 minutes. The Crusaders went on to win 4-2.
Road warriors, part two
With 182 miles separating West Point, N.Y., and Providence, R.I., the Army Black Knights stuck around New England after their Tuesday game against the Providence Friars rather than travel back to campus only to make another 200-mile drive north to Bentley for the weekend.
Whether it worked could be under conjecture, but the Black Knights picked up a hard-earned split with the Falcons after dropping their nonconference game in Providence. As someone who values his sleep and despises alarm clocks, here's to hoping they got to be up later than they are on campus!
R-E-S-P-E-C-T
I have no problem admitting when I'm wrong. Now that I'm a married man, I guess it's one of those things I'll need to do even when I do something right.
Before the season, I was way down on Holy Cross. With the coaching change and the well-documented struggles in scoring, I predicted the Crusaders as a team that would finish toward the bottom of the Atlantic Hockey table.
We're a long way from the end of the season, and as any coach will tell you, championships aren't won in December. But I'll admit this: I was way off on Holy Cross so far. The Crusaders still rank only seventh in the league in scoring offense, barely ahead of Air Force and AIC (38th, 39th and 40th in the nation, respectively), but their scoring defense is second-best in the league at 2.29 goals per game. The only team currently better is Robert Morris at 1.83 goals allowed per game (eighth-best in the nation).
Holy Cross is built around a defensive style, one that frustrates and annoys opposing offenses. The Crusaders have incredibly strong goaltending with Matt Ginn (more on him later), but their unit is built to force shots outside to the blue line. They patiently wait for an offense to make a mistake, then pounce. They do this while staying out of the penalty box, taking fewer than 10 minutes per game, the third-least penalized team in the conference.
Don't let the numbers fool you; this team can be terrific. Last week, they scored three second-period goals en route to a 4-2 win over Bentley before wiping out Brown on Saturday night 5-0. In both games, they took only one penalty.
The Crusaders head to Niagara this weekend.
Bucking trends
As mentioned earlier, there are five matchups this weekend in league play, all featuring teams from the West taking on teams from the East. Because of the West's historical dominance over the East, it means some matchups will feature some historical trends that programs will be looking to buck.
American International takes on Canisius after being swept earlier this year by the Golden Griffins. In their history, the Yellow Jackets have just four points over the last 18 games. They beat the Griffs last year, but before that had only tied them in 2012-13 and 2009-10. That said, they did register a sweep of Canisius back in 2007-08.
Air Force travels to Bentley having struggled with the Falcons over the past few years. Last year, Bentley took three points in Colorado with a win and a tie, the same result as three years ago at the same location. Two years ago, the last time Air Force played at the John A. Ryan Skating Arena, Bentley registered a tie. Consider that in the framework of history, despite being 22-8-6 overall, Air Force is 1-2-3 against Bentley over the last three years.
Mercyhurst takes on Army while holding a 33-9-4 series advantage over the Black Knights, having swept them earlier this year. Of those nine wins, eight have come at Tate Rink, where Army is 8-9-2 against the Lakers. Last year's four-point weekend at Army was the first Mercyhurst sweep since 2004.
Weekly awards
While I was gone, the league introduced a defensive player of the week award. Count this on the list of things I absolutely love.
Player of the week — Holy Cross' Ryan Ferrill: Hats off to Ferrill, who scored the first three-goal game for the Crusaders in seven years. The last hat trick came on Thanksgiving weekend … in 2007. It was the 19th such time a player accomplished the feat in Holy Cross Division I history, and it rocketed him to the top of the Crusaders scoring charts with four on the season.
Goaltender of the week — Holy Cross' Matt Ginn: The shutout over Brown was Ginn's third of the season and seventh of his career. That broke the single-season record but also shattered the career record set by former All-AHA goalie Tony Quesada.
Co-rookies of the week — Bentley's Jayson Argue and Canisius' Reilly Turner: Argue made the most of his debut, registering 50 stops and a .926 save percentage against Army on Friday and Saturday. Turner, meanwhile, notched 45 saves in a weekend split with Air Force.
Defenseman of the Week — Holy Cross' Joe McNamara: McNamara gave up the body on four shots and went plus-2 in the two Crusaders victories.