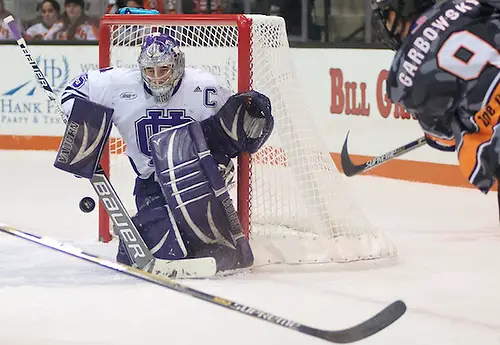 Holy Cross coach David Berard may be just midway into his first season at the Crusaders' helm, but he's no stranger to Atlantic Hockey. Two seasons ago, he stepped into an interim head coaching role at Connecticut and guided the Huskies to a 16-8-3 record and a spot in the semifinals.
So far, Berard has been able to repeat that success at Holy Cross. The Crusaders are off to a 7-5-4 start and have just one loss in their last 10 games. They're 6-1-4 in conference play, good for second place, three points behind league-leading Robert Morris with a game in hand on the Colonials.
Berard took the reins in late June, replacing longtime coach Paul Pearl, who accepted a position as associate head coach under Ted Donato at Harvard.
At that time, Berard said that his plan was to focus on team defense, long a hallmark at Holy Cross, and he was hopeful that the large group of incoming freshmen recruited by Pearl would help an offense that sputtered at times in 2013-14.
So far, Berard is getting his wish. The Crusaders are allowing just 1.75 goals per game in conference play, best in Atlantic Hockey, and almost 40 percent of his team's goals have come from rookies.
"We've got a very small senior class and a large freshman class, and we needed freshmen to provide a spark," Berard said. "We have been fortunate to have our freshmen jump in with some confidence and some consistency."
Berard is quick to point out that a lot of the success enjoyed by his underclassmen — rookie TJ Moore leads the team in scoring with five goals, followed by classmates Scott Pooley and Ryan Ferrill (four goals each) — is due to veteran leadership.
"Our older guys have been fantastic leaders," he said. "From the day the freshmen got on campus they have learned from our seniors about what it takes to be successful here. Guys like Matt Vidal and Nilan Nagy and Jake Youso and Matt Ginn and Tommy Dwyer have been teaching them the ropes and integrating them into our team."
It starts with Ginn, a senior goaltender who is rewriting the record books at Holy Cross. He holds school records for saves (3,160 and counting) and shutouts, recording the seventh of his career in a 5-0 win over Brown on Nov. 30.
Ginn is having his best season between the pipes, sitting second in the league in GAA (2.08) and save percentage (.931). And he wears the "C", sharing the captain's duties with Vidal.
Only one other goalie in Division I captains his team (Ferris State's CJ Motte) so it's a rare honor.
"It's unique," said Berard. "In 23 years of coaching I've never had a goalie as captain, because you're in the net and not on the bench during games. I was a goalie myself (Providence, class of 1992) and it's an individualized position. You're in your own world, separated from everyone.
"But it's a deserving honor voted on by his teammates last spring and I'm honoring that, and it's easy to do that because Matt is an incredible person. I knew a bit about him coaching in the league at UConn and when I was [an assistant coach] at Providence we recruited him a bit, and everything I perceived about him then is absolutely accurate. He's the hardest-working kid on the team and he leads by example. You can't ask for more than that."
Berard said that Ginn's role has been key to his rookies gaining confidence.
"He's got a demeanor about him," he said. "As they say, 'Never too high and never too low.' He doesn't get rattled. He exudes confidence. When he talks, people listen."
The Crusaders' record so far shows that gain in confidence. Since being outscored 10-2 in a pair of games at Penn State in late October, Holy Cross has gone 6-1-3 and allowed just 15 goals over that stretch. And scoring is up: The Crusaders have averaged over four goals per game on their current four-game unbeaten streak. But it starts with team defense.
"We need to have a good defensive structure to be successful," said Berard. "Good defense allows you to get the puck and have the puck more to create opportunities from various places on the ice to score.
"The transition from defense to offense is becoming more natural for us. Any time you have a coaching change you start off robotic in your systems, thinking too much. Early on, I don't think we were playing with a free mind. But as we've become more comfortable, things have really started to open up, and we're scoring some goals and building confidence."
Holy Cross is in the midst of a long layover that began after a road sweep at Niagara last weekend and extends until Dec. 30, when the Crusaders will host Yale.
"We'll practice this week," said Berard. "Then we'll give them some time off for exams next week and our guys will go home for Christmas and be back on Dec. 26. That gives us four days to focus on Yale, and that's a normal length of time to get ready."
Berard said he hopes his team's final nonconference game of the season will position it for a tough January.
"We've got Air Force here and then road weekends at Canisius and Mercyhurst and then home against Robert Morris," he said. "I think that stretch will make or break us and January will be important for a lot of teams in the league, and we'll finally see some separation in the standings.
"Our focus through that will be to keep getting better."
It's worked so far.
Ahead of schedule
Army goes into its holiday break having already competed in 16 of 27 conference games. That's three more than Canisius, which has played the second-most league tilts, and a whopping seven more than Mercyhurst.
The Black Knights will keep their schedule full in the second half with nonconference games against Connecticut and Princeton as well as exhibitions with the Russian Red Stars and the Royal Military Academy. They host just four conference games the rest of the way: two with Bentley and two with American International.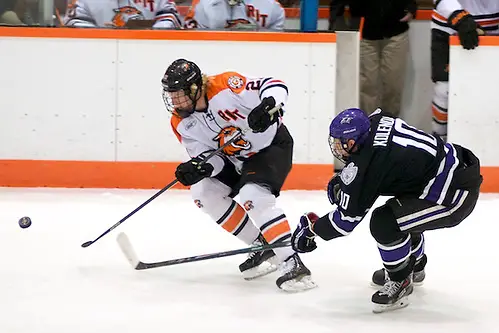 Try, try again
Rochester Institute of Technology and Niagara will tangle in a home-and-home series this weekend. The Tigers host on Friday and on Saturday will attempt something no RIT team has been able to accomplish: defeat the Purple Eagles at Niagara's Dwyer Arena.
The Tigers are 0-9-4 at Dwyer dating to the 1990s, when both schools played in the Division III ECAC West.
Since moving to Division I, Niagara, which has known just two head coaches in program history, both former RIT standouts in Blaise MacDonald (1996-2001) and Dave Burkholder (2001-present), holds a 12-1-7 record against the Tigers.
Last season, the teams played three times with the Purple Eagles coming out on top 3-0 at Dwyer and 5-1 at Ritter Arena, and the teams drawing 2-2 at a snowy Frontier Field. RIT's only Division I win against Niagara came in the 2012 Atlantic Hockey semifinals at Blue Cross Arena, when the Tigers won 2-1 in overtime.
Transparency
The selection of the four teams that will participate in the new College Football Playoff was announced this week, and as expected, not everyone is happy with the results, which came about as a result of an admittedly subjective process.
The level of complaining and second-guessing doesn't seem all that much different as it was during the era of the Bowl Championship Series or any year prior to 1998 when polls determined, for better or worse, the best team (or two) in the nation.
What's common between all of these systems is a lack of true transparency. Teams played the final game on their schedule and then waited to learn their fate. Not by checking records and results of other games, but by waiting by the phone for a call from some smoke-filled room. Well, more than likely a smoke-free room these days, but you get the idea.
College hockey fans can just smile, secure in their knowledge that a transparent system can and does work to select the NCAA Division I teams that will compete in a national tournament.
There still is some complaining about the criteria used, but no one can find factual fault with the PairWise Ranking system used by the committee. The metrics and process are clear and known to everyone: coaches, players, and fans. Each team knows exactly what it has to do in its final games of the season — as well as what has to happen in other games — in order to secure itself a spot in the field of 16.
Matchups and locations can be tweaked to reward the top seeds and host schools, avoid intra-conference pairings and maximize attendance. But the 16 teams are selected by a completely transparent process.
It can be done, football (and basketball, and everything else) fans. It can be done.
Weekly awards
I'm going with the same honorees as chosen by the league this time around.
Players of the week — Ralph Cuddemi, Canisius and David Friedmann, Robert Morris: Cuddemi had a four-point weekend to help the Golden Griffins to a win and a tie against American International. He had a hat trick in a 4-4 tie on Saturday, his second of the season. Friedmann wins the award for the second time this season, this time for tallying two goals and three assists in a sweep of Sacred Heart.
Goalie of the week — Jayson Argue, Bentley: No argument from me on this selection (I bet he gets that a lot). The freshman stopped all but two of 60 shots by Air Force to lead the Massachusetts Falcons to a sweep of the Colorado Falcons.
Rookie of the week — Jack Riley, Mercyhurst: Riley had a great homecoming, scoring two goals and adding a pair of assists to help the Lakers to a road sweep of Army. Jack is the son of Army coach Brian Riley, and he made the most of his first collegiate games at West Point.
Defensive player of the week — Matt Blomquist, Bentley: The junior blueliner was part of the reason Air Force was limited to just a goal in each game at the JAR. Blomquist had four blocks and chipped in an assist to help Bentley to its first sweep of Air Force.