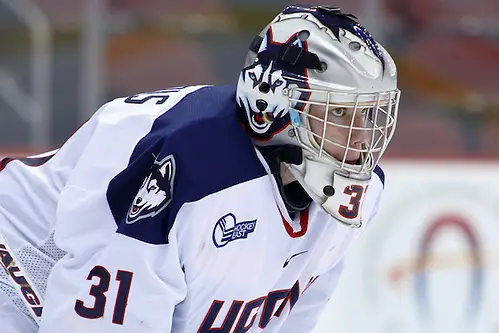 Here's some info on the inaugural Frozen Holiday Classic:
The details
Where: Webster Bank Arena, Bridgeport, Conn.
Saturday's schedule: No. 9 Massachusetts-Lowell (10-3-3) vs. Sacred Heart (5-9-2), 3 p.m. EST; Union (9-6-1) vs. Connecticut (3-8-4), 6 p.m.
Sunday's schedule: Third-place game, 3 p.m. EST; championship game, 6 p.m.
Notes to know
UMass-Lowell's senior class holds a record of 88-38-10. The senior River Hawks' 88 wins are tied for the most by a single class in program history, and it will become the all-time winningest class in school history with its next victory.
Since reclassifying to Division I in 1998-99, Sacred Heart has played in 11 holiday tournaments, winning none. The Pioneers will look to make program history in the first year of the Frozen Holiday Classic, an offshoot of what used to be the UConn Hockey Classic. Last year, they defeated Connecticut in the tournament's first round before falling to Quinnipiac in the championship game.
Union is 4-0 this season against Hockey East teams, extending their winning streak against that league's teams to 11 games since December 2012. The Dutchmen advanced to last season's Frozen Four through Webster Bank Arena.
Connecticut has been off since Dec. 3, when the Huskies lost to ninth-ranked Lowell 6-4. The game marked only the third time all year the Huskies scored more than two goals. Not coincidentally, they also registered two power-play goals to break a drought that extended back to Nov. 8, a 4-4 tie with No. 1 Boston University.
Social snippet
[youtube_sc url=https://www.youtube.com/watch?v=RLC87Fd1DgY]