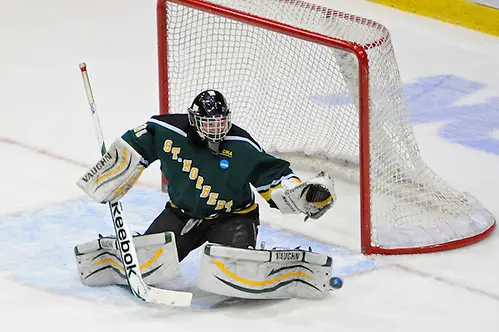 The year 2015 has arrived, and while there are no flying cars, hoverboards or a world dominated by robots, there is hockey again as teams return to action after the holiday break.
Our two columnists, the dual-esteemed Dan Hickling and Brian Lester, have had their share of holiday fun and are now rarin' to get back at it, starting with their picks for this weekend's top games.
BRIAN LESTER – WEST
The matchup of the weekend is one that features No. 1 St. Norbert playing host to No. 8 Wisconsin-Stevens Point in a rematch of last year's national championship game.
The Pointers (9-2), winners of four consecutive games, have racked up 50 goals on the season and have given up 23. Joe Kalisz has come through with seven goals to pave the way, while Kyle Sharkey has tallied six goals.
A total of 13 players have scored at least two goals for the Pointers, who also have rock-solid goaltending with Brandon Jaeger between the pipes.
St. Norbert has been phenomenal on offense, scoring 63 goals, and their defense has been as tough to crack as a brick wall as the Green Knights have allowed only 10 goals.
Michael Hill has fueled the offense with 10 goals. The Green Knights move the puck well as a team, having tallied 94 assists, and David Jacobson has been tough in goal, giving up only eight goals this season.
Defense will decide the outcome and the edge goes to the Green Knights in what should be a tight game. St. Norbert, 3-2.
Below are a few other games on tap for the weekend ahead.
No. 14 Williams (5-2-1) vs. Gustavus Adolphus (3-4-5): The Gusties come in looking for their first win since Nov. 14th as they have tied five times in their last seven games. Offensively, Jake Bushey has paved the way, scoring four goals and dishing out three assists. The Gusties have scored 32 goals. Defense will be key. Gustavus has allowed 35 goals, with Erik Johnson giving up 32 in 11 starts. A win over a nationally-ranked opponent would be huge for a team hoping to start off the new year on the right track.
Williams comes in having won four of its last six. The Ephs have played well defensively, allowing just 30 goals behind the play of Sean Dougherty.
C.J. Shugart leads the offense with six goals and five assists. Williams has tallied 20 goals in all and if it's on top of it's game, it should survive this road test. Williams, 4-2.
Williams (5-2-1) vs. St. Olaf (3-8-1): The Oles won their last game before the break and want to build on that momentum as they enter the new year. They have scored at least three goals in their last three games but have also given up at least three per game during that stretch. They have allowed a total of 38 goals and Steve Papciak will have to be at his best between the pipes. Peter Lindblad leads the offense with four goals.
Williams features a balanced attack where six players have scored at least three goals. The Ephs should be able to use that to their advantage against the Oles. Williams, 5-3.
St. Mary's (3-5-2) vs. Milwaukee School of Engineering (6-6): The Cardinals went into the break riding the high of a dominating win over Aurora and they hope the second half of the season will prove to be a successful one. St. Mary's is led by Martin Guse, who has scored seven goals and dished out six assists. Jed McGlasson has tallied six goals and four assists. Phil Heinle has anchored the goalie spot.
The Raiders went into the break on a two-game losing streak, but before that, had won six consecutive games. This game could provide them with an opportunity to get on another roll, especially being at home, where they are 5-1 on the season. Nick LaRue has tallied four goals and three assists to pace the offense. The Raiders have the edge in this one. MSOE, 5-2.
Aurora (1-9-1) vs. No. 4 Wisconsin-River Falls (11-0): The Falcons have been sensational on both sides of the puck, scoring 45 goals and giving up 18. One of the big keys to their success has been their ability to execute on the power play. River Falls has scored 16 goals off the power play.
A total of 12 players have scored at least two goals, with Kyle Gattelaro leading the way with six goals. Ryan Doner, Mike Fazio, Blake Huppert and Alex Murphy have come through with five goals apiece. Tanner Milliron has been solid between the pipes.
The Spartans have struggled and are in the midst of a four-game winless streak. They have score only 31 goals and have given up 65. Rihards Marensis and Trevor Hoth have paced the offense with five goals apiece. River Falls simply has too much talent for Aurora to contend with and this series will end with a sweep for the Falcons, River Falls, 7-2, 5-0.
Nazareth (4-4-3) vs. St. Scholastica (7-4): The Saints dropped three of their last four before the break and need a good start to the new year. Derek Sutliffe leads St. Scholastica with six goals and six assists, while Connor Lucas and Corey Koop have both seen time in goal, with Bruggeman starting seven times and Koop four.
Nazareth hasn't won a game since Nov. 22 and tied in its last two games before the break. The Golden Flyers are led by Dominik Gabaj, who has tallied six goals and three assists. Oliver Janzen and Rocky Gruttadauria have come through with four goals apiece. The Saints should have the edge in this one as they start off the new year with a win. St. Scholastica, 4-2.
DAN HICKLING – EAST
Friday
Hobart (6-4-0) vs Southern Maine (1-9-0) at Lake Placid – Hobart 5, USM 1
For the first time in three decades, Southern Maine will take to the ice without Jeff Beaney behind the bench. Beaney, who resigned New Year's Eve, will be replaced in the interim by Ed Harding. Hobart should have little trouble taking advantage of the fractured situation.
Tufts (4-4-1) at #6 Oswego (7-1-2) – Oswego 5, Tufts 3
The Lakers return from break ready to roll all the way to the Frozen Four. Again. This is where it begins.
Saturday
Skidmore (2-8-1) at Nichols (6-2-2) – Nichols 5, Skidmore 2
The Bison have had ample time to consider what kind of club it is – the one who rolled to five consecutive season opening wins, or the one that mustered just one win in the five starts before the break. This should tell you what they've concluded.
No. 3 Babson (11-0-0) at Plymouth State (5-3-2) – Plymouth 2 Babson 1
PSU averaged better than four goals per game leading into the break. The Panthers won't get that many against Babson, which happens to have the stingiest defense in the nation (0.73 gpg). But since the Beavers probably won't go undefeated, this just might be the exception.
Sunday
Canton (1-9-1) at Becker (3-8-0) – Becker 7, Canton 6
With these teams, one can just picture three full periods (and perhaps a little more) of end to end rushes. There's got to be a baker's dozen worth of tallies in all of that.