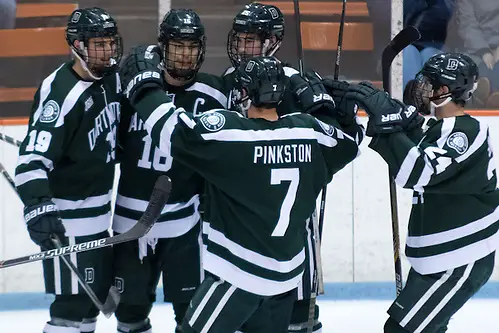 From where I sit today, ECAC Hockey's most intriguing angle for examination is its nonconference performance.
With only six nonleague games remaining (two each for Harvard and Quinnipiac, one for Princeton and the nonconference Mayor's Cup between Union and Rensselaer), the ECAC has slipped to 45-46-9 (.495); that is worse than the NCHC (.658), Hockey East (.573), and the WCHA (.516).
This does not bode well for ECAC Hockey's national aspirants for a number of reasons, all of which connect to the Ratings Percentage Index element of the PairWise Rankings.
Let's take a closer look at two teams doggedly hunting higher ground in the PairWise, though they face somewhat disparate windows of opportunity for advancement.
Big Green hope tough schedule pays late dividends
Dartmouth opened the 2014-15 campaign with more experience on the roster than any other team in the league. Unfortunately, games played don't always equate to games won.
The Big Green crested at 6-4-1 entering the holiday break, but none of four nonleague contests in the new year fell Dartmouth's way: Ties against Denver and New Hampshire sandwiched a gut-punch loss to Boston College, and Sunday brought a frustrating home defeat at the hands of Vermont as well.
"We've played some really, really good hockey … and I like the way our team battles. We play a really tough schedule, and I think it's going to make us much better as we go along," said longtime coach Bob Gaudet. "We're battling really hard and I think if we continue to grow, [our schedule is] going to be a big plus as we go ahead."
One of the most glaring deficiencies in Dartmouth's special-teams play, where the power-play is a gradually improving 13 percent for the year, and the kill is effective 84 percent of the time.
"We have to be better on special teams. We move the puck really well on the power play, we're working hard, and some of it's just breaks — same on the PK — but what I'd like to do is continue to hone that," said Gaudet. "The games that we've played, there isn't much margin for error. We're playing really good teams and obviously we play in a really good league.
"We're coming together. It's been a really fun team to work with in terms of work ethic, the leadership, the pace that we practice with and the pace that we play in. It's just the little things that we have to continue to hone in order to take the next step."
The Big Green face only ECAC foes for the remainder of the regular season, having just concluded a five-game nonleague stretch with a 1-2-2 record and going 3-2-2 against out-of-conference opponents for the season. Dartmouth can hang its nonconference hat on a November win over Boston University, but ties with Denver and New Hampshire and losses to Boston College and Vermont are nothing to crow about.
"You're always disappointed if you don't come out with a W, but we played a really good game against New Hampshire on their big ice surface," Gaudet said of last Friday's loss. "Our kids performed very well. There's a couple things we have to clean up: Late in the game on the power play they scored a nice goal, and there was the six-on-five that they scored on, which, again, was a really good play, but something we can defend better."
On Sunday against Vermont, Dartmouth "could've been up 3-0 after the first" if not for "phenomenal goaltending", according to the coach. Ultimately, "we made a mistake at the start of the third period that they capitalized on" and a 2-1 second-intermission deficit ballooned into a 4-1 loss.
"The results haven't always showed how well our team has played. When you focus on the process, the end result will take care of itself," Gaudet noted optimistically, while adding that "that extra percentage point of focus or effort" is what has gone lacking in his side's 2-4-3 record in one-goal games.
The 27-year head coach — now serving in his 19th year behind the bench at his alma mater — said he believes that his charges are set to peak at the right time.
"I think we have potential for guys to break out," Gaudet said. "Look at a kid like [senior] Tyler Sikura, who is so important to our team in everything he does: He plays in all situations … and he's working really hard and getting some really good opportunities. Some are going in and some aren't. A kid like Eric Robinson who's back as a fifth-year guy, again, getting good chances. The work ethic is there. Same for [junior Brad] Schierhorn and [senior Eric] Neiley. There's a lot of really solid players who have potential to break out. That's what we're after."
In the end, Dartmouth knows that potential only matters until the bill comes due … and the deadline is fast approaching.
"You can't make excuses; you've got to find a way," Gaudet said. "Those tight 2-1, 3-2 games, whatever it might be, you've got to be really, really solid in all facets of the game because the game can change at any time."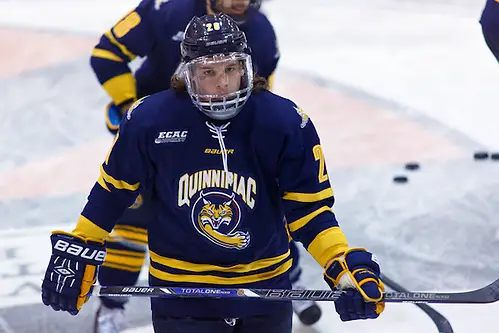 Bobcats seek big wins in final nonleague contests
Unlike most of the ECAC, Quinnipiac still has a couple more big games remaining against out-of-conference opposition. With a home-and-home series against Merrimack on the weekend planner, the Bobcats aim to elevate their national stature while handicapping some of their closest competition.
"We view every game as important. Whether it's conference or nonconference, every game plays a role in making the NCAA tournament," said coach Rand Pecknold. That said, "there's a group of four or five teams — us and Merrimack included — that are all kind of in that make-or-break [zone], so we could definitely help ourselves by winning this weekend and moving up the PairWise, and also knocking Merrimack down a little bit, so I think it's a big series from an NCAA perspective."
The Bobcats have surprised many this year, including myself, in engineering a 15-6-1 overall record and a league-leading 10-2 mark against the ECAC. What makes the team's success so stunning is its youth and inexperience.
"It's a very young team — we have 18 freshmen and sophomores of our 27 players — so we're young," Pecknold said. "But it's a great group of guys with great character in the locker room. It's fun coming to the rink every day, but there's no question: We've gotten cleaned out the last couple years.
"We've had a lot of turnover here in the last two seasons, so it's certainly a different team, but I think there are still some qualities we have [maintained]: We're still good at limiting shots and quality scoring chances. We're not quite at the level of puck-possession that we have been in the past two years, but we're getting better; we're also improving on our faceoffs as that obviously drives puck possession."
One key to the Bobcats' excellent season to date is their 10-3-1 record in one-goal games.
"I give a lot of credit to my guys; they've been very opportunistic and found ways to win, whether it's [goalie Michael] Garteig having a big night for us, making a big save late, or Sam Anas scoring a big goal at St. Lawrence. But we've also had a little puck luck, I'll be honest with you. We've had some good bounces."
Of course, puck luck is not a 50-50 proposition, as far as Pecknold is concerned.
"I think teams that work hard, compete hard and avoid shortcuts get more puck luck," he said.
Garteig "has been really good. He struggled a little bit in, say, the first three or four weeks of the season, but since then he's been on track," the coach said of his top goalie, sporting a 2.03 GAA and .913 overall save percentage. "If you took out his first three or four games, his numbers are great. He's refocused and been really great since Christmas."
As Pecknold noted, Garteig's save percentage shoots up to .933 in league play.
"Last year, he had a great start then had a slump in the middle. I think he's been more consistent this year," Pecknold said. "He's worked on a few things, and I think he is a better goalie this season."
Another bright spot has been the play of — don't jump ahead, I'm not about to say Anas — junior forward Travis St. Denis. The 22-year-old out of Trail, British Columbia, has posted a team-leading 11 goals in 21 games and is a fourth-best plus-6.
"The thing I like about St. Denis is not only is he scoring for us, but he's been excellent defensively," Pecknold said. "He played wing the first two years here; we moved him to center — basically him and [senior Matthew] Peca are my top two centers — and he's been great defensively. He's currently playing with Anas, and those two are playing very well together."
Anas, of course, is the super-soph with the team-leading 23 points (10 goals, 13 helpers).
On the whole, Pecknold isn't sizing up any new banners just yet, and even admits that his Bobcats might not be quite as dominant as their record may imply.
"I do think we've overachieved a little this year with where our record is, but we're coming on," he said. "We've got nine freshmen and nine sophomores and those kids are getting better, and we're starting to see the rewards of that. Tanner MacMaster was really good this past week. Kevin McKernin's been really good since he's got in the lineup. And we need to continue to develop our freshmen and sophomores so that we can be a better team in February and March."
Would a late-winter run be unexpected from Quinnipiac? This year, perhaps. But at the same time, it just wouldn't feel like March without the Blue and Gold in the mix.