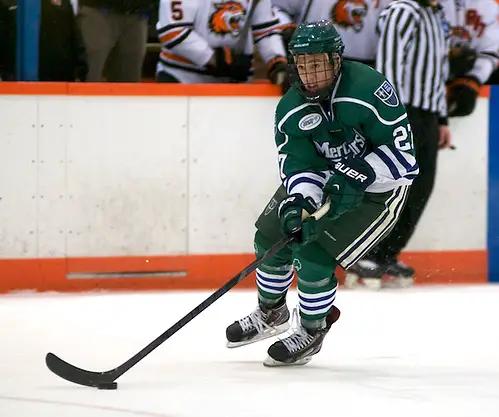 One conversation with Rick Gotkin is all it takes to get excited about Atlantic Hockey.
The head coach of the Mercyhurst Lakers since 1988, Gotkin only scratches the surface on one conversation about what makes each weekend exciting in one of the nation's most competitive college hockey leagues.
"[Atlantic Hockey] has great student-athletes and, in my opinion, some of the finest coaches in the nation," he said. "Every team is so well coached, and every game is a battle on every night. I know every coach always says it, but it's really the truth."
So when his Lakers squad took the ice last weekend for two games against Sacred Heart, he knew points would be hard to come by. Facing the challenge, however, Mercyhurst took four points from the Pioneers, winning on Friday night 7-2 before repeating their performance with a 4-2 victory on Saturday.
"We won both games, but they weren't easy points to grab at all," said Gotkin. "We scored seven goals on Friday, but there were times when Sacred Heart really took it to us. On Saturday, it was more of the same. We were very fortunate to have the positive outcomes we had because these were not easy points."
On Friday, Mercyhurst jumped out to a 3-0 lead in the first period on goals from Ryan Misiak, Jack Riley and Daniel Bahntge. But the Pioneers rallied back on the power play with a Drew George goal to cut the lead to 3-1. Mercyhurst scored the next three goals to pull away on the scoreboard, but in words true to the coach's analysis, Sacred Heart kept coming. The Pioneers ended the third with a 15-4 shot advantage, and the teams traded goals for the final outcome.
The next night, Sacred Heart took a 1-0 lead in the first period when Alec Butcher scored on the power play, then went up by two when Zach Luczyk scored three minutes later. Matthew Zay cut the lead to 2-1 before the break with a power-play goal of his own, allowing the Lakers to take momentum into the locker room.
They exploded for three goals in the second period to go up 4-2, but once again the defense found itself under fire. Sacred Heart outshot Mercyhurst 13-1 in the final frame, but freshman Brandon Wildung turned everything away en route to the two-goal victory.
It was something of a breakout for Wildung, named one of the three stars both nights for his efforts. The freshman won back-to-back games for the first time in his young career, and his 77 saves placed him right on center stage among the league's elite netminders.
Offensively, Bahntge scored seven points, five on Friday, while registering a plus-6 rating on the weekend. Riley also was plus-6 on the weekend (plus-4 with four points on Saturday) and Kane Elliot had four assists with a plus-4 rating.
Still, their coach remains unsatisfied and is looking to keep the team improving.
"I like our guys and our team a lot," said Gotkin, "but I don't feel we've been great yet. We've battled injuries, and we've kept our head above water. We've beaten Colgate on the road, Merrimack at home and we tied Ohio State a night after we lost. We've been good on a lot of nights. But it's a case where we want to keep getting better, and we want to find ways to keep getting better. We need to make sure our best hockey is coming down the stretch."
Back in a pack
Mercyhurst's sweep of Sacred Heart combined with Canisius' sweep of Holy Cross (and subsequent win on Tuesday over the Lakers) to create some breathing room between the top five teams and the rest of the league, even as it bunched up the top tier of teams.
Robert Morris remains entrenched as the league's first-place team, holding a three-point lead over second-place Canisius.
Positive results for Mercyhurst and Bentley allowed the pair to pull closer to second than they were to sixth, and they're one point behind third-place Holy Cross. Air Force, in sixth, is tied with Rochester Institute of Technology, four points back but with games in hand over everyone except Mercyhurst.
Meanwhile, in the race for first-round home ice, eighth-place Sacred Heart has a one-point advantage over ninth-place Army with two games in hand. American International sits in 10th with 11 points, and Niagara is in 11th with eight points. Of these teams, RIT and Air Force actually have the luxury of having played two fewer games, and they're the teams pacing the second grouping.
That said, it's still way too early to know who will finish where, and even then, final positioning might not mean a whole lot.
"The regular season is really, really important, and any coach will agree," said Mercyhurst's Gotkin, "but a bye isn't necessarily a great thing. Sometimes playing that first round allows your team to get its postseason legs under them, and every year you'll see a team pick up momentum heading into the next round.
"You go out and try to win every night because you want to be in the best position possible for your program, but at the same time, the bottom line is to be playing hot at the right time. Come the end of the day, any team could win this league. I like everyone's chances."
I mention this almost every week because a game in the middle of January will almost definitely have an impact come March. It highlights the importance of every single game during every single weekend in Atlantic Hockey. There are no off days.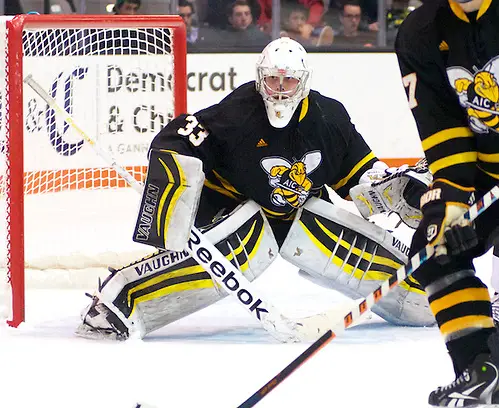 The next generation
It was a banner weekend for younger goalies. In addition to Wildung, Bentley goalie Jayson Argue didn't miss a beat in the Falcons' weekend split with Robert Morris.
On Friday, he dueled sophomore Dalton Izyk through 56 minutes of scoreless hockey before the Colonials' Brandon Denham lit the lamp. Robert Morris scored two more goals to pace a 3-0 victory, but one was on the power play and one was into an empty net.
The next night, Argue went back to work against Terry Shafer for 55 minutes of scoreless hockey. This time, however, he emerged victorious after Max French scored to give him a 1-0 win.
On the weekend, Argue saved 69 shots, including 40 in defeat. His GAA stands at 1.70, fifth-best in the nation, and his .946 save percentage is fourth-best in Division I.
Over at American International, freshman Alex Murray stopped 80 shots as the Yellow Jackets picked up a point at RIT for the first time in eight years. That included a shutout in the third period of Saturday's game. RIT outshot AIC 15-4 in that period.
The resident "old guy" of the group, Izyk was named Atlantic Hockey goalie of the week for his efforts in keeping Bentley to a goose egg on Friday. It was his third shutout of the season.
Rivalries renewed
If teams and players needed extra motivation to get up for this week's games, they won't need to look far. Multiple matchups this weekend are the renewal of unpleasantries in some high-profile games with major postseason implications.
In 2012, fourth-seeded Mercyhurst hosted fifth-seeded Holy Cross in an epic three-game playoff series. Mercyhurst won the first game before losing the second game, then rallied on home ice to advance to the Atlantic Hockey semifinals.
The next year, sixth-seeded Mercyhurst survived a hard challenge from Army to advance to a series at third-seeded Holy Cross. Once again, the Lakers came out on top in a series featuring all one-goal games (3-2, 2-3, 1-0).
Last year, they decided to do it a third time, with top-seeded Mercyhurst winning Game 1 against eighth-seeded Holy Cross 5-4 in overtime. The Lakers swept the Crusaders, who already played two overtime games in a three-game series the weekend prior against RIT, the next night. This weekend, the Crusaders head to Mercyhurst.
Elsewhere, Bentley heads to Canisius, a team that has ended the Falcons' season each of the last two years. In 2013, Bentley went to Buffalo, where they were swept in two games by the eventual league champions.
Last year, the teams played an epic three-game series featuring an overtime Falcons win (4-3) in Game 1 and a double-overtime Griffs win (5-4) in Game 2. All three games were decided by one goal, with Canisius winning 3-2 in Game 3. On Friday, the Falcons head back west to play their first games at the HarborCenter.
Finally, Army heads west for its only games with fellow service academy Air Force. The Falcons hold a 34-22-5 advantage in the matchup, but no current West Pointer has known the taste of victory. This year's senior class, or "firsties" as they're known in West Point-speak, entered the academy the year after Army last beat an Air Force team.
Army's last win, a 5-4 decision, came on Jan. 15, 2011 in Colorado. You can bet they'd like to win and gain some bragging rights in the only service academy rivalry in college hockey.
Head coaches deserve love, too
Earlier this week, we mentioned the 300th program victory at Air Force for head coach Frank Serratore. He has 349 overall wins, meaning his next W makes him the 56th head coach and 22nd active coach to hit the 350-win mark (including Division II/III coaches).
The all-time winningest coach at the academy, Serratore still needs a few wins to pass "The Father of Air Force Hockey," Vic Heyliger, on the all-time list. Heyliger recorded 352 career wins, 85 of which were in Colorado Springs.
At present, Rick Gotkin is the leader of the Atlantic Hockey coaches' club with 484 career wins, followed by Serratore's 349. The rest of the AHC coaches are as follows:
1. Gotkin, 484
2. Serratore, 349
3. Gary Wright, American International, 305
4. Wayne Wilson, RIT, 285
5. Dave Burkholder, Niagara, 232
6. Ryan Soderquist, Bentley, 166
7. Derek Schooley, Robert Morris, 156
8. Dave Smith, Canisius, 130
9. Brian Riley, Army, 110
10, CJ Marottolo, Sacred Heart, 53
11. David Berard, Holy Cross, 8 (not including interim)
Including his time as interim head coach at Connecticut, Berard has 27 career wins.
This week, I tweeted out how Rick Gotkin coached his 900th and 901st career games against Sacred Heart. Only one other coach is over that mark: AIC's Wright, who is the sixth-most tenured coach in college hockey, having led the Yellow Jackets for all of his 941 games over the last 30 years. The next closest to 900 is Serratore at 805.
Players of the week
It's rare to see me flat out disagree with the league selections in this area, but I'm going to this week. As mentioned earlier, the league selected Izyk from Robert Morris as its goalie. I disagree, but it's not because Izyk wasn't good enough. In the league's release, it mentioned how Izyk's stonewall stop on Bentley's Andrew Gladiuk held the Falcons at bay just before the Colonials broke out and won on Friday night.
The rest of the league's choices are fine by me, though:
Player of the week — Mercyhurst's Daniel Bahntge: Bahntge's seven points helped him register a plus-6 rating. He has a point in each of his last seven games, and he's scored 17 of his 20 points on the year in conference play.
Goaltender of the week — AIC's Alex Murray: It might be eastern bias on my part, but give all the credit in the world to the freshman. Eighty shots is a lot to ask out of any goalie, let alone a young guy in his first year. The tie was AIC's first point against RIT since Nov. 2, 2012, and it was its first point taken in Rochester since a 3-1 win on Feb. 1, 2007.
Rookie of the week — Mercyhurst's Jack Riley: Riley scored a career-best four points on Friday, then kept his scoring streak going with another point on Saturday en route to a plus-6 weekend. He has scored in seven straight games.
Defenseman of the week — Canisius' Chris Rumble: Rumble had four blocked shots during a weekend sweep of second-place Holy Cross. He also added a goal and an assist.