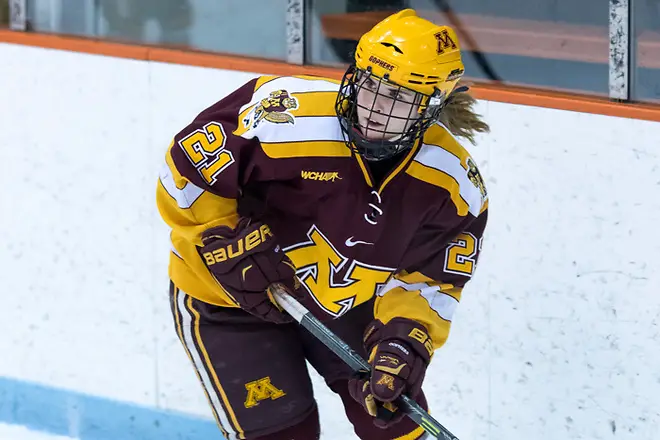 Candace: This past week saw big games between the No. 1 and No. 4 teams, and No. 2 and No. 3 teams in the country. Once again, the higher seeds prevailed, as Boston College edged Boston University, 4-3, and Minnesota beat and tied Wisconsin. It was the first points Wisconsin had garnered against the Gophers in 14 games, an astonishing stat given how Wisconsin once dominated the rivalry. BC meanwhile, overcame some shaky goaltending from Gabriella Switaj, who got her first start of the year since regular starter Katie Burt was with the U.S. U-18 squad in Buffalo. Switaj gave up three goals on her first three shots, but then buttoned down. However, Katie King Crowley went with Taylor Blake in the weekend series against Northeastern, in which BC piled on seven and nine goals, respectively.
What is your takeaway from those two matchups, especially Minnesota vs. Wisconsin? How do the Gophers continue to win against the Badgers, even when it might seem like Wisconsin has the upper hand?
Arlan: It is somewhat unique among rivalries through its history — six years of Minnesota being dominant, followed by six years of Wisconsin winning the head-to-head each year, and this is the fourth year of the Gophers being back on top. Other than fifth-year senior Brittany Ammerman, the Badgers' senior class defeated Minnesota in their very first meeting, and they haven't done so since, a string that has grown to 17 games. There was one other tie that resulted in a Wisconsin shootout win early on, but ever since, it's ended in frustration for the Cardinal and White.
Minnesota has enjoyed several advantages over the last four years. Wisconsin goaltending, in the person of Alex Rigsby and now Ann-Renée Desbiens, hasn't been bad, but the goalie at the other end, first Noora Räty followed by Amanda Leveille, has played a little better. Minnesota has had more playmakers on its blue line that have either dominated the game defensively, or have become more assertive offensively when needed at crunch time. When Wisconsin was winning NCAA titles and dominating this rivalry, the best forward on the ice in a particular game was a Badger, be it Sara Bauer, Meghan Duggan, Hilary Knight, or Brianna Decker. Of late, Minnesota has enjoyed that edge again with Amanda Kessel, Kelly Terry, Hannah Brandt, and Dani Cameranesi.
The two games this weekend were quite different. Saturday, each team capitalized on a break to score a goal. Once it was tied at 1-1, Brandt and linemates Cameranesi and Maryanne Menefee took over. It wasn't like they dominated the game, but they kept making little, subtle plays that became three goals and a comfortable win in a game where Wisconsin felt it had played well.
Sunday was more of a Houdini act. Mark Johnson shuffled his lines, placing senior Karley Sylvester with freshmen Annie Pankowski and Emily Clark. The Badgers wore the Gophers down in the second period and enjoyed a huge advantage in zone time, resulting in a late goal by Sylvester, who scored both UW goals this weekend. Minnesota looked tired in the third period and Wisconsin prevented any serious threats from developing. Brad Frost juggled his lines for the final 20 minutes, moving Rachael Bona with Brandt and Cameranesi as he does when he is looking for more offense, but nothing was clicking. Then the defensemen started to get more assertive, the Gophers started to play more of the game in the offensive end, and eventually Meghan Lorence got a puck to the net and Brandt managed to will it out of the air and into the goal before Desbiens could secure it with her glove.
The person who started the play for the tying goal was Lee Stecklein. She got her 15th assist on the play, which leads the team's defensemen, and she also leads that unit in plus/minus with a plus-27, while committing only two minor penalties. The statistic that stands out to me is she has played 63 NCAA games, and she hasn't lost any of them. She won all 41 as a freshman, and she was away at the Four Nations tournament when Bemidji State knocked off Minnesota this year. That betters the string of 62 straight wins that the Gophers had snapped last year. So there's my homage to a primarily defensive-minded defenseman that makes a lot of plays that go unnoticed but result in wins.
Having to settle for a tie clearly stung Johnson and Wisconsin, and greatly reduced its chances of getting the WCHA title. The Badgers played very well this weekend and likely deserved more than one of six points. I'll have more on Wisconsin in this week's column.
I think we both got to view most of the BU at BC game online. What stood out to you?
Candace: There were a few things that stood out. First, Alex Carpenter was held to a single assist. It happened once before this season, when BC tied St. Lawrence back in October. There have been two other games where Carpenter only got a single goal, but the Eagles won both, though one was only a 4-2 win over Vermont. It seems that if a team can key on Carpenter enough and keep her production down (easier said than done) a team has a better chance of a positive outcome.
Second, BC defenseman Kaliya Johnson got burned twice. On BU's first goal, she turned it over to Marie-Philip Poulin at the BC blue line and allowed Poulin to go in on a breakaway, on which Poulin scored. On BU's third goal, Johnson let Sarah Lefort get behind her on the far side, and Poulin made a pass to Lefort on the back side, and Lefort capitalized.
On that play, Johnson slashed Lefort pretty badly. On the replay, I can't tell if Johnson is going for the stick or legs, but either way, the slash was an attempt to compensate for Lefort getting free in the first place. Lefort then went headfirst into the boards, with Johnson crashing into her right after Lefort hit. Lefort was shaken up, but she did return to action.
BU had its own dirty play, which was arguable worse, because I don't think Johnson intended to cause Lefort to go into the boards. Late in the game, with BU trying to get a tie, Emily Pfalzer went for the puck in the corner and was facing the boards, with her back to BU's Kayla Tutino. Tutino cross-checked Pfalzer in the back and sent her headlong into the boards. Pfalzer was down for five minutes, and had to be helped off the ice. She didn't play in Saturday's game against Northeastern, but was back on the ice Sunday, where she scored a goal and two assists in BC's 9-1 thrashing of the Huskies.
I still sometimes wonder if the women's game shouldn't allow checking. I think there is a lot of contact already, and sometimes it seems like teams just decide to check anyway and figure the refs can't call everything, such as last year's gold medal game between Canada and the U.S. I think it might help the players if they can anticipate being hit, and perhaps avoid injury.
I mentioned Vermont earlier, and the Catamounts in-conference difficulties continued this weekend, as they were swept by previously conference-winless Connecticut. The first game was a 5-1 whitewash, and the second saw Vermont lose a two-goal lead and then give up a power-play goal late in the third that was the game-winner. Vermont now has consecutive weekends against Boston College and Boston University, hardly conducive to establishing much-needed wins. For a team that beat North Dakota in its season-opener, this season has turned disastrous. What's wrong in Burlington?
Arlan: As time passes, the win over North Dakota looks less and less impressive, as UND was unable to complete the sweep of Syracuse over the weekend. Sweeping the Orange was something that the Catamounts were able to manage, although even that was a high-wire act. That sweep and one a week ago versus Colgate are Vermont's only wins in its last 14 games. Over that stretch, the Catamounts have yielded 57 goals, or just over four per game. With an offense that ranks near the middle, UVM can't prosper unless it can tighten up its play in its own end. It's safe to say that the team misses Roxanne Douville in net. When opponents are scoring on more than 10 percent of their shots, that's not good, and Vermont's save percentage is particularly low in conference action. It doesn't figure to improve significantly with BC and BU on the docket.
Northeastern's goaltending situation was a bit unsettled heading into its series with the Eagles, and that resulted in more goalie changes in one game than most teams make in a season. BC has made even confident goalies require therapy, so Jim Plumer will have to find a way to somehow weather that storm. His team held the Eagles to four goals in the first meeting, but there may have been some jet lag involved. The picture isn't much rosier for Vermont on its offensive end. In Hockey East, goalies have a .944 save percentage against the Catamounts. They put 56 shots on Elaine Chuli in the opener, and only Dayna Colang got a puck to go in. When a team has trouble scoring and trouble defending, it results in people like you and I discussing what's wrong. It's probably a whole bunch of little things that add up to a basement residence.
If Vermont is going to continue to falter and Northeastern look as vulnerable as it has, then somebody else in Hockey East will need to fill that vacuum. Connecticut just got the sweep, but gave up a ton of shots in one game, had to rally in the other, and got trounced by Harvard to start the week.
Maybe Providence can be that team on the rise. I watched the Friars tie Rensselaer 3-3 to start their 2015 schedule, and they followed that with a sweep of New Hampshire. Senior Beth Hanrahan leads the team in both goals, 12, and points with 20. She really stood out to me versus the Engineers, and she continued to produce against the Wildcats. A team needs other sources to emerge, and freshman Madison Sansone got her first goal in the RPI game and added another in the UNH series. The Friars seem to have survived that 0-9-1 start and are at least moving in a positive direction. They only have one BC game remaining, so a finish in the top half of the league is not out of the question.
Are you getting a clearer picture of who will be making a bus trip and who will be staying home once the new best-of-three Hockey East quarterfinals commence?
Candace: Um, no? Boston College and Boston University are locks. Given how tough Maine played BU this past Saturday, losing 5-3 in Boston, I like the Black Bears to get home ice as well. Maine's schedule is pretty favorable. Aside from a two-game set against BC in mid-February, the Black Bears have some very winnable games, with five at home and one two-game set in New Hampshire.
That leaves one team, and it will likely be either Northeastern or Providence. Despite the sweep this past weekend, I don't think Connecticut can get enough points to get to fourth, though the Huskies do have one game in hand on Providence and two on Northeastern.
On paper, I'd say things still look good for Northeastern, which after this Sunday's game against BU gets Maine twice, Vermont, Providence, Connecticut twice, and New Hampshire twice.
As for Providence, yes, the Friars only have one left against BC, but they also have two against BU. I guess the final home ice spot could come down to the game on Feb. 6 between Providence and Northeastern. If the Huskies win that, I think they are almost a lock for at least the four spot in the conference.
Hockey East isn't the only conference that is tough to pick. The WCHA is very similar, in that you have two dominant teams and then a few squads battling for position and home ice, and then two teams that will be punching bags for the top two. I don't think either of us expected Ohio State to be in third, but there the Buckeyes sit, two points ahead of Minnesota-Duluth and four points ahead of Bemidji State. UMD is still on the inside track for third, with two games in hand on both OSU and BSU. North Dakota is in sixth, and while it also has two games in hand, UND may have dug too big a hole, though I guess it could catch Bemdiji if the Beavers falter.
Who do you see getting home ice in the WCHA, and how do you think the matchups of 3-6 might play out?
Arlan: The Bulldogs should finish third when all is said and done. They are done with BSU, and get both North Dakota and Ohio State in Duluth. Even a split in the head-to-head series with the Buckeyes to close the season should be enough.
UND has some advantages on the other two. In addition to the two games in hand, it is done with Wisconsin. If the Badgers sweep the Beavers and Buckeyes, that helps North Dakota, and it could be right back in the thick of the home-ice battle. We won't have long to wait to see how it will play out where UND is concerned, as its next two series are in Columbus and hosting the Beavers, before it closes the month in Duluth. By the time February rolls around, we should have a good idea as to whether North Dakota will need to go on the road for a quarterfinal if it wants to compete in the WCHA Final Face-Off that it is hosting.
In my conference preview, I originally had the order of finish being UMD third, UND fourth, and Ohio State fifth with Bemidji State sixth. I'd say that the most likely change will be a swap of UND and Ohio State, meaning the Buckeyes would get fourth. That would make their series this weekend a preview of a quarterfinal hosting North Dakota. If that leaves Bemidji State at Duluth, they've split two series already. In terms of advancing, I'm not sure that finishing third through sixth is going to matter all that much. Any of these teams look capable of going into the arena of the other teams in this clump and winning two of three. The picture will evolve along the way, and in another six weeks, one team will likely be playing much better than someone else in the group.
We haven't had much action in the CHA after the break other than Robert Morris splitting with RIT, so I don't know that there is much new to discuss there. Four of the teams play conference series this week, so we should have some new information next week.
In the ECAC, the eight teams headed to the postseason still seem rather clear cut. Games over the past week went pretty much according to form. Princeton took care of business on home ice versus Yale, which neither of us predicted, but Yale has had more potential than results for much of the season. The other big development was Cornell having to settle for home-ice ties with both St. Lawrence and Clarkson. My guess is that seriously damages the Big Red's hope of winning the league. It may still control its own destiny in that regard, but given it has the fourth-best winning percentage, that would take a big surge. Of the likely playoff teams, there may be at least three separate tiers. I'd put Harvard and Quinnipiac on top, Clarkson, Cornell, and St. Lawrence fighting for the other two home-ice spots, and Princeton, Dartmouth and Yale as great bets to play in the postseason but unlikely to host. Who do you expect to rise or fall from that projection?
Candace: Oh the ECAC is even more of a cluster than the WCHA or Hockey East! Quinnipiac is in first, with 24 points, five ahead of Harvard and eight ahead of Clarkson, but the latter two have three games in hand on both Quinnipiac and fourth-place Princeton, while fifth place St. Lawrence has 14 points and Cornell has 12, but St. Lawrence has three in hand on Princeton, which it trails by two points, and Cornell has five games in hand.
The ECAC champion could be decided by Jan. 30, barring an epic collapse, as that is the game where Harvard faces Quinnipiac. If the Crimson win that, and win their games in hand, they'll have won both games against Quinnipiac and will likely win the ECAC. A crucial game for the home ice will take place on Feb. 3, when Clarkson faces St. Lawrence.
Cornell has a few games in which to build momentum before facing Harvard Jan. 24, with Yale, Brown and Dartmouth on the docket, then has another three winnable games in Union, Rensselaer, and Colgate before facing Quinnipiac again. The Big Red didn't look too good in ties against St. Lawrence and Clarkson this weekend, but they just crushed Boston University Tuesday night, so maybe they will build momentum off that.
Right now, I like Clarkson to get home ice, and then the final home ice spot will be a battle between St. Lawrence, Princeton, and Cornell. St. Lawrence has a pretty favorable schedule, with two games each against Union and Rensselaer, and also facing Brown and Yale, plus a pretty big game with Princeton on Feb. 14. Cornell also has two each against Union and Rensselaer, and also has Brown and Colgate, as well as streaky Yale.
Ultimately, I don't know if Cornell can be consistent enough to get home ice, which would be a huge shock. St. Lawrence is pretty inconsistent as well, but the Saints have seemed to demonstrate more upside, and I think they can finish in the final home ice spot, with a likely meeting against Cornell their reward. I don't know how Cornell, which its dominant first line of Brianne Jenner, Emily Fulton, and Jillian Saulnier, only managed 20 shots against Clarkson Saturday. The top line was held without a point in that 1-1 tie.
Jenner scored twice against St. Lawrence Friday, but both came on the power play. That line is very strong, but it has to get even-strength goals against the top teams. That line did look good Tuesday against BU, with Jenner scoring once and Fulton getting two. We'll see if they continue to build on that.
Down at the bottom, I think Yale and Dartmouth will jockey for 7-8, and Dartmouth will likely finish higher, with Yale getting the final playoff spot.
Do you see the ECAC differently?
Arlan: Maybe some minor differences. I don't see Princeton getting home ice. The loss to RPI figures to be costly in that regard. St. Lawrence had the bad loss to Brown, but such glitches in the first half are more easily overcome. If the Saints can get healthy and get Carmen MacDonald and Jenna Marks back in the line-up, they could scare some people.
As for Cornell's lack of shots versus Clarkson, they were short-handed a lot. After taking a third-period lead on Cassandra Poudrier's goal with 14 minutes to play, the Big Red were assessed nine minutes in penalties the rest of the way. They were also badly outshot in the second period, so maybe they were having a hard time just getting out of their own end against Clarkson's forecheck. The good news is that Paula Voorheis made 40 saves in that game, so maybe she is settling in as the number one goaltender. One disadvantage for Cornell is that it still has both of its Harvard games remaining, and the Crimson look to be playing much better now than earlier.
In terms of the winner of the ECAC, it's kind of like a book in a genre that one reads a lot. If it always ends a certain way, then you expect it to end that way again, meaning if Cornell doesn't win, then Harvard does. We had the departure from the norm last year with Clarkson finishing on top of the standings, but I think we return to the tried and true formula this year. It works well for Harvard that the Quinnipiac game is just before the Beanpot rather than in the middle of it or just after, when the team could be more worn down. It does have to go to Cornell the weekend after the Beanpot, although with the depth that the Crimson have this year, fatigue should be less of an issue.
When it comes to Quinnipiac, every game seems to follow the same script: don't allow any shots, and score three or four goals. It gets a little boring, but it sure is effective. Seeing what recruit Melissa Samoskevich has accomplished at the U-18 World Championships makes one wonder if a more prolific offense will be displayed by future squads.
I too like what Dartmouth has shown. Laura Stacey got back into the line-up on Saturday against Union, and she will be pivotal when the Big Green looks to knock off the power teams. They are heading into a tough remainder of January, as their five games include hosting Harvard and Cornell and traveling to Princeton and Quinnipiac. They also finish with three challenging games at Cornell, and Clarkson and SLU on home ice.
We haven't spent much time discussing individual performances for the season as a whole. I doubt anyone is that surprised by what people like Carpenter, Brandt, and Haley Skarupa have done. Are there other individuals that you feel have either really stood out or shown at a much higher level than you expected?
Candace: Exhibit A is Minnesota's Dani Cameranesi, who has almost doubled her points-per-game average. We often hear talk about the "sophomore slump," and have seen it played out several times, but Cameranesi is the rare player who has not only not experienced a slump, she has become a much better player in her sophomore year. Considering that the Gophers lost Amanda Kessel at the start of the year, Cameranesi's play has been critical to her team's success.
Carpenter and Skarupa deservedly get a lot of press, but BC's Pfalzer and Kate Leary have been having outstanding senior seasons. Pfalzer is fifth in the country in scoring, despite playing fewer games than several people below her, and on top of that she's a defenseman. Leary is posting a career high for points per game, and has made some outstanding individual efforts to score, including a brilliant end-to-end rush against Cornell. Her strike against Boston University last week was also impressive.
Kelly Panek of Minnesota has really come on, and leads all freshmen in scoring, outpacing Wisconsin's Annie Pankowski and BC's Kenzie Kent by two points, exactly the same number of games she's played more than the two as well. Also for freshmen, I think you have to give a shout out to BC's Katie Burt, who is second to Quinnipiac's Chelsea Laden in goals-against, and Clarkson's Shea Tiley, who has stepped in well in net for the departed Erica Howe.
Laden's numbers are pretty spectacular, with a GAA of .756. She might finish under a goal a game, which is incredible.
On the negative side, while Marie-Philip Poulin's points-per-game average puts her eighth nationally, she's still below her teammate Sarah Lefort, and given Poulin's international experience, I expected a little more out of her. It's also her lowest points-per-game average of her collegiate career, not something you expect to see out of a senior.
Clarkson's Erin Ambrose, a Patty Kazmaier nominee last year, is also having a down year, with her production cut almost in half. If Ambrose can improve in the second half, it would certainly help her team's chances.
We expected big things out of Northeastern's Chloé Desjardins in her senior year, but her numbers have been disappointing. She hasn't been able to step up the way she needs to. Even worse is Robert Morris netminder Jessica Dodds, who is definitely having a sophomore slump. After posting a 1.66 GAA as a freshman, she's seen her goals-against go up almost double to 3.11, and her save percentage has dropped from .932 to .898.
Dodds' teammate Rebecca Vint is having a very poor senior season, averaging only .44 points-per-game after being over at least a point a game in her first three seasons. Vint's lack of production has not helped her team, which also suffered when Brittany Howard suffered an injury after only two games. Howard has yet to return to the line-up, and I'm sure you'd join me in wishing her a speedy recovery.
Right now for the Patty Kazmaier Award, I think Carpenter and Brandt are locks for the final three, and either Laden or Skarupa is likely to be the last member of that trio. The initial Kazmaier Award list of 10 nominees won't come out till February, but others I think likely to make that list besides those four are Cameranesi, Pfalzer, Lefort, Minnesota's Rachel Bona, Northeastern's Kendall Coyne, and either Karley Sylvester or Brittany Ammerman of Wisconsin. Cornell's Brianne Jenner might make it as well, perhaps instead of Bona, as the voters may not want to have two teams each with three players in the top 10.
What performances stand out to you, and who do you think might be on the Kazmaier list?
Arlan: I got to watch Jillian Saulnier in person for the first time since she was a freshman, and I found her performance to be much more electric than comes across online. World-class speed, a motor that doesn't quit, hustling all over the ice, and bringing a great skill set when she arrives — her numbers aren't quite there at the moment, but I think she will be solidly in the top 10 in points per game in another month. If Cornell's stock is rising as well, I could see her being in the mix.
I also got to see Poulin live opening weekend, and on any given shift, she may show things that you won't see anywhere else. At other times, she'd fade into the background a bit. With her reputation, she obviously draws a lot of attention from defenses, but that's true of most of the top producers. Maybe her personality is that she is willing to defer to others and save her heroics for the big moments, but I think BU will need a little more from her going forward. She and Lefort combined should be more dominant than they have been thus far.
I don't know how much we can blame Ambrose for her scoring decline. She is great at distributing the puck, and this year, she just doesn't have the same weapons at her disposal. Shannon MacAulay has really stepped up her game this year, but Clarkson doesn't have the same depth.
One thing working against Coyne is that Northeastern has struggled more than expected. Plus, outside of BC, Hockey East has been weaker than expected, so I don't see the league getting more than half of the nominations.
Harvard has struggled as well, but if it continues to rally, the Crimson should still get on the list. There are a lot of voters from the ECAC, so the league will get some representation.
The CHA usually gets a nod. If so, it would come from Mercyhurst's Emily Janiga or Amanda Makela. I don't know that either is positioned to make the top 10 with current numbers.
For a bit of a dark horse on the blue line, I'd look to someone like Kelsey Koelzer of Princeton. She is tied for her team's lead in points and is third in points per game from the blue line, without having the luxury of playing with the BC forwards like those ahead of her do.
If the coaches want to reward someone who has been a difference-maker for her team, one could consider Bemidji State's Brittni Mowat. Her save percentage of .951 is second in the country to Ali Binnington, and she was the biggest factor in upsets over ranked teams Minnesota and Minnesota-Duluth. If she can add one or two other strong results and BSU remains near the rankings, then she would be another option at goaltender.
My best guesses for a top 10 would be: Carpenter, Skarupa, and Pfalzer from BC; Brandt and Cameranesi from Minnesota; Laden, Quinnipiac; Sylvester, Wisconsin; Jenner, Cornell; Poulin and Lefort, BU. If someone gets bumped, it could be Lefort, such as if somebody from Harvard emerges.