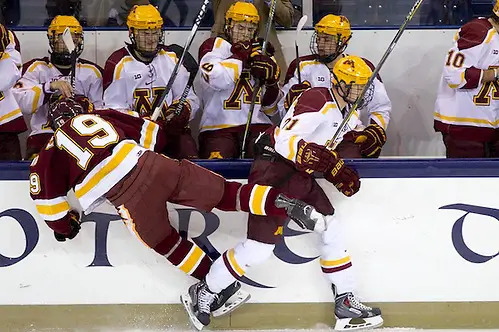 Business writer Shane Gibson — not to be confused with the late Korn guitarist of the same name — once urged his devotees to "always be closing." Gibson wrote, "That doesn't mean you're always closing the deal, but it does mean that you need to be always closing on the next step in the process."
Closing the deal. Closing on the next step in the process. As Big Ten play unfolds through the second half of the season, that ability to close may be the thing that separates the haves from the have-nots.
"You put yourself up 3-2 with under 10 minutes to go in the game, you've got to close it out." That is how Minnesota coach Don Lucia summarized his team's performance after the Golden Gophers lost 4-3 in overtime to Michigan last Friday night.
Down by a goal midway through the third period, Minnesota scored twice within the span of a minute to pull ahead 3-2 — Justin Kloos' and Travis Boyd's power-play tallies on Michigan captain Andrew Copp's five-minute major for checking from behind.
Instead of capitalizing on that momentum, the Gophers watched their brief lead disappear three minutes later when Justin Selman scored his first goal of the season for Michigan on a play that began when Zach Werenski stripped the puck from a Gophers player, closing in on that next step in the process. Cutler Martin scored for the Wolverines in overtime.
The following night, the Gophers scored five goals against the Wolverines — and lost the game. Down 4-1 after the first period, Minnesota battled back but couldn't close the gap completely and the Wolverines won 7-5.
The Gophers are 1-3 since the start of January, outscored by opponents 16-14 in that stretch and losing by a goal twice in addition to that two-goal loss to Michigan.
It's no secret that Wisconsin has yet to master the art of the close this season, but the Badgers seem to be inventing new ways to avoid success. In Saturday's 3-3 tie with Boston University, Wisconsin held a 2-1 lead after two periods of play and then got this gift from the visiting Terriers at 17:19 in the third.
[youtube_sc url=https://www.youtube.com/watch?v=BLOAF8ss_3Q]
Yes, that's BU's Brian Diffley and Terriers goaltender Matt O'Connor combining on a mistake that ended up in the back of their own net, making it a 3-1 Wisconsin game with less than three minutes to go in the third period. That should have been enough insurance for a UW win, right?
Wrong.
BU's Ahti Oksanen scored two extra-attacker goals — one at 18:08 and another with three seconds left in regulation — to tie the game 3-3, which is how the contest ended.
The Terriers demolished the Badgers 6-1 in Saturday's rematch. After a scoreless first period in that game, Wisconsin's Jedd Soleway made it 1-0 at 2:04 in the second … and BU responded with three goals in the second and three more in the third.
After Saturday's loss, Wisconsin coach Mike Eaves talked about the Badgers' inability to maintain the deal, let alone close it.
"In the middle of the second period, we made some soft plays, plays that we talked about, and they took advantage of them and then they had the lead," he said.
"We'd come out for the third period, five on five, [and] we got back to what we were doing. We had good zone time, but our power play gave up a shorty. Their power play got a goal. It unraveled."
Eaves summed up the weekend this way: "This is the first time all year where we had this opportunity where we played well on a Friday, thank goodness. Now we've got to come back and do it again, and we didn't. Not for 60 minutes."
Had Penn State been able to close two games against Ohio State instead of one, the Nittany Lions would be sitting atop the Big Ten standings alone instead of tied with Michigan. Heading into the third week in January, both Penn State and Michigan have 12 points, but the Wolverines have a game in hand on the Nittany Lions.
By the 2:45 mark of the third period in Friday's 5-4 loss, the Nittany Lions were down 4-0, but a pair of goals by Casey Bailey at 6:57 and 8:06 brought Penn State to within two and David Goodwin scored at 14:07 to make it a 4-3 game. Bailey scored again at 19:38 with the extra attacker and sent the game to OT. With 46 seconds remaining in overtime, Anthony Greco scored unassisted to give Ohio State the 5-4 win.
"In my mind," said Penn State coach Guy Gadowsky, "we lost the game in the second period when we were complacent."
The Nittany Lions defeated the Buckeyes 4-1 the following night, keeping pace with the Wolverines, a team that suddenly seems to always be closing.
Michigan is 4-0 to start the calendar year, having captured the Great Lakes Invitational title without forwards JT Compher, Dylan Larkin and Tyler Motte and defenseman Werenski. In the two-game series against Minnesota, Compher had a goal, Motte had four assists, Larkin had three goals and an assist and Werenski had an assist.
Michigan's offense is now second-best in the nation, averaging 3.84 goals per game. And the Wolverines are deep; 17 players on the team have at least a goal this season and the scoring is spread among all classes, with several defenders in the mix as well. With 11 goals and 15 assists, senior forward Zach Hyman leads the Wolverines in scoring and is playing the best hockey of his career.
After Friday's overtime win, Michigan coach Red Berenson said that the GLI title was just what the Wolverines needed.
"I think the GLI was really a good thing for our team, a good confidence builder and good for a lot of guys to step up and show what they can do to help the team," he said. "Nobody's taken over the team, but I thought the GLI was a real good character builder for our team and a confidence builder and now you saw a glimpse of that tonight."
It's still too early to know whether the Wolverines' momentum or the Nittany Lions' tenacity will help them close out the season at the top of the standings — or whether Wisconsin's inability to close will keep it mired at the bottom of the league — but heading into the middle of January, the league standings are far more interesting than I thought they'd be just a month ago.
And in spite of their recent record, I'm still not discounting the Gophers.
800 and counting
With that 7-5 win over Minnesota, Berenson earned his 800th career victory, becoming the fourth head coach in college hockey history to reach that mark. Boston College's Jerry York leads all coaches with 975 wins, followed by former Michigan State coach Ron Mason (924) and former Boston University coach Jack Parker (897).
The game that gave Berenson that milestone also marked the first time that the Wolverines swept the Golden Gophers since 1991.
Michigan injuries
Michigan senior forward Travis Lynch is expected to be out a month with a broken right hand, an injury he suffered in Saturday's win. Michigan junior goaltender Steve Racine — who has been spectacular in net since the start of the calendar year — left Saturday's game with an undisclosed injury but is practicing with the team this week.
A Spartan with an unclear future
On Tuesday, the Lansing State Journal reported that Michigan State senior forward Matt Berry (7-6–13) was forced to leave the team for undisclosed rules violations in early December.
Berry was last seen on the ice against Minnesota on Dec. 5. Coach Tom Anastos said that Berry's status will be determined day to day.
It's flu season
Last week, Minnesota freshman defender Ryan Collins missed practice leading up to the series against Michigan because of influenza. Collins played Friday but not Saturday.
The Centers for Disease Control is warning that this may be one of the worst season in recent years for influenza. The flu is already severe in Michigan, where hundreds of people have been hospitalized across the state for the disease this season.
What does this mean? Watch out for more players missing time around the Big Ten — although you shouldn't expect to hear too much about its impact in any given weekend, as coaches are reluctant to talk about illness that makes its way through a team.
Players of the week
Two from the Wolverines and one from the Nittany Lions claim the honors.
First star — Michigan senior forward Zach Hyman: Hyman had two goals and four assists in Michigan's sweep of Minnesota, including points on all four of the Wolverines' goals Friday night. The Toronto native (11-15–26) has two fewer goals in 19 games this season than he had in his previous 114 combined. This is his second career Big Ten weekly award, both having come this season.
Second star — Michigan freshman forward Dylan Larkin: Larkin had three goals against Minnesota, including the game winner Saturday night. The Waterford, Mich., native also had the first assist on the game-winning goal in overtime Friday. This is his second career Big Ten weekly award.
Third star — Penn State sophomore goaltender Eamon McAdam: McAdam earned his fourth win of the season in Penn State's 4-1 victory over Ohio State on Saturday, posting a .972 save percentage in the contest. In his last three starts, the Perkasie, Pa., native has a .935 save percentage and 2.01 GAA. McAdam is 4-2 this season after having gone 0-9 in 10 starts in 2013-14. This is his first career Big Ten weekly award.
My ballot
Yes, I know I have Minnesota high. I'm thinking influenza. I am also thinking that Michigan is mighty, mighty good.
1. Boston University
2. North Dakota
3. Minnesota State
4. Minnesota-Duluth
5. Minnesota
6. Massachusetts-Lowell
7. Michigan Tech
8. Miami
9. Harvard
10. Vermont
11. Omaha
12. Denver
13. Bowling Green
14. Quinnipiac
15. Michigan
16. Merrimack
17. Boston College
18. Providence
19. Colgate
20. Yale