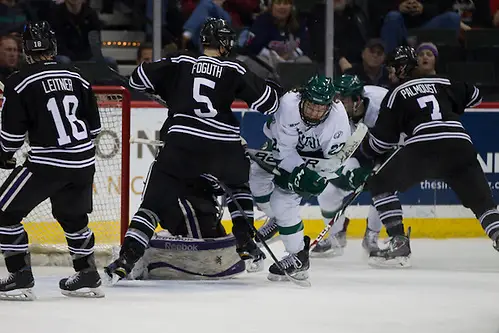 There were plenty of smiles in the press box of St. Paul's Xcel Energy Center last Saturday night, at least among folks associated with the WCHA.
Their league was in the spotlight with a tournament championship and a prime-time game between a pair of league rivals who, the previous day, knocked out two former league foes.
"We're proud that both teams are here; I think we both earned it," Minnesota State coach Mike Hastings said Saturday after the North Star College Cup title game. "It's not just this tournament; nationally, our league's done a good job at competing outside of conference."
Indeed, with just two nonconference games remaining in the regular season (Northern Michigan at Minnesota-Duluth on Feb. 6-7), the WCHA has a .523 winning percentage (30-27-9) against nonleague opponents. Compare that to .381 a season ago.
Three WCHA teams are in the top 10 of the PairWise Rankings, including No. 1 Minnesota State. Those same three teams, which include Bowling Green and Michigan Tech, also are in the top 10 of the USCHO.com Division I Men's Poll.
And before the bottom half of the league gets overlooked, remember that Bemidji State won the North Star Cup, beating Minnesota State 3-1, and Lake Superior State won a tournament, too, taking the Florida College Classic in late December.
"Hey, we have a heck of a league," Bemidji State coach Tom Serratore said. "That team we played [Minnesota State], that's the best team in the country. That's not just rankings; that team is really good."
Perhaps more than shining a little light on the WCHA's success, Saturday's game between the Beavers and the Mavericks showed that the league might be in for a wild ride over the final six weeks of the regular season.
There's at least a two-team race for the MacNaughton Cup. There's a four- to six-way race for a top-four spot and home ice for the first round of the league tournament. And there are three or four teams sitting uncomfortably close to the conference's last-place spot, which comes with the reward of a premature end to the season.
"The margin for error and the parity in college hockey showed this weekend," Hastings said on Saturday. "The difference between winning and losing is minute."
Here's a glance at the standings going into this weekend's series:
• Minnesota State has a four-point lead atop the league standings, with Michigan Tech in second place.
• Bowling Green, which has two games in hand, is in third place but missed a chance to tighten the gap more with a home split against Lake Superior State last weekend.
The Falcons travel to red-hot Bemidji State this weekend.
• Bemidji State also is trying to close in on a home-ice position for the playoffs. Ferris State, which travels to Minnesota State, and Northern Michigan, which hosts Alaska-Anchorage, are tied for fourth. The Beavers sit three points behind (Alaska sits in between, but, you'll recall, the Nanooks are ineligible for postseason play), and they and the Bulldogs have played 16 league games to the Wildcats' 18.
• The Beavers, who have lost just twice in their last 11 games, also are trying to create some separation from the bottom of the standings. While they have two games in hand on Alabama-Huntsville (at Michigan Tech) and four on Lake Superior State (idle), they hold a slim one-point lead on those teams.
• Alaska-Anchorage, which, like Bemidji State, has played just 16 games thus far, is three points behind the Beavers in that unenviable, out-of-the-playoffs position of 10th place.
"It doesn't matter what league we're in. It matters how hard we play and how hard we compete," Serratore said.
NMU's Kyle returns from administrative leave
After a weeklong administrative leave that forced him to miss Northern Michigan's nonconference series at Penn State, Wildcats head coach Walt Kyle returned to the team on Monday afternoon.
Kyle, along with associate athletic director Bridget Berube Carter, were placed on leave last week. A source told Upper Peninsula television station UpperMichiganSource that there was "concern over the compliance aspects of Carter's position in reference to the hockey program."
University spokesperson Derek Hall told the Daily Mining Journal newspaper that no university bylaws or university policies were violated and both were back to work as normal.
Kyle is expected to be back behind the bench this weekend when the Wildcats host Alaska-Anchorage in Marquette.
The Wildcats need some consistency after winning just once in the last 12 games. They started out 7-1-1 but are now 9-9-6.
Last week against Penn State, with assistant coach John Kyle leading the team, the Wildcats lost a pair of 4-1 leads. They ended up losing 5-4 Friday and tying 5-5 Saturday. They were outshot 117-59 on the weekend.
Northern Michigan's Mathias Dahlstrom has seen his GAA soar all the way to 2.19; it was 0.74 at one point. Which is to say, he's still good, but can't do it by himself.
Despite the January swoon, the Wildcats still find themselves tied with Ferris State for the fourth and final home-ice slot.
But that won't last long if they can't find a way to get back on track like they were earlier this season.
Ice chips
• Although the games didn't count, Alabama-Huntsville played two spirited games last weekend against the U.S. Under-18 National Team. Team USA won both games, but Friday's went to overtime before Team USA won 2-1 and on Saturday UAH gave up two goals in the last minute and lost 4-2. The Chargers will be back in action this weekend against Michigan Tech — a team they've never defeated in four tries.
• Alaska is off this weekend, getting a chance to stop some bleeding. The Nanooks have lost four straight and are winless in their last six games despite having leads in four of them. Three of those games (two losses, one tie) went to overtime.
• After an idle weekend, Alaska-Anchorage embarks on a long road trip for back-to-back series at Northern Michigan and Minnesota State. The Seawolves won their first road games in league play two weeks ago at Alaska. They have yet to win a road game outside the state of Alaska.
• Bemidji State has always been known for its strong defensive corps, but last weekend two defensemen contributed greatly to the offense in the Beavers' North Star College Cup victory. Senior captain Matt Prapavessis netted his sixth goal of the season Friday night, setting a single-season high. Following his three-point (1-2–3) weekend, Prapavessis leads the Beavers in scoring with 17 points and 11 assists. Sam Windle also contributed to the offense. Windle, one of the best pure defenders on the Beavers, is 10th in the country with 51 blocked shots. But on Friday he scored his first goal of the season and just the third of his career. Windle always gives Bemidji State a boost — the Beavers are 3-0 all time when he lights the lamp.
• There's no rest for No. 6 Bowling Green, which has no bye weekends over the second half of the season. The Falcons are in the midst of a 20-games-in-10-weeks stretch and are 4-2-2 so far, including last weekend's home split with Lake Superior State. They've scored 2.8 goals per game over that span; for the season, they've averaged 3.17.
• Come mid-February, Ferris State might be tired of Mavericks and Falcons. Although the Bulldogs were idle last weekend, they are playing Minnesota State in back-to-back series, followed by Bowling Green in back-to-back series. That's eight games over five weeks against two opponents.
• As poorly as Lake Superior State played to start the season, lately the Lakers have been given a big boost by the play of Gordon Defiel. He's tied for second in the nation for most games started in net (25), has the nation's most saves (826) and has faced the most shots (906) by any goaltender this season. In the eight games since the start of the Florida Classic, Defiel has posted a .949 save percentage with a 1.86 GAA.
• No. 8 Michigan Tech improved its win total to 18 with its sweep of Alaska last weekend. It's a mark the Huskies haven't hit since the 2006-07 season when they finished with that number. Tech is in the middle of a nine-game home stand, going 3-2 so far, with Alabama-Huntsville coming to town.
• Junior defenseman Jon Jutzi has made a big impact on No. 3 Minnesota State since returning to the team after taking the first semester off for personal reasons. In six games, he has two power-play goals and five points and is plus-3. The Mavericks are 5-1 in those games.
• The WCHA players of the week were Michigan Tech senior forward Blake Pietila (offensive), and Bemidji State freshman goalie Michael Bitzer (defensive) and freshman forward Gerry Fitzgerald (rookie).