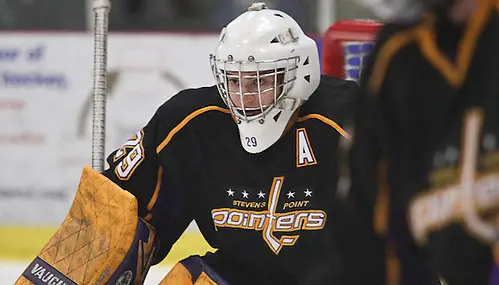 Our duo is back at it today to pick this weekend's featured games in Division III.
DAN HICKLING – East
Friday
ECAC EAST
Castleton (7-13-0, 5-8-0) @ No. 1 Norwich (18-2-1, 14-0-0) – Norwich 5, Castleton 2
Castleton is a quality group, but nowhere close to the Cadets class. Come to think of it, who is?
SUNYAC
Morrisville (7-8-5, 5-5-2) @ No. 2 Oswego (13-2-3, 8-1-1) – Oswego 5, Morrisville 0
Both teams can score, but the Lakers can defend. Really defend.
ECAC WEST
Nazareth (10-7-3, 6-2-2) @ Manhattanville (7-9-4, 2-7-1) – Nazareth 4, Manhattanville 2
The Golden Flyers could be heading for a league title in just Year Three of the program's existance. A two-game road sweep of the Valiants could go a long way toward getting them there.
Saturday
MASCAC
Plymouth State (10-7-3, 10-2-1) @ Fitchburg (8-9-2, 6-5-1) – Plymouth 5, Fitchburg 4
The Panthers are rolling toward the MASCAC title and its Fitchburg's misfortune to be standing in the way.
NESCAC
No. 4 Trinity (15-2-1, 10-1-1) @ No. 13 Williams (12-4-2, 8-3-1) – Trinity 3, Williams 2
Trinity suffered its first league loss last week (to then-No. 13 Amherst), and if anyone could hand them a second, it would be the Ephs. The guess here is that it won't happen here.
ECAC NORTHEAST
Becker (4-15-0, 0-8-0) @ Wentworth (9-8-2, 4-3-1) – Becker 4, Wentworth 3
Every Hawk has its day and Saturday may finally be Becker's.
BRIAN LESTER – West
St. Mary's is one of the hottest teams in the MIAC and it battles Augsburg this weekend in a key series. The Cardinals are in second place with 19 points and sit at 10-7-2 overall and 5-3-2 in the conference.
Augsburg is right behind the Cardinals with 18 points. The Auggies are 9-10 overall and 6-4 in the league.
Martin Gruse leads St. Mary's with 15 goals and 14 assists while Phil Heinle has been impressive in goal, fashioning an 8-6-2 record and a 2.23 goals-against average. The Auggies have been led by Mack Ohnstead, who has come through with 10 goals and 10 assists.
This should be a tight home-and-home series. I can see this ending in a split but I'm giving the edge to the Cardinals, who will keep their momentum rolling this weekend. St. Mary's, 5-3, 4-3.
Other games to watch are below.
St. John's (9-5-5, 5-3-2 MIAC) vs. Hamline (8-7-4, 4-3-3): It's a huge series for both teams in terms of playoff contention. St. John's has 18 points and Hamline has 16.
The Johnnies have won two of three and have scored 51 goals. The Pipers have fallen in three of their last four and have also scored 51 goals this season. I'm predicting a split. St. John's, 3-2; Hamline, 4-3.
No. 3 Wisconsin-Stevens Point (15-4, 5-1 WIAC) vs. Wisconsin-Stout (8-10-1, 3-3): The Pointers have won their last three and are looking to maintain their lead atop the WIAC standings. With Brandon Jaeger in goal, they should have a great chance of accomplishing that goal. Jaeger is 15-3 on the year and owns a goals against average of 2.26. The Blue Devils are riding a wave of momentum as well. They have won three of four and are led offensively by Justin Moody, who has scored nine goals and dished out seven assists. Stevens Point, 6-4, 5-2.
No. 12 Lake Forest (13-3-5, 11-2-1 NCHA) vs. Milwaukee School of Engineering (13-8, 8-6): The Foresters are in second place in the league standings and will have a shot to move into first with a pair of wins this weekend. The Foresters are one of the hottest teams in the league, winning six in a row, and are led by Jack Lewis, who has scored eight goals and dished out 15 assists.
The Raiders are playing well, too, having won three in a row, and are in fourth place in the standings. Omar Mullan has led the way for MSOE, racking up 13 goals and 16 assists. Look for this series to end in a split. Lake Forest, 5-2; MSOE, 4-3.