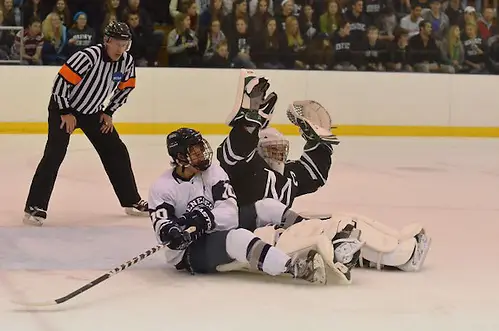 Tradition holds that a retiring hockey official gets to name his crew mates on the occasion of working his final contest.
Saturday, that honor will go to referee Brian Panek, who hangs up his whistle after calling college games – more than 500 of them – over a 24-year career.
Panek will work the Brockport-Fredonia game at Steele Hall, which coincidentally or not, was where he worked his first game all those years ago.
"Now it's real," said Panek, 51. "It wasn't up until this week. It's going to be pretty emotional. I've had a great run. I've worked with a lot of great guys and gals. I'm going to miss the game a lot."
As is customary in the officiating fraternity, Panek will leave the ice in hand-picked company. The rest of the crew will include referee Chris Ciamaga, while the linesmen will be his son, Jason Leisten, and his nephew, David Panek.
Ciamaga, who has worked NHL games, also serves as the director of officiating at the new HarborCenter complex in Buffalo. Leisten, who worked games with his father until relocating to Florida, manages the rink at the University of Central Florida in Tampa, while David Panek continues to work college games throughout the East.
"All the older guys I've worked with aren't skating anymore," Panek said. "'Chewy' [Ciamaga] has been to the top of the mountain, and he's happy to work a Division III game with me to see me off. That means a lot to me. And Jason coming home from Florida to work with me is huge. I'm getting emotional even talking about it."
Panek will be honored in a pre-game ceremony that will feature both head coaches, Jeff Meredith of Fredonia and Brian Dickinson of Brockport.
Both veteran mentors are pleased about being involved in Panek's special night.
"I'm thrilled that Brockport is a part of Brian's final game," said Dickinson. "I was in the building as an assistant with Fredonia in 1991 when Brian began his career, so it's an honor to also be a part of his last. Brian has always upheld the highest standards of the game and has acted as a great ambassador for all referees. His professional approach to each game allows both players and coaches to focus on the game and not on the officials. It's been a pleasure watching him work over the years and I wish him nothing but the best in all his future endeavors."
Said Meredith, who then as now was Fredonia's bench boss, "Brian has been a first-class person and official in the 20-plus years that I have worked with him. Even in the heat of the moment, he held himself to high standards and always had a great feel for the game which made for a better night on the bench and on the ice. I have been fortunate to have him as a friend and colleague over the years."
Panek said that once the first puck is dropped, he'll be all business and that both teams deserve that much.
"It's another game that's important to the players," he said. "Every game's big for them. Brockport's still fighting for a playoff spot. They'll get my best game for sure."
Given that, why put the stripes in mothballs now?
"It's not that I can't do it anymore," he said. "But it's time to get out for a lot of reasons. My wife [Kelly] has been awesome through this whole thing. Anybody who refs college hockey for as long as I have, their wife has to be patient because it's Friday and Saturday night all winter long. [Plus] my body doesn't recover as quickly as it used to even though I'm kind to my body.
"I don't want to be that guy who's asked to leave. I wanted to do it on my terms.
"This was the time for me."
Although his weekend gig will be winding up, Panek will continue his "day job" as a supervisor at the Cintas company in Buffalo.
He'll also remain active in assigning officials for high school games in the Buffalo area.
Presumably he'll be welcomed into any college rink of his choosing, where no doubt, but he won't be cheering for either the home or away squads, but for the quartet in stripes.
"Hey, when I watch NHL games on TV, my arm goes up when I see a penalty," he said.
And maybe he'll be joined by another recently retired referee, John Everett, who worked his last game earlier this season.
"One thing I won't miss is the travel," Panek said. "Two weeks ago I worked a game in Oswego and it snowed all the way home. And I'm thinking, 'This is what I'm not going to miss.'
"Now it's time to step away."