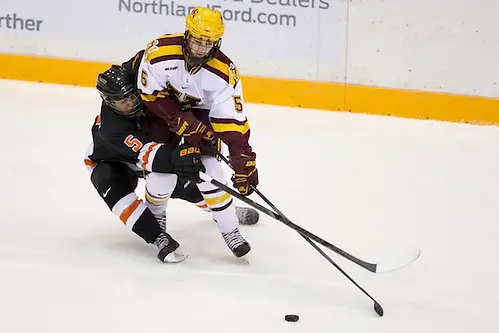 We've all heard it — the name on the front of the jersey is more important than the name on the back. However, that name on the back can go a long way to shaping the hockey player before she ever gets a chance to don the jersey.
Playing for teams like Boston College or Minnesota brings a boatload of expectations. For people like Alex Carpenter and Andie Anastos of the Eagles and Rachel Ramsey of the Gophers, they've spent years dealing with the expectations that accompany their surnames.
Carpenter's father Bob started to build those expectations associated with the family name when he was drafted third overall by the Washington Capitals in 1981, an era when teenagers in American high schools were not prized draft picks. He went on to rack up 320 goals and 728 points in a 1,178-game NHL career that spanned 18 seasons, changing the way American-born players were viewed by the league.
"I think I was a little older when I realized that," Alex said of her dad. "At that point when I was younger, I just knew he was a player and a coach in the NHL. I never realized where he was drafted or what teams he played for outside of the NHL."
Once she got involved with hockey, it brought her into contact with people who were familiar with her legacy, even if she and her peers were too young to appreciate it.
"The parents definitely knew who he was," Carpenter said. "I think that the kids knew that he was a player and a coach, but I don't think they knew the extent, just like I didn't know. I don't think they knew where he was drafted or what impact he had on the game."
As she grew and the awareness increased, things became more complicated.
"That was one of the things that my brothers and I learned from a young age is that we had to discern between who was really our friends or who wanted to be friends just because of our family, our dad," Carpenter said. "But I think at the same time, that taught us a lot growing up."
Her earliest competition didn't revolve around her father's sport.
"He never forced us to do anything we didn't want to do," Carpenter said. "I actually grew up playing soccer, and I couldn't play too many sports at once. When I saw my brother play, I said, 'Oh, I want to play that.' So I quit soccer. He was definitely happy that we both got into the sport, but in no way did he make us play hockey. It just came naturally."
According to Carpenter, her love of the game isn't the only thing that is just a part of her nature.
"I think there are instances where I'll do something and I can't explain why I do it, I just kind of do it," she said. "Then somebody will ask me about it after the game, and I'll be like, 'I don't know; it just seemed like the right thing to do.' So I think that I definitely inherited some good genes from him."
As she got older, Carpenter's father was able to bring more than just genetics to her hockey games.
"During the lockout year, he was coaching when he officially stepped away from the game, so that was in 2004," Carpenter said. "He got to spend more time watching my brother and I play and my younger brother play his sports. He kind of realized that he was missing out a little bit on watching us grow up in our sport, so that's when he officially stepped away."
Not every member of her family is breaking new ground in the sport.
"I [have] a younger brother who wants nothing to do with hockey," Carpenter said. "He loves watching it; he knows everything about it. But he doesn't really want to step on the ice at all. So I think my brothers and I understand that obviously people think that we should play hockey, but I think we've come to learn that whatever we do, our dad and our parents in general are going to be happy."
In her case, she's given them every reason to be proud.
"I think definitely making that Olympic team last year was something special," Carpenter said. "It was something that I set out to do a long time ago. My parents and my brothers were there every step of the way, so I think not just for me, but for our family as a whole, that was something pretty special."
One of Carpenter's current teammates, Anastos, also comes from a well-known hockey family; her dad, Tom, is the coach at Michigan State.
"I was joking around with my dad over the summer, 'You'll figure out a way to get a D-I program going at Michigan State and I'll come coach once I'm done with school,'" Anastos said. "Michigan State and Michigan. They would be like great schools to have a good hockey program there, so I hope it happens."
The sophomore has a couple of seasons to go before she'll be ready to embark on a coaching career, but when she was younger, she didn't envision hockey as being her path.
"All through high school, I pretty much convinced myself that I was better at basketball and that's what I would be playing in college if I wanted to play a sport," Anastos said. "I started to take off more in hockey and I made like national camps, and then I was invited to an August festival for the U-18 group, and at that point, then I was kind of like, 'Oh, I guess I could play hockey in college.' That's when I was getting more offers from good D-I schools. I was like, 'Whoa, I could go to Boston College and play at a D-I program,' so it was pretty much the school that got me to play hockey and I was able to recognize that I was actually a decently good player who could play at that level."
Anastos proved as much last season when she was named the rookie of the year in Hockey East, but she appreciates the fact that she was able to play basketball as well for as long as she did.
She said, "When I was deciding if I wanted to keep playing basketball or hockey, and throughout high school I was still going back and forth, because I was like, 'I just want to play both.' Luckily for me, I had two accommodating coaches who would let me miss a practice here and there for the other sport, so I was able to play that going all through high school."
That provided her athletic career a little more balance.
"I think it definitely helped," Anastos said. "I was always running around going to basketball and hockey. I played like soccer and other sports, too, just for fun, but I think just being able to do multiple sports and not feeling any pressure in one sport at all really helped me to be able to make my own decision and decide if I wanted to play a sport in college. Obviously, I did; I love playing sports. I think it was definitely helpful just being able to have me make my own decisions. My parents never pressured me into picking one sport or the other."
Neither did she feel parental pressure to excel in her father's sport.
"My dad was always just like, 'Have fun,'" Anastos said. "He would never get mad at me if I had a bad game or something like that. Obviously, all parents want their children to do well. My dad was always easily approachable. He would tell me things to work on, and I would take that into effect because I knew he was a good player and he's a good coach, so I obviously would listen to what he had to say to me, even sometimes when I didn't want to because he was my dad."
Anastos was able to capitalize on a few perks of having a hockey dad.
"When I was younger, I'd always be going to games, especially like at Joe Louis Arena where the Red Wings play at for like the [Great Lakes Invitational] and all the college games because my dad was the commissioner of the CCHA at the time," she said. "He would always be in the hallway talking to so many people and I was just like, 'Wow, he knows a lot of people!' That's just how I remember, especially when I was younger. He was working equipment and stuff, and he owned the rink that I always skated on. Me and my siblings would always get like free snacks at the concession stand, so we thought we were cool, because we were able to get free food there."
Her dad fed more than a hunger for snacks.
"My dad actually coached me for quite a bit, so I was thinking that I had to prove myself more, because my dad was the coach," Anastos said. "I didn't want people to think that I was getting special treatment as a player, that I would get to play more because my dad was the coach. He wouldn't do that either, so I was always trying to work harder to make sure that I would get to play and make it that people would recognize that I should be out on the ice, rather than just being the coach's daughter who gets to play all the time."
Wisconsin coach Mark Johnson has been on both sides of the equation when it comes to a father coaching his child. He played for his dad Bob at Wisconsin in the late 1970s, and now coaches his daughter Mikayla.
"I think the hardest part is the separation between being the coach and being the dad," Johnson said. "I think the one thing I learned as a player playing for my dad, whether it was at Wisconsin or a couple Canada Cup tournaments, he was able to do that. So the player has to trust the coach as far as what they think is best for the team. So it's like a lot of other players. None of it is personal. It's just what we need to do as a team in all the different situations to give you the best chance to be successful. That's what I take away. It's probably harder on my wife than anybody else, just because as a parent you want to watch your daughter play and have success. That's probably the most challenging thing, is just the separation and being able to put one hat off and the other hat on when it needs to be."
Even when the coach and child can reach an understanding, the situation can still be complicated.
"I find the hardest part is the expectations that other people have," Johnson said. "Just because you're X's daughter or X's son, they think you're going to be a great player. In some cases, that's true, and there's other cases where it's not true. So the expectations and the pressure that the boys and the girls have sometimes is a little bit hard. So I know when I was coaching my kids in different scenarios, we got into that a little bit."
While the public can expect greatness based on parentage, it can also flip in the other direction and be reluctant to recognize ability where it exists. That's something Ramsey, daughter of Johnson's 1980 Olympic teammate Mike Ramsey, has experienced.
"It was people thinking that I got where I was because of the name," she said. "There was a pressure to perform a certain way, but when I did perform a certain way, if I played well, I think a lot of times it was, 'Oh, she's not that good. She got to play first line because of the name.' I know I got a lot of that too when I committed [to Minnesota]. It's a lot of, 'Going to be a fourth-line player.' I think it has given me motivation to improve myself, my brother as well. I think that he probably has a little more pressure than me. Since I came through the 'U' now he has two people ahead of him with the name Ramsey at the 'U'."
While that pressure and those questions await Jack Ramsey, who signed with the Gophers in the fall, his sister has already answered her critics. She's had many accomplishments at Minnesota, including being named the WCHA defensive player of the year as a junior, but one stands out for her.
"I think last year, making first-team All-American," Ramsey said. "It was something I didn't even realize until they called my name at the banquet out East. I'm not one that really looks at the stats much or knows where I fall in the rankings in the nation, so when that happened, I just in the back of my mind, I was like, 'You did this.' Obviously, my teammates and stuff, but it was more validation that it's not the name, that you deserve to be here and you deserve to be a part of this team."
In her younger days, she didn't have to deal with much in the way of pressure from being a Ramsey when it came to hockey.
"My parents were both very good about letting us do whatever we wanted to do," she said. "If I wanted to play basketball, I would've played basketball. So it was kind of something I wanted to do. There wasn't any pressure into it. I should go back and say even U-12s, there wasn't that much surrounding the name until the 'Miracle' movie came out, and that became such a big deal. I think he had a line or two in that movie. That kind of brought up the hype. Before that, I didn't even realize the impact that he had, so being in the State of Hockey with all those kids, every time you're on a road trip, they wanted to watch 'Miracle.' That kind of made a difference."
She could have escaped much of the notoriety by choosing a different college.
"I think if I would have left, it would have been a little less in the limelight about it, but coming to the 'U' where my dad played," Ramsey said. "I always get asked about that, but he was here for only one year and he always jokes that it was a blur and he played on JV the first half of the season and varsity the second, and then was gone. I get a lot of comparisons for being at the same school, but the state of Minnesota definitely makes a difference."
Her dad being not only a former Gopher and NHL player, but an NHL assistant coach for the Minnesota Wild, added to the scrutiny; it also carried benefit.
"My second year of U-12s, during the lockout season, he came and helped coach our team," Ramsey said. "Same team the year before I think we won one game. Same team the next year took second place in state, and I think he had a big part of it coming in and helping coach. I loved the coaches that we had, still good friends with all their kids and stuff, but it was usually just dads out there, and having him come in there and really teach young girls the game, I realized that he actually knew a little something about the game and the influence he could have."
Once her playing days are over and it's her turn to be the parent in the relationship, Ramsey doesn't plan to exert a lot of influence when it comes to athletics.
"I think more reserved and let my kids do whatever they want," Ramsey said. "If they end up playing basketball and I get to sit somewhere warm instead of cold every other night, that might even be better. My sister grew up as a dancer all the way through high school, so very open to my family doing whatever they want to do."