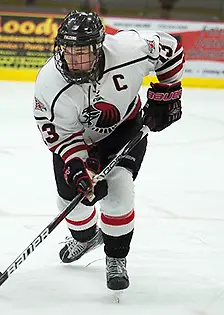 Blake Huppert isn't his usual self in terms of production this season.
His goal total is four less than a year ago and his assist number is four under his total from last season.
But it's not a big deal to Huppert, who has learned to embrace a different type of role with River Falls as others have risen to the occasion.
"I've been struggling a little, but we've had a lot of young guys step up, so I'm okay with where I am at offensively this year," Huppert said. "We're winning games still and that makes me happy."
The seventh-ranked Falcons are indeed winning, entering the final week of the year at 18-4-1 overall and 7-3 in the WIAC. They are riding the high of a four-game win streak and peaking at the right time.
Huppert has played a pivotal role in the success, even if his statistic line tells a different story to the outsider. He has stepped up as a leader, much the way older players helped him along the way in his career. It's a role he enjoys.
"I understand it's important to lead by example and understand the importance of knowing your role," Huppert said. "I've helped the players out with that and have helped them know the importance of not taking a night off in this league. Every team can be beaten on a given night."
Huppert said the seniors on the team his freshman year helped make his transition from junior hockey to college hockey much smoother than it could have been had there not been good leaders on the team.
"We had great leadership and they made a difference for me in the way they handled their roles and showed us what it took to succeed at this level," Huppert said.
Huppert had a solid freshman season, scoring goals and dishing out 10 assists. He finished with five goals and 11 assists as a sophomore. A year ago, the Alaska native racked up nine goals and 12 assists as he helped the Falcons win the regular-season championship.
Huppert said he has learned to become more of a physical player and brings his best effort to the ice every night.
"In junior hockey, we played 60 games or so and in college, you are only playing 25-30," Huppert said. "You have to go all out every night. You can't slip up, especially in the WIAC, because you are going up against great competition."
River Falls opened the year on a 13-game win streak, but won only once in the first six games of January. Things have changed lately as the Falcons have returned to their winning ways.
"We fell off a bit, but I think the adversity was good for us," Huppert said. "We learned from it and we're glad we have bounced back and want to finish out strong."
The Falcons have 11 players with 11 or more points, including Kyle Gattelaro, who leads the way with 11 goals and nine assists. Ryan Doner has come through with eight goals and 10 assists.
Mitch Kotny and Christian George have also scored eight goals apiece. Kotny has tallied eight assists and George has racked up six assists.
The balanced attack, along with the solid goalie play of Tanner Milliron – he is 18-4-1 with a 1.88 goals-against average – has put the Falcons in a position to make a run at the WIAC tourney title. They are also driven by the disappointment of last season when they were swept by Wisconsin-Superior in the opening round of the playoffs.
Huppert said the Falcons won't take anyone for granted in the postseason. He hopes River Falls can earn a spot in the NCAA tournament and make a run at the national title.
No matter how it all plays out, Huppert is glad he had the opportunity to play college hockey.
"It's been great and has made going to school a lot more fun," Huppert said. "I love being on a team and building relationships with my teammates. I've made friends that I'll have for the rest of my life."
Waiting game
Concordia (Minn.) is tied for first place with St. Thomas in the MIAC standings with 28 points and will not play during the final weekend of the regular season.
Where the Cobbers finish in the standings remains to be seen. They could finish anywhere from second to fourth. What they do know for sure is that they will play in the conference tournament.
Concordia is 13-8-4 overall and 8-5-3 in league play after splitting a series with St. Mary's. The Cobbers have won three of their last five games.
Jordie Bancroft has fueled the offensive success of the Cobbers all season, scoring 14 goals and dishing out 11 assists. Andrew Deters is tied with Bancroft for the team-lead in points. He has tallied 10 goals and 15 assists.
Jon Grebosky has also scored more than 10 goals, racking up 12 to go along with seven assists.
Concordia has been able to count on two goalies as Alex Reichle and Jordyn Kaufer have both seen time between the pipes. Kaufer has played in 14 games, going 7-4-3, while Reichle has played in 11 games and is 6-4-1.
The Cobbers haven't been swept in any season series this season and are hoping to have better results in the postseason this year. They lost 5-3 to St. Olaf in a MIAC quarterfinal last season.
Playoff challenge
Lawrence split in its final series of the regular season, topping Finlandia 2-1 Friday before falling 4-0 Saturday, and will face off against reigning conference and national champion St. Norbert in the opening-round series of the Harris Cup playoffs this weekend.
The Vikings are 7-17-1 overall and are the seventh seed in the playoffs. They have struggled most of the year, winning only twice in its last 15 games, and nothing will come easy against the Green Knights.
Blake Roubos and Jake Kreutzer lead Lawrence in points with 14. Roubos has tallied six goals and eight assists, while Kreutzer has come through with five goals and nine assists.
Lawrence lost both games to St. Norbert in the regular season, falling 3-1 and 9-0 when the Green Knights were ranked No. 1 in the nation.
Pivotal games
Wisconsin-Eau Claire still has a shot at the WIAC regular season championship if it can win both of its games. The Blugolds enter the final week of the regular season tied for second with River Falls and one game behind Wisconsin-Stevens Point. Eau Claire lost two of three to Stevens Point during the regular season and has one game left with River Falls, which it has beaten twice already.
The Blugolds have won three of four and travel to Stout Thursday before hosting River Falls Saturday. Eau Claire split with Stout in a series last month. Ethan Nauman and Ross Andersen lead the team in points with 29. Both players have scored 18 goals and dished out 11 assists.
Eau Claire has scored 89 goals and allowed 56. The Blugolds have been nearly as successful on the road as they have been at home, going 8-3-1 at home and 7-3-1 in away games.
In the poll
Adrian is the highest ranked west region team this week, sitting at No. 4 in the national poll. Stevens Point is No. 5 and River Falls is No. 7. Eau Claire is 12th in the nation and Lake Forest is ranked No. 15.