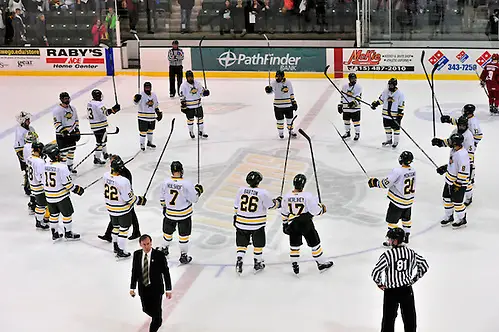 Just two months ago, we were singing that it was "the most wonderful time of the year."
While probably true, the next month in Division III circles will be special times, too.
Some conference tournaments have already kicked off, while others start shortly.
Our esteemed columnists take a look at what's on tap:
ECAC EAST – Not only is Norwich the top seed in the East playoffs, which hits the semifinal round Saturday, the Cadets are also the No. 1-ranked squad in the country. Norwich has captured the last 17 regular-season crowns, with 10 tourney championships in that span, but all that hardware means nothing in the one-and-done playoff world. That knowledge alone should be enough to keep the Cadets focused on their next opponent, fourth seed Castleton, whom they beat in both regular-season meetings. The other semi will pit No. 2 Massachusetts-Boston and No. 3 Babson. Babson took three out of four points from the Beacons during the season.
ECAC NORTHEAST – Nichols is the top seed in the Northeast for the second year running and receives a bye into the second round as does No. 2 seed Salve Regina. This weekend's quarterfinals will include No. 3 Johnson and Wales and No. 6 Suffolk, who split their season series with each winning in overtime on the road. The Rams clinched the final berth with Tuesday night's 5-4 overtime win over WNEU in what was essentially a play-in game that eliminated the seventh-place Golden Bears. Curry, the fourth seed will meet No. 5 Wentworth in the other quarterfinal.
ECAC WEST – The West will get its tournament off tonight with a pair of tilts, No. 5 Utica at No. 4 Elmira and No. 6 Manhattanville at No. 3 Nazareth. It will be the first-ever playoff home game for Nazareth, whose program is just three years old. Waiting in the wings for the survivors are No. 1 Hobart and No. 2 Neumann.
MASCAC – The final seedings won't be settled until after Thursday's regular-season finale pitting Framingham State and Worcester State, but who will be the top seed is no mystery at all. That would be Plymouth State, which wrapped up the regular season MASCAC title weeks ago. Salem State will be the second seed. Fitchburg State and Westfield State will host quarterfinal games this weekend with Massachusetts-Dartmouth, Worcester State and Framingham State all as possible opponents.
MIAC – In the MIAC, St. Thomas will look to continue its impressive run. The No. 12 Tommies won at least a share of the regular season title for the fourth consecutive season and have their sights set on another tourney crown.
Still, coach Jeff Boeser knows nothing is guaranteed for the Tommies (16-5-4)
St. Thomas plays either fourth-seeded Augsburg (12-13) or fifth-seeded Hamline (11-10-4) in a semifinal on Saturday.
"The toughest thing for us is that we don't know who we play until after Thursday," Boeser said. "We have a very good league where anyone can be beaten on any night. The conference is one of the toughest in the country. We have to go in ready to play our best."
The Tommies have won their last two and are 11-1-2 at home. Alex Altenbernd has fueled the offense with 12 goals and 13 assists.
Drew Fielding is 12-5-4 between the pipes and owns a goals-against average of 1.33.
"One of the keys to success in playoff hockey is defense," Boeser said. "We also have be able to take advantage of scoring opportunities when we get them. We feel good about the way we are playing. We have to stay focused and take it one game at a time."
St. Mary's (14-9-2) is the second seed and in the postseason for the first time since 2004. The Cardinals' 14 wins is the most since the 1997-98 team won 14 games. They face off against Concordia (13-8-4) in a semifinal on Saturday.
"We are familiar with each other but it comes down to who wants it more," St. Mary's coach Bill Moore said.
Martin Gruse has helped fuel the success, scoring 18 goals and dishing out 17 assists. Jed McGlasson has tallied 10 goals and 10 assists.
In goal, the Cardinals have leaned on the play of Phil Heinle, who is 12-8-2.
The Cobbers were idle last weekend. They split a series with St. Mary's two weeks ago, losing 4-3 and winning 8-3. Jordie Bancroft leads the Cobbers with 14 goals and 11 assists.
"We have to attack the goal and do a better job of getting more traffic in front of the net," Moore said. "We also have to tighten up on defense. We gave up eight goals the last time we played."
Augsburg and Hamline will square off in the quarterfinal round Thursday. The Pipers are in the midst of a turnaround season and in the playoffs for the first time in three seasons. Hamline won only two games a year ago but have gotten on track under first-year head coach Cory Laylin.
"One of the keys to the turnaround was we had to make it fun to come to the rink again," Laylin said. "When you have fun on the ice, you are going to get better."
Charlie Adams has led Hamline with 16 goals and 10 assists. Brandon Zurn has tallied 11 goals and 15 assists.
Augsburg, swept by Hamline in the regular season, has won two in a row. Mack Ohnsted leads the way with 13 goals and 12 assists.
"We're fairly evenly matched," Laylin said. "So, when we get a good chance, we have to make the best of it."
NCHA – In the NCHA, Adrian swept Concordia (Wis.) and is now focused on a Harris Cup semifinal showdown with St. Scholastica Saturday. The third-ranked Bulldogs (21-3-3) feature a high-scoring offense and a defense that keeps scoring opportunities for an opponent to a minimum.
Kyle Brothers has scored 20 goals and dished out 23 assists. Mathew Thompson has tallied 19 goals and 18 assists.
Scott Shackell has gotten the job done in goal, fashioning a 15-1-3 record.
"We've really honed in on being a good defensive team," Adrian coach Adam Krug said. "Our defense has been solid and we also have a lot of depth. It's been a process all year to get to where we want to be as a team."
The Saints (12-12-3) come in off the high of an upset over Lake Forest, The sixth-seeded Saints needed a mini-game win to take out the Foresters.
During the regular season, the Saints lost (3-0) and tied (2-2-) in their series with the Bulldogs.
Dylan Nowakowski has paced the Saints, scoring 11 goals and dishing out 18 assists. Goalie Tyler Bruggeman has played in 20 games and owns a 9-7-3 record.
"It should be a physical game and should be a very entertaining game," Krug said. "For us, we need to play our game and make sure that we are consistent with our effort. We need to have a 60-minute effort if we want to advance."
In the other semifinal, reigning conference and national champion St. Norbert (19-5-2) will take on the Milwaukee School of Engineering (17-10).
Despite losing their starting goalie, David Jacobson, for the season, No. 7 St. Norbert has remained hot, winning five consecutive games, including a sweep of Lawrence in the playoffs. Michael Hill leads the offense with 20 goals and 13 assists.
Tony Kujava has played 11 games in goal and is 5-3-1 with a 1.73 GAA.
The 15th-ranked Raiders needed a mini-game victory to knock off Marian in the opening round. They are 6-6 in road games this year, including a 2-1 win at St. Norbert on Jan. 24.
Omar Mullan has led the way with 15 goals and 20 assists. The Raiders have scored 88 goals.
NESCAC – The NESCAC post-season slate will commence Saturday with four tilts, including top seed Trinity, which is ranked No. 2 in the nation. The Bantams, last year's regular-season champs, will host No. 8 Tufts, whom they downed twice this year. Second seed Amherst will face No. 7 Middlebury, over whom they swept the season set. No. 3 Connecticut College will take on No. 6 Hamilton while the 4/5 affair will pit Williams and Bowdoin. Bowdoin was seeded fifth last year, too, but scored three tournament upsets to win the title as well as the league's ticket to the NCAAs.
SUNYAC – Wednesday's quarterfinal will see No. 6 Brockport visiting travel partner No. 3 Geneseo, which won the regular-season title last year and made it all the way to the Frozen Four. Meanwhile No. 5 Buffalo State will trek to No. 4 Potsdam to face the Bears, which put up its best season (12-10-3, 8-6-2) since 2001. The winners will advance to face No. 1 seed Plattsburgh or No. 2 Oswego, with the Lakers seeking to make a fourth consecutive Frozen Four appearance.
WIAC – With the WIAC not having an automatic bid to the NCAA tournament, every game counts a little more. That is the way Wisconsin-Stevens Point coach Chris Brooks has been treating things since day one.
"Our focus from the start has been understanding the importance of each game," Brooks said. "I've changed my lineup at times because it gave us the best opportunity to win. We have to go into the tournament ready to play at our best."
Wisconsin-Eau Claire won the tourney a year ago but it wasn't enough to get the Blugolds an NCAA bid. Stevens Point, which was eliminated by Eau Claire, made the tourney and went on to play for the national title.
The fifth-ranked Pointers (20-5) are in the midst of back-to-back 20-win seasons for the first time in more than 20 years. They haven't had a 20-win regular season since 1993, the last time they won the national championship.
"We're playing pretty good," Brooks said. "Our special teams have gotten better and we've continued to work hard to improve each week."
The Pointers open the WIAC tourney against Wisconsin-Superior (9-17), which advanced to the semifinals with a 4-3 win over Wisconsin-Stout Tuesday.
Game one of the two-game series is set for Friday. The Pointers have won three consecutive games. Joe Kalisz is the top goal scorer with 16. He has also tallied 11 assists.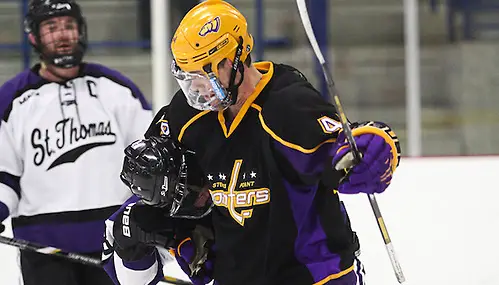 Brandon Jaeger has been phenomenal in goal, going 20-4 with a 2.20 goals-against average.
Superior lost all three games to Stevens Point in the regular season, including a 7-0 loss on Feb. 21. Anton Svensson leads the Yellowjackets in points with eight goals and nine assists.
In the other semifinal series, Eau Claire hosts Wisconsin-River Falls.
The No. 12 Blugolds (17-6-2) won all three games against the No. 9 Falcons. Ross Andersen and Ethan Nauman have been the top threats, with each tallying 19 goals and 12 assists. Eau Claire has scored 97 goals in all.
River Falls has won four of its last six and is 8-3-1 on the road. Kyle Gattelaro leads the way with 11 goals and 12 assists. Tanner Milliron has started every game at goalie and owns a goals-against average of 2.06.