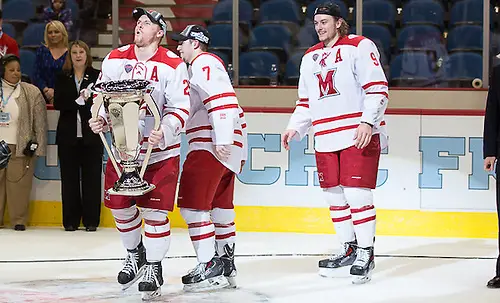 For the second time in a week, its possible Miami will have to beat Denver for the chance to play for a championship.
Miami, seeded No. 1 in the East Regional, will face No. 4 Providence at 6:30 p.m. EDT Saturday. Second-seeded Denver faces No. 3 Boston College at 3 p.m. Saturday at the Dunkin' Donuts Center in Providence, R.I.
East Regional (Providence, R.I.)
• Denver vs. Boston College, 3 p.m. EDT Saturday, ESPN2
• Miami vs. Providence, 6:30 p.m. EDT Saturday, ESPNU
• Regional championship game, 5 p.m. Sunday, ESPNU
The RedHawks beat Denver 6-3 Friday to advance to the NCHC title game, where they beat St. Cloud State 3-2 to win the league championship.
"These guys wanted to play for a championship, and in order to do that, you have to get through Denver," Miami coach Enrico Blasi said following Friday's win. "There's never an easy moment when you're playing a team like Denver. They come at you in waves and you've just got to bend but you can't break."
There's also the potential for an all-Hockey East regional title game Sunday. The Eagles and Friars played to a 1-1-1 record this season, with the last meeting coming on Jan. 30, a 3-2 BC win. Both made it to the NCAA tournament as at-large teams.
The RedHawks and Friars have met 11 times, although never in the postseason, while Boston College beat Denver in the opening game of the Northeast Regional last year.
But the RedHawks will be without forward Blake Coleman for Saturday's game against Providence. Coleman, who scored all three of Miami's goals against the Huskies, got a game misconduct in the second period. It was his third misconduct of the year, meaning he'll automatically have to sit out against the Friars.
The loss of Coleman, one of two 20-goal scorers on Miami's roster, could prove big against Providence goalie Jon Gillies and a physical Friars team. Gillies, a junior, was Hockey East's goaltender of the year and a first-team all-star.
There was some debate about where Providence, the 15th seed, would be sent. Ultimately, the committee decided to keep the Friars in Providence, although Brown is hosting the tournament. As a result, ECAC regular season champion Quinnipiac was sent to Fargo to play North Dakota.
Boston College is without last year's top line of Johnny Gaudreau, Kevin Hayes and Bill Arnold, but the Eagles are still plenty dangerous. Goaltender Thatcher Demko had an excellent season as a sophomore. Freshman defenseman Noah Hanifin might have been overshadowed by crosstown rivals Jack Eichel at Boston University and Jimmy Vesey at Harvard, but the 18-year-old more than held his own for BC.
Health and consistency have been important for the Eagles; Boston College has 14 skaters who have played in at least 36 of its 37 games this season.
As for the Pioneers, Denver is just 1-6 in the NCAA tournament since winning its second straight national title in 2005. The Pioneers rebounded from Friday's loss against Miami with a 5-1 win over North Dakota in the NCHC consolation game.
Denver is the highest-scoring team in the regional, ranking ninth in the country in offense and featuring seven players with double-digit goals.