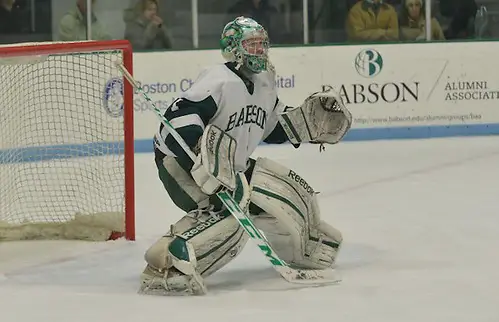 The Gridiron Club of Greater Boston announced Thursday that Babson junior goaltender Jamie Murray is the winner of the 15th annual Joe Concannon Award, which recognizes New England's best American-born hockey player in Divisions II and III.
Murray led the Beavers to the ECAC East title game, where they lost 3-2 to top-ranked Norwich and just missed repeating as conference champions. He finished among the nation's leaders in goals-against average (1.68) and save percentage (.940). He tied St. Thomas senior Drew Fielding for the most shutouts (6) and he led the nation in minutes played (1680:33.)
Murray's other honors include being a first-team ECAC East All-Conference selection, as well as repeating as the league's goaltender of the year. Additionally, Murray is one of five finalists nominated for the Hockey Humanitarian Award, which recognizes off-ice charitable work in the community.
In addition to his support of the Special Olympics and other events, Murray established the Cure for Cole WiffleBall Tournament in 2010 to raise money for a neighbor battling a chronic disease. The tournament draws over 40 teams and 200 players annually and has raised over $25,000 to date.
"This is a great honor for Jamie, who had a great and extremely consistent season," Babson coach Jamie Rice said in a news release. "His numbers say a lot, but he really played at a high level nearly every game and virtually all the minutes for us. He would probably thank his teammates. They always had great confidence that he would give up one or two goals at most, which always gives your team a chance to win.
"Jamie is just a great kid and really focused on his game. He never missed a practice and always had that level of intensity and preparation required to be successful against the high- caliber opponents we play in our league and our nonconference schedule. He is the first Babson player to win the award among many worthy nominees we have had considered in the past. He is a very worthy winner for what he does on the ice and more so, off the ice as well."