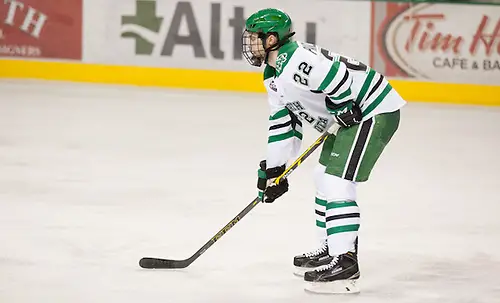 Illness had struck North Dakota, and the name that was called to fill a void in the lineup was welcomed with confidence.
Andrew Panzarella skated in warmups before North Dakota played St. Cloud State in the NCAA West Regional for a spot in the Frozen Four.
2015 Frozen Four
Follow all of USCHO's coverage at Frozen Four Central.
It wasn't a familiar routine for him. The senior hadn't played since Jan. 24 and didn't have any goals to his name all season — until posting North Dakota's first goal of the night in an eventual 4-1 victory.
Although his lack of playing time limited his ability to tally points, Panzarella said his teammates made the transition simple and he planned to put the puck in the net before he even stepped on the ice.
"I think it's always part of the plan," Panzarella said with a smile. "It's hard to execute, obviously, but it felt great."
North Dakota hadn't necessarily planned on putting the Washington, D.C., native in the lineup over the weekend until the absence of defenseman Keaton Thompson left a spot that needed to be filled.
It also hadn't expected to fill the gap left by one of its leading scorers, Mark MacMillan, on senior night against St. Cloud State in late February when he suffered a season-ending lower-body injury.
But that's what happened. Still, North Dakota players responded in a way they have been accustomed to after other skaters were unavailable throughout portions of the season.
Panzarella stepped in the moment he was called and served as a critical piece of UND's efforts that night, showcasing the team's depth.
"I'm not going to claim it as specific to our team, but do I think that's in our locker room? Absolutely," UND coach Dave Hakstol said. "It's a real common trait or theme of this group."
North Dakota's next opponent will be Boston University at TD Garden in the Frozen Four on April 9. Panzarella's playing status for Boston isn't certain, but whether he's called upon or not, he's known for setting the tone for North Dakota.
"He's not in our lineup all that much, but his work ethic, the type of teammate that he is, those are the things that set the bar," Hakstol said. "It was not by accident that he could step into a situation like [Saturday night] and be successful. That's not easy, especially when you haven't been in the lineup on a consistent basis, or you haven't been in the lineup lately. That says all you need to know about the amount of extra work that young man does."
For a Boston-bound team advancing to its 21st Frozen Four in school history, a capable roster no matter the situation has served it well.
North Dakota knows what it can and can't control. For the things it can, it's striking with a strong mindset of capturing the prize it fell just short of last year.
"We came in with a purpose; that purpose is still in front of us," Hakstol said. "It's a huge challenge, but it's a real exciting one that I know our group is going to be excited to attack."