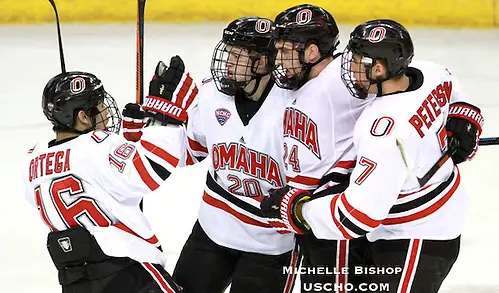 Omaha fans must have felt like they'd seen this movie before.
The Mavericks have made a bad habit over the past 11 years of not qualifying for their league playoff championship weekend. It didn't happen in the Mavericks' final six seasons as members of the CCHA, nor did it in three years in the WCHA, and nor did it in UNO's first two seasons in the NCHC.
2015 Frozen Four
Follow all of USCHO's coverage at Frozen Four Central.
UNO's most recent early playoff exit came on the Mavericks' home ice. Omaha was already a virtual lock at the end of the regular season to qualify for the NCAA tournament, but the Mavericks were hoping for better than the two consecutive losses they were dealt by St. Cloud State on Feb. 20-21.
The Mavericks' last scheduled games at the CenturyLink Center — the school is opening an arena of its own in the fall — must have left UNO fans with a certain amount of dread. They knew their team was NCAA tourney-bound, but the Mavericks were backing into a competition in which the program had lost in the first round in both of its previous tries in 2006 and 2010.
Attempt No. 3 has proven much different than the first two. UNO received a favorable draw as the second seed in the Midwest Regional in South Bend, Ind., where the Mavericks dispatched No. 3 Harvard and then fourth-seeded Rochester Institute of Technology to book a place in this week's Frozen Four in Boston.
These are dizzying heights for an 18-year-old UNO program, but not so much for its head coach. Dean Blais, in his sixth season with the Mavericks, is no stranger to the Frozen Four, having won national championships with North Dakota in 1997 and 2000.
He doesn't like to compare his greatest success stories from UND with what he has in Omaha. Some of the cases are like apples and oranges, and besides, Blais may have had a better idea of how good his national championship teams were going to be than what this UNO team would do.
"I'm just pretty excited coming out of the regional and never even thought this was a possibility at the start of the year," Blais said last week of an Omaha team that started this season with 11 freshmen on the roster. "We didn't know what we had."
When asked if he's giving his Mavericks any words of Frozen Four wisdom or if he's letting this week be their own experience, Blais suggested the only talk about Boston has been among his players.
About the Mavericks
Coach: Dean Blais, sixth season at Omaha, 16th season overall
Record: 20-12-6 (12-10-4 NCHC, third)
How they got to the Frozen Four: Defeated Harvard 4-1 and RIT 4-0 to win the Midwest Regional
Regional seed: Second
Last Frozen Four appearance: Never
Best NCAA finish: First round, 2006 and 2010
Why they'll win the national championship: Ryan Massa has been outstanding for UNO this season when in the Mavericks' nets, and he's backstopping a team with six skaters with at least 20 points to each of their names.
Why they won't win the national championship: UNO's inexperience at the Frozen Four level could hamper the Mavericks' chances of progressing further, and they will essentially be playing a road game in the semifinals against Providence and potentially again in the final against Boston University.
— Matthew Semisch
"I try not to talk about North Dakota [with UNO's team] and all that we accomplished up there because I think this program has come a long way in their 18-year history," Blais said. "Being in the NCAA tournament three times and then their first Frozen Four here, but it certainly paves the way for success in the future. Once you're there, once you when championships, it doesn't matter what type they are, it just makes the guys hungry to do it again.
"Get in there and if we don't win, we can always talk next year about the team that got there the year before. I try not to talk about similarities between this program and North Dakota because North Dakota obviously for quite a while has been [among] the top two or three teams in the country and Omaha is just starting right now. Our recruiting base is getting stronger, but certainly this team, the players have talked about it on their own."
UNO boasts the largest underclassman group that Blais has had in his time with the program, but the veterans are doing their part. Sophomore forwards Jake Guentzel and Austin Ortega have 38 and 37 points to their respective names, and senior goaltender Ryan Massa's .939 save percentage this season is 40 points above where he was at the end of last season.
Massa hopes that he and his four senior classmates can end their time with UNO as national champions. Defenseman Brian O'Rourke is one of them, and he said he finds it easy to shed being happy just to be Boston-bound and instead look for two more wins.
"Obviously we're extremely excited as a team to be representing Omaha in the Frozen Four, but I think the good thing about this team is we've been able to keep our goals pretty well-known throughout the year," he said. "We weren't really sure [at the start of the season] what to expect, but once the year got started, we kind of realized that we've got championship potential.
"Just going to Boston, obviously we're honored, but at the same time we have the same goal in mind: We want to win a championship."