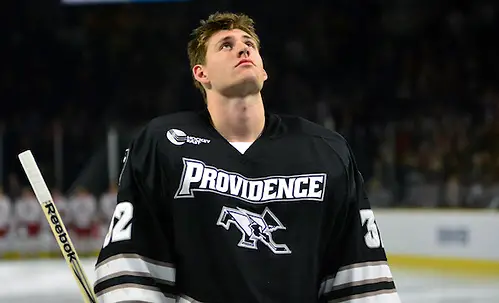 It has been 30 years since a Providence team qualified for the Frozen Four, but that doesn't mean that Nate Leaman's team doesn't feel like it belongs.
Leaman knows that his team, despite playing in a home environment in the East Regional in Providence, R.I., has taken a difficult route to the Frozen Four in having to battle NCHC teams Miami and Denver.
2015 Frozen Four
Follow all of USCHO's coverage at Frozen Four Central.
"We feel like we're battle-tested right now," said Leaman, whose Providence team, at 24-13-2, has posted the best winning percentage at the school since 1990. "We beat really good teams in Miami and Denver. They both brought different strengths to the table. I was really impressed with our team that we were able to adjust a little bit between the two games in the short turnaround and play a little bit differently.
"The bottom line is, if you want to win this tournament, you have to beat great teams."
The next great team that stands in Providence's way is yet another NCHC foe, Omaha. The Mavericks are making their first Frozen Four appearance yet could pose a lot of the same threats to Providence that Miami did in the opening round of the tournament.
"I don't think the game [against Omaha] is going to be too much different from Miami," said Leaman. "[Omaha] has a great set of forwards that we have to defend well against."
The defense may, actually, be the focal point for Providence. Plenty has been made over the last three years about how solid Jon Gillies is in net, a player Leaman admits he was disappointed to see passed over in the balloting of both the Hobey Baker and Mike Richter awards.
But as solid as Gillies is and has been for his three years at Providence, the defensive corps around him — and what they do to transition the Friars from defense to offense — might be one of the top keys in guiding the team through the Frozen Four.
"We built our D corps around mobility," said Leaman. "So we try to eat up time and space and make sure that we don't get in huge wrestling matches. But we can eat up space and not let guys turn at all.
About the Friars
Coach: Nate Leaman, fourth season at Providence, 12th season overall
Record: 24-13-2 (13-8-1 Hockey East, second)
How they got to the Frozen Four: Defeated Miami 7-5 and Denver 4-1 to win the East Regional
Regional seed: Fourth
Last Frozen Four appearance: 1985
Best NCAA finish: Runner-up, 1985
Why they'll win the national championship: With Jon Gillies in net, there are a lot of ways to steal games. But if you combine Gillies with a solid defensive system and a power play that came alive in the East Regional final, this team becomes a threat to win this national title.
Why they won't win the national championship: Every now and again, this team struggles to score goals. Should that offensive power outage happen in Boston, Providence will take the short trip back down I-95 without a trophy.
— Jim Connelly
"With time and mobility, we can use our bodies to bump guys and help Johnny [Gillies] out in seeing pucks."
That defensive structure was on display in the East Regional final, in which Providence limited a talented Denver offensive squad to just 24 shots on goal, most coming from the perimeter.
It certainly has been a long trip back getting to the Frozen Four for the Friars. Leaman, in his four years, has taken small steps — winning a quarterfinal series in the Hockey East playoffs as the seventh seed his first season; earning home ice but losing in the Hockey East semifinals a year later; and last season advancing to the NCAA tournament before losing in the regional final to eventual national champion Union.
This year, reaching the Frozen Four means taking a short trip to Boston and the TD Garden. And while it is easy to think playing so close to home can add some pressure, Leaman is happy to play in a building that breeds familiarity for his club.
"If anything, it adds to our confidence," Leaman said about playing at the TD Garden. "The seniors on our team have played in that building three times before. There's a little bit of comfort. The bus trip to Boston, because we do it every weekend, if anything it might bring a bit of confidence for us."
But all familiarity in the world can only bring a team so much when you consider that it has been three complete decades since a Friars team has competed for a national title.
That is where the need for layers in this team's offense — the ability to create scoring opportunities, to find goals — may be the biggest key to having any sort of success.
"As games get tighter and teams get tighter and tighter, you can't be a one-dimensional team," said Leaman. "Our win over Denver, we got two on the power play.
"That's the biggest thing this year that you have to be able to score goals — you have to be able to score on the rush, you have to get them with your [offensive] zone play, you have to be able to get them off the faceoff, off the forecheck, off the power play. Because as things go more and more [into the tournament] you have to be able to score."