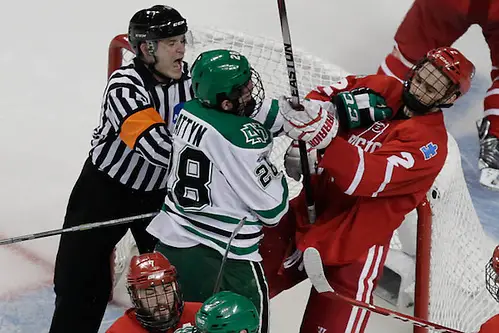 BOSTON — In Thursday's semifinal contest with North Dakota, Boston University held a commanding 4-1 lead with eight minutes left in regulation. The Terriers were also on the power play.
Game over.
That is, until three mind-boggling self-inflicted wounds put the Terriers on the precipice of one of the most gut-wrenching, cataclysmic collapses of all time.
While on the power play, goaltender Matt O'Connor mishandled the puck and unknowingly left it in the crease for an easy tap-in by Troy Stecher.
One self-inflicted wound down, two to go.
Two minutes later, the Terriers incurred a too many men on the ice penalty. On the resulting power play, North Dakota's Connor Gaarder scored on the power play to make it 4-3.
Game most decidedly not over. The all-but-wrapped-up trip to the national championship game was now in serious jeopardy.
Two self-inflicted wounds down, one to go, the last one potentially the unkindest cut of all.
BU has prided itself all year long, and deservedly so, on its late-game composure and the leadership provided to a team with 10 freshmen by the upperclassmen, including Evan Rodrigues and Cason Hohmann, the only two regularly active seniors.
Rodrigues, in particular, had emerged to become the No. 2 scorer in the country. His late-game composure allowed him to score the decisive power-play goal with 2:24 remaining in the Northeast Regional championship game, carrying the Terriers into the Frozen Four. His patience in executing his trademarked toe-drag move followed by a sniper shot into the top of the net typified the heroics he's provided all year.
But here in the Frozen Four with less than two minutes remaining and North Dakota storming back, the senior leader usually filled with ice water in his veins pulled a stunt befitting of a 13-year-old, putting himself in line to become a goat on par with Bill Buckner.
During a stoppage in play, he skated near North Dakota player Stephane Pattyn, stick raised above chest level and "accidentally" clipped Pattyn near the helmet.
It was a move, indisputably deliberate, straight out of either "Slap Shot" or Pee Wee hockey.
Minutes away from advancing to the national championship game?
Mind boggling.
It stood the chance of becoming the senior's college hockey epitaph, a sickening end to a terrific career.
The third and clearly the worst of the three self-inflicted wounds.
"It was a stupid play by a very intelligent player," BU coach David Quinn said. "He got the penalty he deserved."
Fortunately for the Terriers, Pattyn retaliated and instead of a North Dakota pulse-pounding power play, the sides skated four-on-four, which became a five-on-four when UND pulled its goalie.
Rodrigues had still provided North Dakota with the extra open ice coveted by a team down by a goal and with its goaltender pulled, but he'd dodged the bullet of a power play.
And with 19 seconds remaining, Jack Eichel scored the game-clinching empty netter on a shot from within the Terriers defensive zone.
An epic fail had been avoided.
The third self-inflicted wound turned out to be only a glancing blow.
"A lot of things happened in the last seven minutes that haven't happened all year," Quinn said. "Matt O'Connor has never given up a goal like that during the year.
"And then we got a too many men on the ice penalty, but it actually wasn't too many men on the ice. We played the puck without being on the ice, which is a penalty. A penalty should have been called, but it shouldn't have been a too many men on the ice penalty.
"And then Evan Rodrigues takes a stupid penalty, a penalty he's never taken in my two years here.
"So that added all up to a chaotic situation. Hopefully, we can learn from it and avoid those chaotic situations."
After the game, some media members suggested that Rodrigues be suspended, an idea that Quinn rejected after viewing the game tape.
"I don't think that warranted anything like that," he said.
While his players may have gotten away with three self-inflicted wounds, Quinn wasn't about to add a fourth.