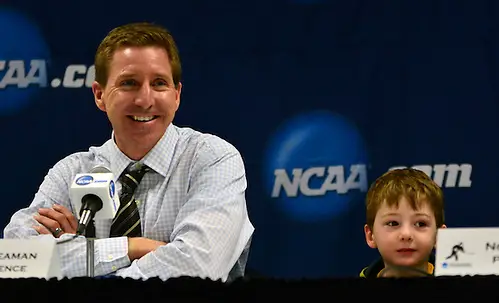 BOSTON — Providence skipper Nate Leaman is an accidental coach.
"I thought I was done with hockey," he said.
The 12th-year head coach did not follow the typical path to his current post. Many college hockey coaches read from a common script: Play in Division I, sign on as a volunteer/hockey operations/assistant coach at the alma mater, climb the ranks and jump to the top gig whenever and wherever one opens up.
Dean Blais did it at Minnesota. Dave Hakstol did it at North Dakota. David Quinn did it at Boston University. Nate Leaman… did not.
Leaman did not start playing hockey until he was already a teenager in Kettering, Ohio, a suburb of Dayton and an hour north of Cincinnati. If anything, hockey's status in the shadow of football and basketball in southwest Ohio allowed Leaman to break into what is usually a lifelong sport.
"Yeah, 13," recalled the two-time captain at Division III SUNY Cortland, a top-20 scorer in the program's history and a 2014 Red Dragons Hall of Fame inductee. "I don't think I was gifted — I wouldn't use the term gifted — it was more that I just became a rink rat. That was it. I ended up working at the rink; our high school team practiced before school, so I was often the guy closing the rink and then getting there first thing in the morning for practices.
"High school hockey in Ohio was so small that I was able to learn the game because it wasn't a terrifically high level at that time. I was able to jump in, learn the game and get involved."
Leaman graduated with a degree in biological sciences and immediately pursued a master's in the same subject at Maine.
"I was up there a couple weeks, probably a month. I was doing my master's work in contaminants in biology and I realized I missed the game a little bit. My college coach put in a call to [longtime Maine coach] Shawn Walsh. Shawn Walsh said, 'Come on in, I'll sit down with you.' He sat down with me for 20 minutes and helped me get a high school coaching job that year [at nearby Old Town High School].
"At Christmastime, the high school team I was coaching had a practice right before Maine. [Walsh] watched a couple minutes of that practice and came in, and asked me if I wanted to be the volunteer for the following year."
Leaman proceeded to get right back into the game he had briefly abandoned, parlaying his experience at Maine into assistant positions at Harvard and with the 2007 and 2009 U.S. World Junior teams.
Union hired him away from Harvard in 2003, and Providence came calling in 2011. Leaman worked the bench at Maine's Alfond Arena for only one season, but it was an opportunity he'll always appreciate.
Walsh, who took the Black Bears to 11 NCAA tournaments, seven Frozen Fours, and the top of the mountain twice (1993 and '99) in 17 years at the helm, died due to complications from renal cell carcinoma in the fall of 2001. Walsh was a polarizing figure in the game, but Leaman's gaze drifted as he recalled how much he owed the legendary coach.
"It goes back to Shawn Walsh being a special person, sitting down with [a stranger] for 20 minutes," he said. "It's something I think a lot about. Shawn didn't have to sit down with me. He didn't know me at all. He could have easily not taken the time to help somebody out, and he did, so obviously I owe him a great debt of gratitude there."