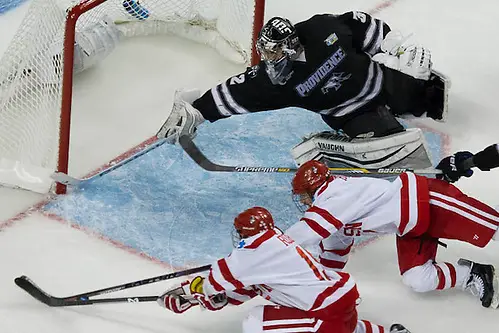 The teams that played in the national championship combined to take three of the six spots on the 2015 All-USCHO first team.
Boston University forward Jack Eichel, Terriers defenseman Matt Grzelcyk and Providence goaltender Jon Gillies were selected for the first team.
Minnesota defenseman Mike Reilly is the only returning member of the teams. He was a second-team selection this season after being part of the first team in 2014.
Here are the All-USCHO teams, with links to player statistics pages:
First team
• Forward Jack Eichel, Boston University freshman
• Forward Tanner Kero, Michigan Tech senior
• Forward Jimmy Vesey, Harvard junior
• Defenseman Matt Grzelcyk, Boston University junior
• Defenseman Joey LaLeggia, Denver senior
• Goaltender Jon Gillies, Providence junior
Second team
• Forward Daniel Ciampini, Union senior
• Forward Matt Garbowsky, Rochester Institute of Technology senior
• Forward Zach Hyman, Michigan senior
• Defenseman Mike Paliotta, Vermont senior
• Defenseman Mike Reilly, Minnesota junior
• Goaltender Zane McIntyre, North Dakota junior
Third team
• Forward Sam Anas, Quinnipiac sophomore
• Forward Bryce Gervais, Minnesota State junior
• Forward Evan Rodrigues, Boston University senior
• Defenseman Rob O'Gara, Yale
• Defenseman Robbie Russo, Notre Dame senior
• Goaltender Ryan Massa, Omaha senior
Six of the players selected were from Hockey East teams, with ECAC Hockey having four on the teams. The NCHC produced three All-USCHO selections, while the WCHA and Big Ten each had two and Atlantic Hockey one.
The All-USCHO teams were selected by USCHO staff members during the Frozen Four.
Individual awards for player, rookie and coach of the year will be announced later this week.