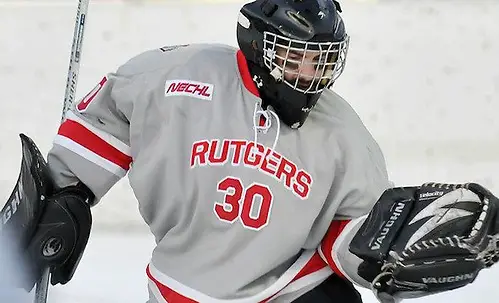 Those who dream of taking Rutgers' men's hockey team from club to varsity status are likely a few weeks away from knowing where they stand.
Later this month, the school's president is set to deliver a master plan for upgrades to Rutgers' athletics facilities. Hockey supporters hope that renovations to the basketball arena or a new venue will include the potential for hockey in mind.
That's why you may have seen mention around the Internet of an online petition to show support for moving Rutgers hockey to the NCAA level. As of Wednesday night, it had the backing of just under 1,900 people.
Let's get this out of the way: There's no indication that Rutgers is anywhere close to becoming the 61st NCAA Division I men's college hockey team.
But was there for Arizona State two years ago? Things can happen fast if the right person with the right checkbook gets involved, and people connected to Rutgers' club hockey program want to make it known to school officials that they're serious about elevating the program.
Adriaan Klaassen, the club team's assistant coach and a former player, has been one of the primary forces behind the effort, and he pointed toward the introduction of the two most recent D-I entries as signs of what might be to come.
"When Penn State did it everyone was super happy for them and said it's a rarity. Another [Terry] Pegula will never happen," Klaassen said. "But when Arizona State did it with about a third of the money raised, it raised a lot of eyebrows and started tipping the dominos with other people having the same mindset as myself, saying if they can do it, surely we can do it."
He said top members of Rutgers' athletic department "get it," but everything's tied to the athletics facilities master plan.
"We've shown them that it can be a revenue sport if you do it correctly," Klaassen said. "Those figures that came out of Penn State after their first year at Pegula [Ice Arena], that really was an eye-opener to a lot of other schools that want to do this that it can be a profitable sport and help support the rest of the athletic department just like football and basketball if you do it correctly."
There's the key phrase here: if you do it correctly.
"You can't do half-measures in this," Klaassen said. "If you don't ramp up quickly enough, you're just going to die."
Rutgers joined the Big Ten last year, giving the conference a coveted presence in the New York media market. In hockey, the Big Ten naturally would like to grow from its original, six-team format, with Nebraska, Illinois and Northwestern often floated as possibilities for expansion.
Rutgers? It could be a popular destination each season for Big Ten hockey schools, who could plan for yearly New York City-area alumni outings at the New Jersey school that's 40 miles away from Manhattan.
Having Rutgers administrators give hockey supporters something of a nod in their direction in the facilities master plan is the first step.
"There's a lot of reasons that we've come up that we can see why it should happen," Klaassen said. "We've got to see what happens in a couple weeks here."