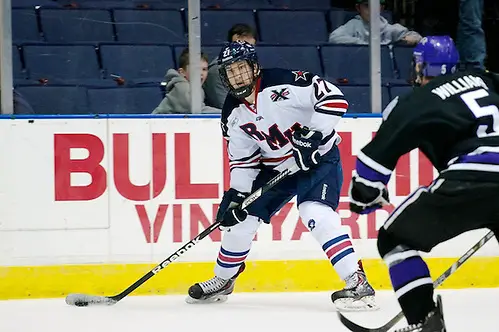 There were no second chances for Robert Morris last season. Despite winning 24 games and running away with the Atlantic Hockey regular season title, the Colonials were shut out of the NCAA tournament thanks in part to the league's poor nonconference record (.217).
Derek Schooley's team had its season end in bizarre fashion in the league's semifinals, a 4-3 overtime loss to Mercyhurst that saw the Colonials put 62 shots on net (60 in regulation) but come up short.
"We won 24 games but [last season] leaves an empty place," said Schooley. "Losing in the [semifinals] was devastating. It isn't enough to be there for 90 percent of the season. You need to be prepared to win both the long season and the short season."
The league's coaches expect RMU to repeat as regular season champions, which is no surprise given the Colonials' dominant performance last season and the wealth of talent coming back.
"It's an honor," said Schooley. "It shows a lot of respect that the coaches out there have for our program for what we have accomplished the past two years. Our players will take that challenge on. But nothing's won by a piece of paper in September. We're focused on our first game and being the best we can be, and prove the coaches right."
The goaltending tandem of Dalton Izyk (.923 save percentage last season) and senior Terry Shafer (.930) is in place for another season. Both have been named to the all-conference team in their careers.
"We have two all-league goalies returning, which is not something any [other] team in the league can say," said Schooley. "We have eight 'D' back and seven of our top nine scoring forwards."
The graduation of former Hobey Baker Award finalist Cody Wydo and linemate Scott Jacklin leave big holes up front, but Schooley said they'll be replaced "by committee."
"These are big shoes to fill," he said. "But we have guys that are eager to take on a new identity."
Hopes are high that Brady Ferguson (26 points last season) can build on a stellar rookie campaign, and seniors Brandon Denham (27 points) and Zac Lynch (40 points) will take on even more of the scoring load.
"We have more coming back than anyone," said Schooley. "We're excited to get things started."
Last season
24-8-5, 19-5-4 (first) in Atlantic Hockey. Lost to Mercyhurst in the conference semifinals.
Names to know
Senior forward Zac Lynch enters his final season with 101 career points. Goaltenders Terry Shafer (senior) and Dalton Izyk (junior) split time last season.
Three questions
1. How will the loss of Cody Wydo (150 career points) and Scott Jacklin (107) affect the Colonials' offense?
2. Will Shafer and Izyk continue to split time? Schooley went with Izyk in the postseason.
3. Can forward Brady Ferguson (26 points last season) avoid a sophomore slump knowing that his team needs his contributions more than ever?
Crystal ball
The Colonials are the preseason No. 1 in Atlantic Hockey for a reason: Despite the loss of some key players, they have a wealth of riches coming back. Expect them to be at or near the top of the standings again this season.