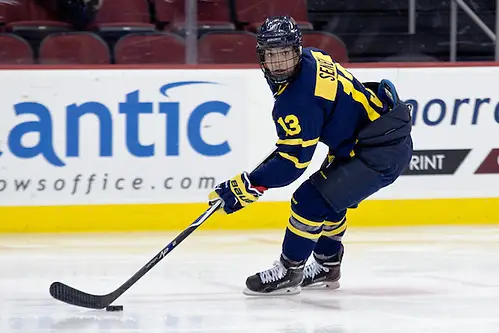 After four straight seasons in the middle of the Hockey East pack, Merrimack fell back to last or next-to-last place the past two years.
Nonetheless, coach Mark Dennehy continues to set his goals high.
"We want to compete for a championship," he said. "You look at what Providence has been able to do, at what Union has been able to do, at what we did a couple of years ago. You look at Lowell. Even though it's a state school, it's on the smaller side.
"That's the goal. We want to be considered one of the elite. That's why we're in this league. I'd be doing my players a disservice if we didn't set our sights high."
If the Warriors return to the middle of the pack or even better, it'll be on the strength of their defense. They return all of their significant scorers, but they ranked a distant last within the league in team offense (almost a full goal per game less than 10th-place Massachusetts).
And although they graduated goaltender Rasmus Tirronen, it's a team with a defense-first mindset.
"The big thing for programs like ours is you've got to play hard for each other," Dennehy said. "I thought we did that last year and not so much the year before. If we compete and play as hard for each other as we did last year and maybe even take it a step further, I really like this team."
Last season
16-18-4, 5-14-3 (11th) in Hockey East. Lost to Boston University in the second round of the HEA playoffs.
Names to know
Brett Seney led the team in scoring as a freshman last year, and fellow frosh Jace Hennig wasn't far behind. Hampus Gustafsson and Brian Christie round out the other returning 20-plus point scorers, and Marc Biega and Jonathan Lashyn hit double digits as defensemen.
Three questions
1. Can the returning forwards take the next step and make the Warriors offense more competitive?
2. Will last year's league-worst power play do its part in the offense?
3. Collin Delia played well in nine games between the pipes (1.86 GAA, .937 save percentage), but can he extend that performance to a No. 1 goalie's workload?
Crystal ball
Jim Connelly (10th place): Merrimack needs to find a way to score goals, particularly knowing that it won't have much experience in goal to lean on.
David H. Hendrickson (11th place): I expect the goaltending and defense to be just fine, but the offense needs to produce a lot more than 1.73 goals per game for the Warriors to move up in the standings.