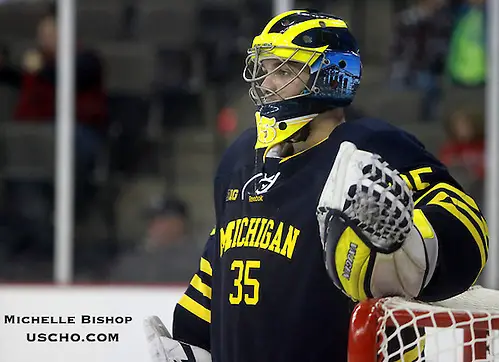 Michigan is hungry for success. After fielding their best offense in years in 2014-15 — a team that seemingly could score at will, from nearly anywhere on the ice — the Wolverines want to put together the complete package, a team that doesn't swing between allowing 13 goals in three losses in crucial three-game league stretches before outscoring conference opponents 13-4 in three consecutive contests.
Defensive consistency is what Michigan needs, and coach Red Berenson thinks that a new volunteer coach may help with that. Michigan alumnus Steve Shields (1990-94) joins the Wolverines to help returning goaltenders Zach Nagelvoort and Steve Racine and newcomer Chad Catt reach their net potential.
"The good thing about Steve is he's not only an experienced player — he's gone through the Michigan college hockey experience and the pro experience — but he's available to be on the ice every day with our goalies," said Berenson. "I think that his presence is going to make a difference for each of our goalies. We have three goalies and we don't know who's going to be our starting goalie."
The Wolverines also need to replace the goals lost with the departure of senior Zach Hyman and freshman Dylan Larkin. Berenson thinks he has a bead on that, too, starting with senior forward Cristoval "Boo" Nieves.
"I think Boo Nieves is the classic college hockey player that comes in young and has to work his way up and just get better and better every year," said Berenson.
Others poised to have breakout seasons are senior forward Justin Selman, who had a career year in 2014-15, and junior Alex Kile, who posted 13 goals last year.
"You know how coaches are," said Berenson. "They're always looking for more."
And there's junior captain and forward JT Compher. "We need him to have his best year this year," said Berenson, "and I think he will."
Last season
22-15, 12-8 (third) in the Big Ten. Lost to Minnesota in the Big Ten championship game.
Names to know
There are six rookies on Michigan's roster, and only one lists a hometown that's more than an hour's drive from Ann Arbor. Forwards Kyle Connor (Shelby Township, Mich.) and Cooper Marody (Brighton, Mich.) were goal scorers in the USHL in 2014-15. The Wolverines also return a talented blue line. Expect big things from juniors Michael Downing and Kevin Lohan and sophomores Cutler Martin and Zach Werenski — especially Werenski.
Three questions
1. Will the Wolverines find the consistency in net that they so desperately need?
2. Will the Wolverines be able to reload offensively and continue the momentum with which the team ended the 2014-15 season?
3. Will the Wolverines play well enough in early nonconference games to position themselves for an NCAA bid without having to win the conference championship?
Crystal ball
With the help of volunteer goalie coach Shields, the Wolverines shore up their net and return to the NCAA tournament following their first Big Ten regular season title.