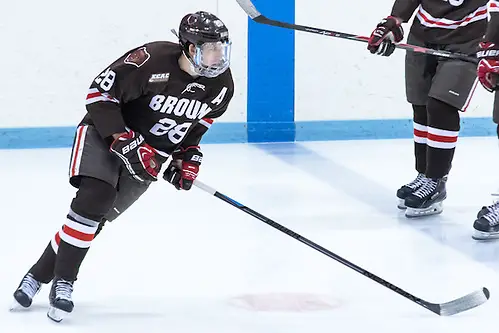 The important thing about the Brown Bears last season was they were young — really young. Young and inexperienced. But coach Brendan Whittet looks forward to watching his team grow into its own.
"We were a very young team last year," he said. "Not just young, but young in a lot of critical areas. … Most nights [last season] we were dressing a lot of freshmen.
Underclassmen Tyler Bird, a sophomore, Max Willman, a sophomore, and Tim Doherty, a freshman, are looking to make an impact on a team desperate for goal-scoring.
"Willman, Bird … I expect a lot from them in year two," Whittet said. "The team was told in very direct terms what we need to do to get back to those championship games. Those guys took it to heart."
The Bears lost leading scorer Matt Lorito to a professional contract with the New Jersey Devils. Whittet knows that the goals this year will have to come from somewhere — particularly on special teams.
"We really did struggle," Whittet said of his team's special teams play. "It's going to be something we emphasize."
Forwards Nick Lappin (14 goals, 7 assists) and Mark Naclerio (9 goals, 14 assists) return this season to provide vital offense for the Bears.
Last season
8-20-3, 5-14-3 (11th) in ECAC Hockey. Lost to Harvard in the first round of the ECAC playoffs.
Names to know
Lappin increased his goal scoring from 13 goals as a sophomore to 14 as a junior, and the Bears would love another step up from him. Naclerio, Bird, Willman and Doherty should get opportunities to contribute offensively.
Three questions
1. Can they stay healthy? The Bears ran into injury trouble on defense last season.
2. Can they replace Lorito? Last season's top scorer went pro with the New Jersey Devils. He had 11 goals and 12 assists for Brown last year.
3. Will special teams play improve?
Crystal ball
The absence of Lorito is felt early and often for Brown, as the Bears struggle all season to score goals and finish in 10th.