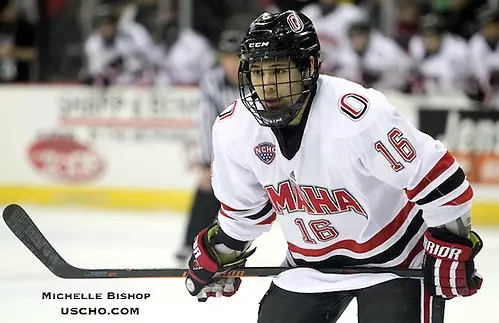 Each week during the season we look at the big events and big games around Division I men's college hockey in Tuesday Morning Quarterback.
Jim: We're three weeks into the season and a quick look at the USCHO.com Division I Men's Poll and the standings proves one thing: the number of unbeaten teams is pretty small. Outside of the six Ivies that will begin play this weekend, only two teams are perfect: Omaha and Quinnipiac. Both are 6-0 and both have been pretty impressive. Quinnipiac earned two big wins last weekend at home against St. Cloud State, and Omaha has two wins at Minnesota State and two at Vermont, all coming while the opponent was nationally ranked.
All that said, the majority of poll voters still believe that North Dakota deserves the top spot. NoDak has two ties on its resume but remains unbeaten and two wins at Vermont last weekend kept them top of mind — and ballots — for many of the voters. I will admit that I actually had North Dakota No. 1 on my ballot, but I see equally as strong of a case to place Omaha there as well. Your thoughts?
Paula: In my ballot, I have Providence first, North Dakota second and Omaha third. As weird as this may seem, I give the reigning champion a lot of respect until it shows me otherwise — and the Friars haven't yet shown me otherwise. Although I know that some fans may argue, I think the strength of schedule among the top teams up until this point has been relatively even. I see compelling reasons to vote Providence, North Dakota, Omaha and Quinnipiac as No. 1 teams, but I admit to having Quinnipiac at No. 10 in my ballot based on the Bobcats' schedule before their sweep of St. Cloud State.
If we're talking about voters, I'm guessing that there are many that are looking at what they perceive to be current strength of schedule when voting, whether that's right or wrong. I'm also guessing that there are many voters — myself among them — sort of watching and waiting over the next weeks for a clearer picture to emerge. There are several programs that seem to be transitioning, and we're seeing players that have had especially strong starts to the season, such as Omaha's Austin Ortega with his seven goals in six games, and Quinnipiac's Travis St. Denis with his six goals in six games. Ortega had 20 goals in 39 games last season, St. Denis had 15 in 38.
Then there's North Dakota newcomer Matt Hrynkiw, a walk-on goalie who's been practicing with North Dakota for two years but got his first start this season. Now he's the starter with great stats (1.76 GAA, .933 save percentage) through four games.
These are just a few examples, but I'm sure that there are many people out there wondering if these teams are being driven by players with great but fluky starts, or if what we're seeing out of specific players is an indication that these teams overall will continue to perform at a very high level as the season progresses.
Jim: There are also some teams on the other end of that spectrum. Northeastern, for example, is off to a dreadful 1-4 start that includes four straight losses. And the big question with the Huskies is where is Kevin Roy on the score sheet? In five games, Roy hasn't found the net and has mustered just two assists. Your Big Ten colleague Drew Claussen wrote about Ohio State looking for a faster start than last year, but that hasn't come to fruition as the Buckeyes dropped to 0-6 and are averaging fewer than two goals per game.
There is the old cliché in sports that you can't win a championship in the first month of the season but you can certainly lose one. It feels like Northeastern and Ohio State might be a couple of the schools in danger of doing just that.
Paula: Agreed. It's what I cautioned about for the entire Big Ten in my season preview: come out strong or be prepared to watch the NCAA tournament on television.
I'd add Minnesota, the only Big Ten representative in last year's NCAA tournament, to that short list. The Gophers began with three straight losses in which they scored one goal, total. Then there's Rochester Institute of Technology. The Tigers made it to the final of last year's Midwest Regional and are 0-4-1 now, and their issues extend to offense plus defense, scoring 1.60 goals per game while allowing 4.40.
It goes back to that strength of schedule issue again, especially for RIT. None of those four teams we've mentioned has played a conference game yet, but Northeastern plays in a conference with consistently good relative strength and even league play may help the Huskies in the national picture as the season progresses. For the Buckeyes and Gophers, a lot may depend on how well Michigan and Penn State continue to play and then how Ohio State and Minnesota fare within the league — but the size of the Big Ten works against it, collectively. While Atlantic Hockey is much improved, it's unlikely that the league will see more than one representative in the NCAA tournament.
Jim: The good news for Minnesota is it was able to host one of these teams struggling from the start, Northeastern, and posted two wins to get the Gophers off the winless list.
While we're talking about some of the ups and downs, one club that maybe we worried about in Week 2 after a loss at Rensselaer, Boston College, is on quite a streak. The Eagles have not given up a goal since the 3:02 mark of the third in that Oct. 11 game against RPI. That's a total streak of 216 minutes, 58 seconds without allowing a goal. In an season where we've already seen some impressive offensive performances, that streak by BC netminder Thatcher Demko is certainly noteworthy.
Paula: It's a heck of a streak, for sure. There are several goaltenders with great starts this season, and many of them play in Hockey East: UMass-Lowell's Kevin Boyle, Merrimack's Collin Delia, Boston University's Connor LaCouvee and, although he's played only two games, Maine's Rob McGovern. It certainly makes me wonder if Hockey East is going to be the most dominant league this season — although the NCHC shows a lot of promise early on as well.
Thumbs up
To RIT president Bill Destler, who promised to dye his hair orange when RIT fans sold out the Polisseni Center for the home opener. Well, the fans delivered and Destler held up his end of the bargain, which was documented in this video:
[youtube_sc url=https://www.youtube.com/watch?v=oYybFWfpka0]
Thumbs down
To Army West Point's lack of discipline to start the season. The Black Knights lead the nation in penalty minutes, averaging more than 38 minutes per game. That's 20 minutes more than the next biggest offender, Boston College. Army had a fracas against the Eagles in its opener to help boost both team's penalty totals, but last weekend versus Mercyhurst, it took THREE major penalties. It could be a long season in West Point if Army can't stay out of the box.
Coming up
There are a few series and single games between ranked teams to watch this weekend.
No. 5 Denver plays at No. 4 Boston College on Friday, then at No. 8 Boston University on Saturday after the Terriers play at No. 17 Merrimack on Friday.
No. 6 Minnesota-Duluth hosts No. 7 UMass-Lowell for a pair, while No. 14 St. Cloud State welcomes No. 15 Miami for a series.
And from the special event category, the Capital City Classic in Trenton, N.J., on Friday and Saturday brings in Maine, Massachusetts, Yale and Princeton. And on Sunday, the Brooklyn Hockey event takes place with Bentley playing Army West Point and Notre Dame facing Connecticut.