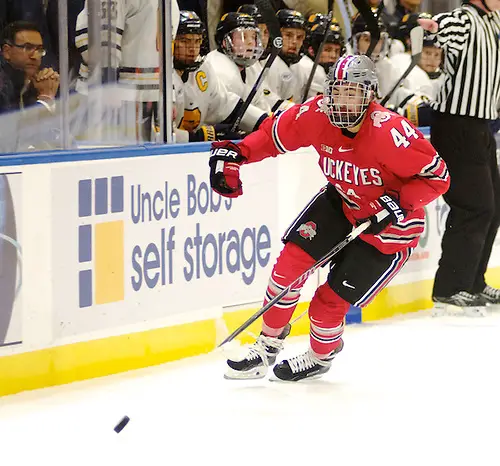 Being a strong second-half team hasn't exactly reaped any rewards for Ohio State and coach Steve Rohlik during the past two seasons, so he'd like to see what a strong start could do this year.
"That's been our M.O. the last two years — we've been a pretty good hockey team in the second half," Rohlik said. "Now it's a matter of trying to get off to better starts. Be it playing more consistent, be it, knock on wood, staying healthy for most of the year. I think you need all those kind of things."
It's not going to be easy: The Buckeyes will start the season with three two-game series against teams that were ranked in the preseason USCHO.com Division I Men's Poll — No. 16 Bowling Green, No. 11 Miami and No. 7 Providence.
"We're going to find out where we're at in a hurry," Rohlik said. "With 10 new guys coming in this year it's going to be a work in progress, but I'm pretty excited about the group. We're not expecting any of those guys to come in and carry the team, but I think that all of them can contribute."
Two players who are expected to carry the team are Anthony Greco and Nick Schilkey.
"Both of them were named captains on the team," Rohlik said. "So I think that's one of the biggest changes and one of the biggest things we're going to look to is their leadership. Not only on the ice, but off the ice, how they conduct themselves, that'll be a big role for those guys."
Greco scored 15 goals and added eight assists last season. Rohlik said he was expecting more out of the senior forward this season.
"His explosion and his speed … he creates space with that," Rohlik said. "I'm hoping that he can finish more chances this year."
Success, like it often does, might come down to the production that the Buckeyes get out of the goaltender position. Christian Frey, Logan Davis and Matt Tomkins all have experience in net for Ohio State, but having a three-man timeshare in net is a strategy that rarely leads to a successful season.
"I'm hoping that we can get what we got during the second half two years ago and the second half last year," Rohlik said of his goaltenders. "A goalie makes you a good coach in a hurry or a bad coach in a hurry."
Last season
14-19-3, 8-11-1 (fifth) in the Big Ten. Lost to Minnesota in the semifinals of the Big Ten tournament.
Names to know
Greco is back for his senior campaign and is coming off of a 23-point year last season. Frey should be the main man between the pipes with Tomkins backing him up.
Three questions
1. Was last year a sophomore slump for Frey? The netminder went 9-4-3 after being thrust into action midway through the 2013-14 season but never got into a groove last year, ending with a 9-12-2 record.
2. Will Ohio State's youth rise to the occasion? Five of the team's top 10 scorers from last season were seniors and are no longer on the roster.
3. Are the Buckeyes ready for their tough early schedule? Ohio State's first three series are against Bowling Green, Miami and defending-champion Providence. Four of those six games will be away from Columbus.
Crystal ball
All signs point toward another middle-of-the-road or worse finish for the Buckeyes.