After struggling with ties on the road in its first two weekends of the year, North Dakota went on the road again last weekend to face Vermont and swept the Catamounts 2-0 and 5-2.
Backstopping North Dakota was junior goaltender Matt Hrynkiw, who had never played a collegiate game before this season. While he played in UND's exhibition opener, he was behind Cam Johnson on the depth chart. When Johnson got hurt during the second period of the first game against Bemidji State, Hrynkiw stepped in.
He had a rocky start, facing 12 shots in the third period and giving up two goals, one of which came just 1:13 into the period. But he settled down the next night and is 3-0-1 with a 1.76 GAA.
"He's been in our program; this is his third year in our program," said rookie North Dakota head coach Brad Berry. "He knows what our culture is all about, and about opportunity, and he's making the most of it. He's one of our hardest workers on and off the ice. He's a great academic student, a 4.0 student, so he's really detailed and structured and I'm glad to see him having some success."
That Bemidji State series was part of the growth process for a young North Dakota team that sits atop the USCHO.com Division I Men's Poll.
"Having a two-goal lead, that's something that with a young group, you have to try to find out ways to close games and try to lock things down," said Berry. "I think it helped us. Obviously, you don't want to give up the point, you want to win all the time, but I think it helped us solidify in our mind ways to do that, and we practiced and practiced on different aspects of the game with a two-goal lead or a one-goal lead."
Offensively, North Dakota is paced by two seniors, Drake Caggiula and Bryn Chyzyk. Caggiula is averaging 1.33 points a game so far, and he and Chyzyk are also providing important leadership to the team.
"They've been in our program for a while, and they're a strong part of our culture and the work ethic, what it takes on and off the ice," said Berry. "You're only as good as your leadership group. We have a really strong leadership group here and they're an important factor in our start this year."
One area North Dakota has struggled with this season is penalty killing. The PK is 48th in the country, succeeding only 72.2 percent of the time, but has shown improvement. After giving up at least one power-play goal in each of its first three games, including three in the 4-4 tie with Bemidji, the PK has clamped down and not allowed a goal in its last three games.
"We lost the majority of our draws early in the season and it resulted in the puck being in the back of our net," said Berry. "Again, it's those two areas, being disciplined and staying out of the penalty box, and No. 2 is winning the initial draw to get the initial clear."
This weekend, North Dakota starts conference play with another road series against winless Colorado College. To Berry, however, the record doesn't matter.
"You know what, they are well-coached by Mike Haviland having the experience he has," said Berry. "We've got a group down there that will be hungry and waiting for us. We went into Vermont last weekend, we were facing a similar situation and we knew that. We have to prepare ourselves and make sure that we are ready to go right away on Friday night because Colorado College normally has a strong team every year and they're well-coached."
Minnesota-Duluth's rally shows resolve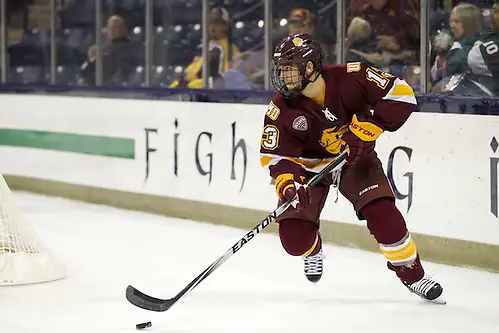 On the heels of a sweep of in-state rival Minnesota, No. 5 Minnesota-Duluth headed out to Notre Dame last weekend and emerged with two 3-3 ties. On Friday, the Bulldogs held a two-goal lead early and then a one-goal lead in the third but couldn't hold on, and on Saturday they had to rally from two separate two-goal deficits.
For Bulldogs coach Scott Sandelin, Saturday's rally was a positive.
"I liked the resolve of our team," said Sandelin. "After coming off the way we tied on Friday, sometimes those games can feel a little bit more of a wash. Saturday, I thought we did a good job starting. After they got that goal we got on our heels a little bit, but we bounced back and the game was good and gave ourselves a chance to win. We had a power play in the overtime to try to ice it but couldn't do it. Again, you learn that college hockey, every game is tough."
One thing that could have helped the Bulldogs is the power play, which is clicking at a meager 8 percent success rate.
"We've had some good moments," said Sandelin. "I thought the Minnesota Friday game, I thought we looked as good as we've looked in a few years and scored a couple of goals. I think the next night, maybe our guys thought it would be a little bit easier and they came harder at us. We still had some opportunities but didn't score.
"I thought last weekend, we weren't very good on faceoffs so we were chasing the puck right off the get-go, and that doesn't always help. When we did have opportunities in the zone, I thought we didn't execute as well as we needed to, and we weren't as successful. Early on in the weekend I thought we did a decent job, and then even the five-on-three we hit a couple of pipes. You never know; maybe those go in and it changes your whole confidence level of your power play. It's not time to panic yet, but we have to get some things fixed and have to do some things better."
The Bulldogs were sparked Saturday by senior Tony Cameranesi, who leads the team in scoring and seems to have taken his game up a notch. He's averaging 1.4 points per game, nearly double the average of his junior year and almost triple the average of his sophomore season.
"You mentioned that he's a guy we count on and he's led our team in scoring the last three years," said Sandelin. "He's a senior, he's played in a lot of situations for us, and it's showing. It was like the Saturday game: We needed a little spark down 2-0, and we made a great play to spring him on a breakaway and he finished. That was his first goal of the season. Tony brings that speed element, he's competing hard, and he's going to generate some chances because of his speed. To that point he had all assists, so it was nice to see him score.
"I think that line has been very good for us, even going back to last year with [Austin] Farley and [Karson] Kuhlman. They play very well off each other. It's been our best line probably since last year."
The Bulldogs also were helped by freshman defenseman Neal Pionk, who earned NCHC defensive player of the week honors for his two-point night on Saturday. Pionk is tied for second on the team in scoring.
"I thought he was really, really good all weekend but really stepped up Saturday," said Sandelin. "It's not just because he scored; he got up the rink, he was making plays, he defended well. He's got a really good demeanor about him and plays with a lot of confidence, and I think that's paying off for him."
This weekend starts a stretch of three straight series where Duluth faces top-10 opponents, as the Bulldogs host No. 7 Massachusetts-Lowell. The following weekend they travel to No. 2 Omaha before hosting No. 5 Denver.
Sandelin said he expects a tough series with Lowell this weekend.
"They're a very good team, they're an older team," he said. "They play very well defensively in their own zone. They make it very hard for you. Offensively, they create some problems. Sometimes against teams that play that stronger defensively, to me you have to have some patience and not get frustrated, because you're not always going to make clean plays. And the opportunities you do get, you have to bear down and try and score goals. I expect it will be a really hard, hard series for us. I think it's a great challenge. As I told our guys, it's going to be one of the best teams we've played going into this weekend."
Players of the week
Offensive player of the week — Tony Cameranesi, Minnesota-Duluth: Cameranesi notched four points over the weekend in Minnesota-Duluth's two ties on the road against Notre Dame. On Friday, he dished a primary assist and had a plus-1 rating, while on Saturday, he helped his team rally from a two-goal deficit, scoring the first two goals for his team and assisting on the tying goal in the third period of a 3-3 tie while posting a plus-3 rating.
Defensive player of the week — Neal Pionk, Minnesota-Duluth: Pionk scored his first collegiate goal on Saturday, tying the game in the third period to complete a second two-goal comeback in the game, and assisted on the first goal of the game while recording a plus-2 rating. He helped his team kill nine of 11 Notre Dame power-play chances on the weekend.
Rookie of the week — Brock Boeser, North Dakota: Boeser notched three points in North Dakota's sweep of Vermont in Burlington. In Friday's 2-0 shutout victory, he had an assist on North Dakota's second goal, while in Saturday's 5-2 win, he assisted on North Dakota's first goal of the game and then scored the second goal, giving his team a 2-1 lead in the first period. He also recorded a plus-2 rating and was named the game's first star.
Goaltender of the week — Matt Hrynkiw, North Dakota: Hrynkiw, a walk-on goalie who had never played a game at North Dakota entering this year, helped North Dakota sweep Vermont. He stopped 27 shots on Friday while recording his first collegiate shutout, and on Saturday in a 5-2 win, he made 27 saves for a .964 save percentage on the weekend and a 1.00 GAA. He also helped North Dakota go a perfect 4-for-4 on the penalty kill on the weekend.