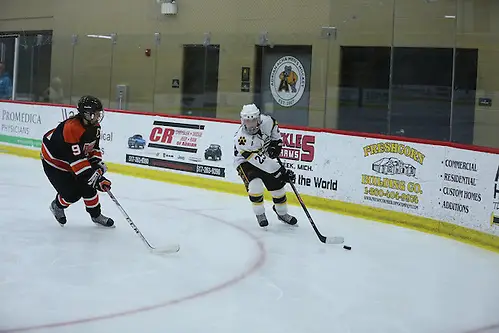 With the East/West Showcase on tap this weekend in Northfield, Vermont, plus many other women's Division III teams also getting back to game action this weekend, it's time to look at all seven conferences and what to possibly expect during the 2015-16 season.
New to the NCAA D-III game this season is the Colonial Hockey Conference, though members Stevenson and Canton played 2014-15 as independent schools.
Many questions remain, including the following hot topics:
1) Can Plattsburgh maintain its dominance?
2) What freshmen will make an immediate impact?
3) How will the Colonial Hockey Conference fit into the grand scheme of competitiveness at the women's Division III level?
COLONIAL HOCKEY CONFERENCE
Last year's champion: N/A (new conference for 2015-16)
Top favorite: Stevenson (16-8-1 in 2014-15)
Dark horse: Canton (two wins last year, only other program that had a team)
Players to watch: Chelsea Blackburn popped 20 goals in 25 games a year ago for Stevenson as a freshman, while Katie Abbott scored 11 goals and Erin McLoughlin recorded 19 points … Stevenson goalie Sarah Modzelewski went 10-5-1 with a .928 save percentage and should see the bulk of starts this season … For Canton, Rebecca DiNardo saw the majority of action in net and that should again be the case in 2015-16 … Lora Ardoin, Robyn Carroll, and Margaret Troiano combined for 21 goals a year ago and all are back with the Kangaroos.
ECAC EAST
Last year's champion: Norwich
Top four favorites: Norwich, Franklin Pierce, Salve Regina, St. Anselm
Dark horses: Holy Cross, Manhattanville
Players to watch: Norwich goalie Celeste Robert put together a 12-3-1 record last season, while Loren Carrier and Laurie King also posted five wins apiece. Robert and King return this season … Taylor Cross has improved her point totals each of her first three seasons with Norwich and will be a go-to player for the Cadets … Salve Regina's Danielle Phalon tallied 17 goals in 19 ECAC East games a year ago … St. Anselm's Alison Quinn added 23 points in 17 conference games … Franklin Pierce sophomore Alex Brolsma was a supreme playmaker last season, registering 13 helpers in 17 conference games … Colleen Marcik put up strong numbers in net for Salve Regina, so look for her to again be the go-to goalie for the Seahawks.
ECAC WEST
Last year's champion: Plattsburgh (also won national championship)
Top four favorites: Plattsburgh, Elmira, Oswego, Utica
Dark horses: Cortland, Buffalo State
Players to watch: Kayla Meneghin tore up the score sheets during her freshman season with Plattsburgh in '14-15, going for 23 goals and 49 points in 30 games, good for third in the country and tops among all freshmen … Melissa Sheeran, Giovanna Senese, and Bridget Balisy all posted decent numbers a year ago for the Cardinals and will all be key cogs that will need to contribute if Plattsburgh wants another national championship … Olivia Ellis popped 19 points in 20 games as a freshman for Oswego last year … Utica senior Morgan Reed scored 11 goals a year ago, while Jordan Lipson had 18 points in 20 games for Plattsburgh … In net, look for Plattsburgh's Camille Leonard to post some gaudy numbers in 2015-16 and for Kyle Nelson to do the same for Elmira.
MIAC
Last year's champion: St. Thomas
Top four favorites: Gustavus Adolphus, St. Thomas, Concordia (Minn.), Bethel
Dark horses: Augsburg, St. Mary's
Players to watch: Kathryn Larson went for 18 goals in conference games a year ago (five goals on the power play) with Bethel and has transferred to St. Thomas … Bethel's Lauren Kolak had 17 points in 21 conference games … Erica Power fashioned 18 points in 22 games for Gustavus Adolphus and was second in the conference with 14 assists … Courtney Umland and Heidi Winiecki combined for 40 points in 20 games for St. Thomas … GAC senior Lindsey Hibbard is a workhorse between the pipes and registered 14 wins a year ago with a 1.15 GAA and a .938 save percentage … Paige Kittelson showed flashes of brilliance in the UST cage as a freshman and is back with the Tommies, while teammate Taylor Neisen won eight games for St. Thomas.
NCHA
Last year's champion: Lake Forest
Top four favorites: Adrian, St. Norbert, Lake Forest, St. Scholastica
Dark horse: Concordia (Wis.)
Players to watch: Adrian's Kristin Lewicki led the NCHA in scoring a year ago with 11 goals and 21 assists for 32 points and combined with Bulldogs' returning teammates Logan Taylor and Kaylyn Schroka for 80 points … Adrian goalie Jade Walsh went 15-1-3 in NCHA contests a season ago and will again be in the spotlight this year … Lauren Roethlisberger was an offensive spark plug for St. Norbert in 2014-15 and that trend should continue this year … Lake Forest's Michelle Greeneway scored 14 goals a season ago and it's not out of the realm of possibility that those numbers increase this season … Sierra Hanowski averaged better than a point per game for St. Scholastica (20 points, 19 games) and those stats will most likely keep going up this season … St. Scholastica's Abby Sawyer scored 11 goals in conference games in 2014-15.
NESCAC
Last year's champion: Trinity
Top four favorites: Middlebury, Trinity, Amherst, Connecticut College
Dark horses: Williams, Bowdoin
Players to watch: Jessica Young's 13 goals and 24 points are tops of any Middlebury returning player … Trinity senior Cheeky Herr had 18 points a season ago on nine goals and nine assists in 19 conference games … Maddie Winslow had a consistent freshman season for Middlebury with 17 points in 19 contests … Bowdoin's Miranda Bell posted 11 goals as a freshman last year … Amherst's Erin Martin tallied 13 assists and teammate Lynddy Smith posted 14 points in 2014-15 … Stephanie Izzi potted six power-play goals for Connecticut College last year and Trinity's Shannon Farrell rounded out her game with eight goals and eight assists … Wesleyan goalie Corinne Rivard went just 2-10-1, but her .927 save percentage and 2.22 GAA can't be ignored … Trinity's Sydney Belinskas won nine games a year ago as a freshman for the Bantams and led the NESCAC with a .950 save percentage.
WIAC
Last year's champion: Wisconsin-River Falls
Top two favorites: Wisconsin-River Falls, Wisconsin-Stevens Point
Dark horse: Wisconsin-Superior
Players to watch: Look out for the River Falls quintet of Chloe Kinsel, Dani Sibley, Carly Moran, Brianna Breiland, and Karleigh Wolkerstorfer. Together, the five accumulated 94 points last season … Stevens Point senior Emily Lester showed some consistent flow in her game a year ago with seven goals and 14 points in 15 WIAC games and teammate Katherine Nejedlo also had 14 points … Hailey Adair, Karen Larson, and Lynne Larson should be seen as offensive threats for Superior … As a freshman last season, Angie Hall picked up a 13-1-1 mark in goal for River Falls and should be a cornerstone for UWRF this season and into the future.