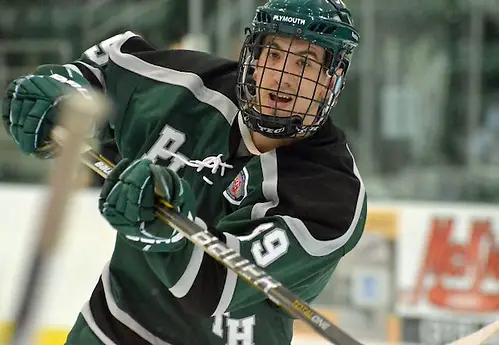 Rivalry games, battles of unbeatens, revenge games, and finally the last conference to join regular season play are all on the menu this weekend.
Last week, I finished at 4-1-0 (.800), which brings the season total to 9-3-1 (.731). Not a bad start, but not resting on any laurels, nor picking less challenging games this week.
Here are Tim Costello's picks for the East this week:
Thursday, Nov. 19
Stonehill @ Suffolk
The Rams are off to a solid, and for some surprising start to the season going 4-0-2 in their first six games. This one is a non-conference affair but it won't change the intensity for Suffolk. It has been hard for opponents to get much by Brandon Smolarek these days – Suffolk 3, Stonehill 1.
Friday, Nov. 20
Hobart @ Elmira
This is a game to keep a couple of streaks going. Hobart has won four in a row in conference and if Elmira wants to stay in the hunt they need to build on last week's win. The Statesmen are playing well and Lino Chimienti will be the difference in this one – Hobart 3, Elmira 2.
Tufts @ Trinity
The revenge game is the season opener for both teams. Last season Tufts nearly ended the national championship dreams for the Bantams with a crushing upset in the quarterfinals of the NESCAC tournament. There is a new coach at Tufts in Pat Norton, so expect another dogfight and a tough opener for the champs. – Trinity 3, Tufts 1.
Saturday, Nov. 21
Potsdam @ Plattsburgh
The battle of SUNYAC unbeatens should be a great hockey game. Both teams will be looking to impose their will – the Cardinals with speed and the Bears with physical play. I really think this one is going to be a tight contest, maybe a tie in regulation but something about the Bears and owning the third period has me leaning towards the visitors – Potsdam 4, Plattsburgh 3.
Plymouth State @ Fitchburg State
The champs always have a bullseye on them when they come out against every conference opponent. The Falcons have been up and down early in the season and while this one is at home, the Panthers and Andrew Wigg show why they are the elite team in MASCAC – Plymouth State 5, Fitchburg State 2.
Sunday, Nov. 22
Bowdoin @ Middlebury
A new/old coach in Neil Sinclair's return to the Panthers to replace the legend, Bill Beaney, while on the Bowdoin side, the farewell season tour opens on the road for their own Terry Meagher. Enough about coaches, the players will decide this one and Bowdoin has just enough to get a key road win early in the season – Bowdoin 4, Middlebury 3.
Whatever the motivation for that extra edge, it creates great hockey – drop the puck!
WEST PICKS – Brian Lester
Augsburg (3-3, 0-0) vs. Gustavus Adolphus (1-3-2, 0-2)
Nate Flynn is tied for fourth in the league points (10) and is tied for second in goals (6) as he leads Augsburg into action this weekend. The Auggies are 3-3 and have won two in a row.
Three players have scored two goals apiece for Gustavus, which has dropped its last two.
The goaltending battle will be the interesting thing to watch in this showdown as Chris Amsden and Jordyn Kaufer rank first and second in goals against average. Amsden is 0-1-1 but has allowed only five goals in three games for the Gusties. Kaufer is 2-2 and has allowed eight goals.
Look for a split in this series. Gustavus 3-2; Augsburg 5-3.
St. Olaf at St. Mary's (3-2-1, 2-0)
Drew Otto and Peter Lindblad lead St. Olaf with five goals apiece. They have combined for six assists as well, with Otto tallying four. Luke Andriuk has started four games in goal and has racked up 142 saves. He is 2-2.
Martin Gruse is having a stellar year for St. Mary's, which is riding a three-game win streak. He ranks third in points (11) in the conference and is tied for the MIAC-lead in assists (8). Bob Kinne has come through with four goals and five assists on the year.
The Cardinals also feature one of the best goaltenders in the conference in Phil Heinle, who has won 70 percent of his games as he owns a 3-1-1 record. St. Mary's 4-2, St. Olaf 4-3.
No. 9 St. Norbert (5-1) at No. 2 Wisconsin-Stevens Point (6-0)
Few regular-season games get much bigger than a showdown between the Green Knights and Pointers. Both teams are in the top 10 and both are looking to make an early-season statement.
St. Norbert, winners of its last four, features one of the NCHA's best goaltenders in Tony Kujava, who is 4-0 and owns a goals against average of 1.16. The offense is fueled by the play of Michael Hill, who has come through with four goals and two assists.
Stevens Point has yet to lose this season and boasts one of the top offenses in the nation, punching in 33 goals. Joe Kalisz and Kyle Sharkey have scored six apiece to pave the way. Jesse Gordichuk and Max Milosek have both seen time and goal and own identical 3-0 records.
This one could go either way. Stevens Point, 5-3.
Lake Forest (2-4) at No. 12 Wisconsin-River Falls (3-2-1)
Billy Kent has scored three goals for the Foresters and hopes to rise to the occasion in an upset bid Friday. Mark Esshaki has tallied two goals and two assists while Jack Lewis has come up with two goals.
Leo Podolsky has started five times this season and is 2-3. He has allowed 18 goals. Playing well offensively will be key for Lake Forest, which has managed to score only 13 goals this season.
The Falcons are led by Mitch Kontny, who has come through with three goals and four assists. He is one of five players on the roster who has scored at least two goals. Tanner Milliron has been impressive at goaltender, fashioning a 3-2 record. River Falls, 4-2.
Lake Forest (2-4) at No. 8 Wisconsin-Eau Claire (4-0-2)
It doesn't get any easier for the Foresters on Saturday as they travel to Eau Claire. They have to be at their best in all phases of the game to have a shot at pulling off an upset.
Even if the Foresters fall short, the experience they gain playing top-level teams on the road will benefit them in conference play.
Eau Claire has yet to lose a game, though, and will be eager to take care of business at home. Adam Knochenmus has led the way for the Blugolds, racking up seven goals to go along with three assists. Six other players have tallied at least two goals.
Jay Deo and Tyler Green are both capable of getting the job done in goal. Eau Claire will be tough to beat on its home ice. Eau Claire, 5-2.