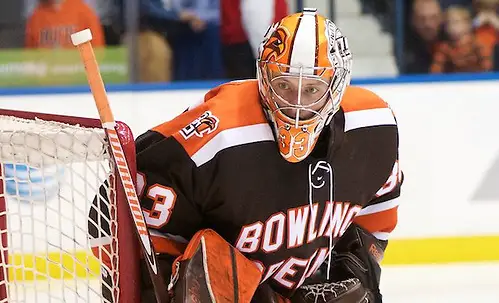 Chris Bergeron had to chuckle a bit.
His Bowling Green Falcons are 5-3-3 so far this season, having split a tough road series at Michigan Tech last weekend and having played just three of their first 11 games at home.
But there have been some whispers about a relatively slow start.
"I like the fact that people are concerned about our record," Bergeron said this week. "Four, five years ago, people would have been jumping for joy about being above .500 during the season."
Bergeron inherited a five-win team in 2010 and has seen the program improve every season since, including last season's 23-win team that fell just a win shy of an NCAA tournament berth.
So the bar has been raised, and the Falcons are still learning to deal and play with those high expectations.
Saturday's victory in Houghton snapped a three-game winless streak and was the Falcons' second victory in seven games, a stretch that's included three ties but not a lot of scoring.
Friday night's 2-0 loss to the Huskies was the first time Bowling Green had been shut out this season, but it had scored a total of just eight goals in the previous six games, including a pair of 1-1 ties at home against Lake Superior State two weekends ago.
"We've struggled to find consistency in effort and consistency in execution," Bergeron said. "We weren't expecting our power play to be in single digits [before the Tech series], and we weren't expecting our top returning guys to struggle early on."
While they've scored just 24 goals in 11 games (2.18 per game), they've allowed just 21 (1.91) thanks in part to the play of sophomore goaltender Chris Nell, who is third in the nation and first in the WCHA with a .958 save percentage and a 1.20 GAA. He's played in eight games and is 2-2-3.
However, Bergeron on Saturday opted to play senior Tommy Burke, who stopped 30 shots to get his third win of the season in four appearances and the 36th victory of his career.
"It's just not time for [Nell] to play every game," Bergeron said. "Friday was his fourth in a row, and he got overworked. And if it wasn't for Chris Nell [39 saves], it would have been a lot worse than 2-0. I just didn't think it was time to hand over the reins. Tommy Burke found a way to win."
The victory improved the Falcons to 2-2-2 in WCHA play, with the wins coming at Tech and at Alaska-Anchorage.
Starting with this weekend's series against Alabama-Huntsville, Bowling Green has a three-series home stand coming up, with Northern Michigan and Minnesota State on the docket after the Chargers.
Going back to last season, Bowling Green is on a seven-game unbeaten streak at the BGSU Ice Arena. So there's a chance to make some hay, right?
"It will be nice to be at home for the next six games," Bergeron said. "But at home there are expectations from fans and sometimes pressure to perform. I'm OK with that. The only way this six-game home stand creates momentum is if we play well."
Beavers finally find a way to win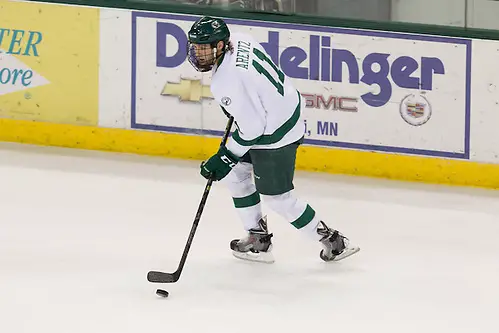 After starting the season with a win and a tie against what were then the No. 2 and No. 1 teams in the country, Bemidji State had found itself struggling.
Much like last season, when they went for most of the month of November without a win, the Beavers went on a seven-game winless streak after upsetting second-ranked Minnesota-Duluth in their season opener.
The Beavers finally snapped that streak last weekend, beating Alaska 6-3 on Saturday night and earning their first conference win in the process.
The fact that they scored four third-period goals on Saturday was significant because the third period had been something of a bugaboo for Bemidji State. In four of the seven games in their winless streak, the Beavers had gone into the third period tied. They lost three of those games and tied in the other.
"The last four, five games we've been one goal up or one goal down going into the third period," Beavers senior winger Markus Gerbrandt told the Bemidji Pioneer. "It was good for our confidence to finally win a third period and ultimately win a game."
And despite their pedestrian 2-5-2 overall record, the Beavers still boast both the league's top power play (23.7 percent) and penalty kill (87.8 percent).
It's possible that it just took one big series against the Nanooks to get them going — 13 different players recorded at least a point in Saturday's win. And four normally dependable scorers (Gerbrandt, Brendan Harms, Nate Arentz and Leo Fitzgerald) for the Beavers also tallied their first goals of the season on the weekend. Gerbrandt scored the eventual game-winner on Saturday, while Harms had one Friday and another Saturday — part of a four-point weekend for the junior winger.
The Beavers take on another team looking for its first conference win this weekend when they host Lake Superior State.
"I've been happy with the guys' play," coach Tom Serratore told the newspaper. "I really have been. It was nice on Saturday to win the third period, and that was good for the guys, and it was a good win. You want to build on it."
Ice chips
• Alaska-Anchorage beat Ferris State for the first time in 10 games and the first time in 29 seasons last Saturday with a 5-0 shutout victory in Anchorage. The Seawolves will host Penn State in a nonconference series before hitting the road for four straight at Minnesota State and Michigan Tech.
• Alaska is in the middle of a four-game swing through the Midwest, splitting with Bemidji State last weekend in Minnesota and moving over to Michigan for a series against Ferris State. Junior Brandon Morley's hat trick on Friday was the first for the Nanooks since Cody Kunyk scored four goals late in the 2013-14 season.
• After a weekend off, Alabama-Huntsville returns to action against Bowling Green, which is its closest WCHA rival (it's just an easy 550-mile jaunt up Interstate 75). The Chargers are 3-14-1 all-time against the Falcons and 1-7-1 in Bowling Green. Their lone win at BGSU was a 3-2 overtime victory on Dec. 7, 2013 — the Chargers' first-ever WCHA victory and one of two wins in their 2-35-1 season.
• Ferris State freshman forward Corey Mackin has not failed to live up to the hype. He already has four goals and eight assists for 12 points, ranking third in the WCHA in overall scoring. His eight points in conference play lead the WCHA. Another rookie has shined for the Bulldogs, too, and that's goaltender Darren Smith, who has four wins in five starts. He is third in the league with a .922 save percentage.
• Lake Superior State was swept at home by Division I newcomer Arizona State last weekend. It was the Sun Devils' first series and road sweep, but both were close 3-2 games. All four of the Lakers' goals came while on the power play. The Lakers, who travel to Bemidji this weekend, are the lone WCHA team without a conference win (their early-season 4-0 win against Northern Michigan didn't count in the standings as it was part of a nonconference series).
• Michigan Tech will be stepping outside of conference play for the first time this season when it takes on instate foe Michigan State in East Lansing. It will be the Huskies' first trip there since Nov. 26, 1986, when they lost to the Spartans 6-0. To find a Tech win at Munn Ice Arena, one has to go back even further — Dec. 12, 1981. Overall, the teams have faced off 156 times before this weekend, and they are scheduled to meet again in the Great Lakes Invitational on Dec. 29 in Detroit.
• Led by Casey Nelson's 10 points (3 goals, 7 assists), Minnesota State's defensemen have a combined 25 points, which, as a group, ranks 12th in the nation. Nelson is the second-leading scorer in the nation among defensemen. After splitting with Minnesota last weekend, the Mavericks return to league action with a series at Northern Michigan.
• Northern Michigan was off last weekend after traveling to Alaska, where they split a series with the Nanooks. In Saturday's 5-2 win the Wildcats snapped a four-game, 0-for-16 streak on the power play, netting four goals on the man advantage. Northern Michigan's power play is third in the league at 10-for-44 (22.7 percent). Northern Michigan and Minnesota State have met only eight times in their history and never played before the Wildcats rejoined the league.
• This week's WCHA players of the week were Bemidji State junior forward Brendan Harms (offensive), Michigan Tech senior goalie Jamie Phillips (defensive) and Ferris State freshman forward Corey Mackin (rookie).