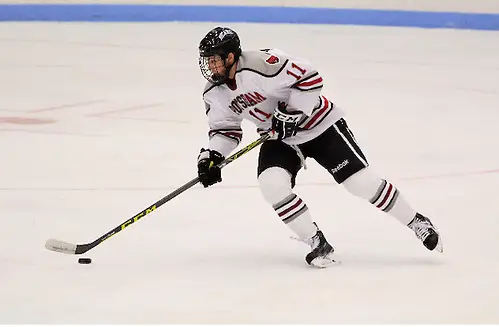 Despite being 6-0 to start the season and this week entering the national rankings, the Potsdam Bears aren't getting ahead of themselves just yet in this young season.
"We got on the ice on Monday afternoon," noted coach Chris Bernard. "I asked Todd Thomas if he got his ring yet and he said that he hadn't. I noted that I hadn't received my ring yet either, so let's get back to work."
Many may find the "one game at a time" and "taking it day-by-day" to be over used clichés in the coaching universe, but at Potsdam, ranked No. 12 this week in the USCHO.com Division III Men's Poll, it is part of the everyday philosophy exemplified by their coach and their captain along with the rest of the team.
"Todd is just one of those kids that has the ultimate respect from the rest of the players," stated Bernard. "He goes about everything the right way and sets that example for the rest of the group. We are very happy with our start, but know it is a long way to February. So far, we have executed our game plans for opponents pretty well and have received some real timely goals and great goaltending. We can't take anything for granted just based on the first six games – we have to go earn the results and continue to execute our game each and every time out."
Timely goals have come from Thomas with five and six from leading scorer Dylan Vander Esch. The two forwards have provided 50 percent of the team's total output so far this season, but it's not because they are just focused on the offensive end of the ice.
"Dylan subscribes to everything we do as a team," said Bernard. "He works as hard defensively as he does in the offensive zone. The difference with Dylan is that when he gets his chances, he buries them. He really has a knack for finishing and it has shown in the first few games."
Another big asset for Potsdam has been the play of sophomore goalie Brenden McMenimen. In six starts, McMenimen has a .951 save percentage and a 1.66 GAA in leading the Bears to some big wins, including last weekend's road win at Oswego.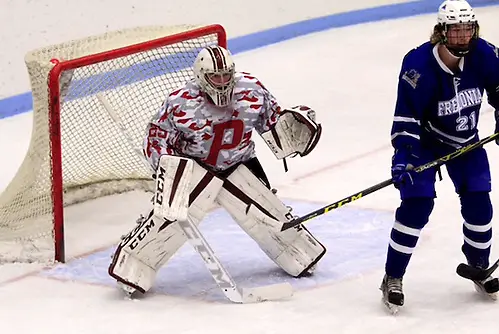 "Brenden has been really good for us," said Bernard. "He manages the game so well. He gets us a whistle when we need it, makes the really big save when we need it and controls the rebounds really well. We don't really focus on the how many chances other than wanting to limit the Grade A chances in the game. Even when we haven't done that, he has been there to make the saves we need. As good as Brenden has been, we can't stop playing our good team defense, we can't let it all fall to the goalie because 'that's a shot Brenden usually saves.' We need to stay disciplined to our concept of team defense, blocking shots and being physical to support what he is doing back there."
At just about the halfway mark to the semester break, the Bears are off to a good start, but their coach isn't one to align goals just on the basis of wins and losses. The focus has been around execution, measurable metrics that are key to the style the Bears play.
"We really didn't say we wanted to be 6-0 or 5-1 or attaché wins and losses to our goals to start the season," said Bernard. "We measure things like limiting Grade A scoring chances, limiting shots to under 30 for an opponent – something we need to get back to after the last couple of games where we have given up many more than that – emphasizing the physical side of our game, blocking shots and commitment to the game plan we design for each opponent. Those are the things we measure and if we execute then we should see the results."
This weekend, the Bears visit the only other unbeaten team in the SUNYAC, fourth-ranked Plattsburgh. It is an early opportunity to benchmark just where this Bears team is against one of the better teams in the conference and nation on an annual basis.
"'Benchmark' is a good word," stated Bernard. "Bobby [Emery] has had it going up there for a lot of years and obviously, they are playing some good hockey right now. It will be another clear challenge for our team to go work hard and execute a game plan against a tough opponent in a tough place to play. We are looking forward to the opportunity against a strong opponent."
The Bears have three more conference games before the break as well as some challenging nonconference foes including the Skidmore Invitational and a first-round matchup with Manhattanville, as well as games with Elmira and Johnson and Wales. All of those are in the distant future according the coach who has his team focused on the here and now – one game at a time.
Right now, that focus is Saturday night and a trip to Plattsburgh.