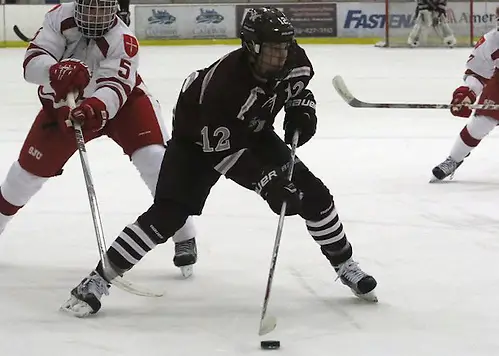 Nate Flynn hasn't had to worry about any type of sophomore slump.
The Augsburg forward leads the Auggies in points, tallying 10, and has also scored a team-best six goals. His goal total is the second-best in the MIAC.
"I've gotten off to a good start," Flynn said. "But playing with great teammates has helped me out a lot. It's easy to get opportunities when you have great players around you."
Flynn played in all 26 games a year ago and finished the year with eight goals. He is well on his way to improving on that total this season and noted his offseason workouts have paid off.
"Last year, I got pushed around a lot it seemed like because I'm not a huge player, but I feel like I've gotten a lot stronger this year," Flynn said.
He also sees the ice much differently this season.
"The game has slowed down a lot for me," Flynn said. "I'm making better decisions and able to make the most of opportunities."
Flynn and the Auggies are 3-3 heading into the weekend and will play their first conference games of the season when they battle Gustavus Adolphus.
The one thing Flynn has learned about life in the MIAC is that there are no easy wins.
"It's such an even league and you aren't guaranteed anything no matter who you are playing," Flynn said. "You have to stay focused and come out ready to play. You can't take any night off."
Augsburg has scored 18 goals in all, with Eli May and Corbin Chapman racking up three apiece to go along with four assists apiece.
Jordyn Kaufer has started four of the six games in goal and owns a 2-2 record.
Flynn, an all-conference selection in high school as a junior and senior, is hoping to help the Auggies contend for a conference tournament berth. And what he has learned from a year ago is that every game matters if you want to be a contender in the league.
"In junior hockey, you play 65 games or so before you get to the playoffs," explained Flynn. "There are only like 25 games in your season in college, and 16 of those are in the conference. Every game is meaningful and you know you have to be at your best for each one."
Hall steps up for Pipers
Mitch Hall turned out to be a hero for Hamline Saturday night. The sophomore scored in overtime to lift the Pipers to a 5-4 victory over Wisconsin-Superior.
Hall helped the Pipers improve to 3-1-2 on the season. He has scored two goals this year and has also dished out eight assists. He ranks third on the team in points.
The Pipers have gone to overtime twice this season, winning a shootout against St. Olaf the first time. They have scored five or more goals four times this season.
Hamline returns to MIAC play this week as it will play a home-and-home with St. John's. The Pipers are 1-0-1 in the conference. The Johnnies have yet to win a game this season. They are 0-4-2 overall and 0-2 in the league.
Green Knights on top of standings
St. Norbert has won its last four games and sits all alone atop the NCHA standings. The Green Knights swept Aurora over the weekend for their latest wins.
The Green Knights have scored four or more goals in all but one game this year as they have fashioned a 5-1 record.
Erik Cooper has helped fuel the attack, scoring three goals and dishing out four assists. He leads the team in points. Michael Hill has come through with four goals and two assists while 11 other players have scored at least one goal. The Green Knights have scored 28 goals in all while allowing only 10. Tony Kujava and T.J. Black have both seen time in net. Kujava has played in five games and is 4-0.
St. Norbert hits the road this week to play Superior and Wisconsin-Stevens Point, the No. 2 team in the nation. The Green Knights are 4-0 away from home this season.
Falcons have mixed results
Wisconsin-River Falls played two games last week, including a showdown against No. 15 Hamline, and came away with a 3-1 win over the Pipers. They ended the weekend with a 2-1 overtime loss to Augsburg.
Tanner Milliron played a key role for the Falcons, stopping 27 shots against the Pipers. Milliron has made 122 saves so far and owns a 3-2-1 record. The offense has been paced by Mitch Kontny, who has racked up three goals and four assists. Joe Drapluk and Taylor Burden have scored two goals apiece.
River Falls will be home this week for a pair of games against NCHA opponents. The Falcons play Lake Forest Friday and host the Milwaukee School of Engineering on Saturday.