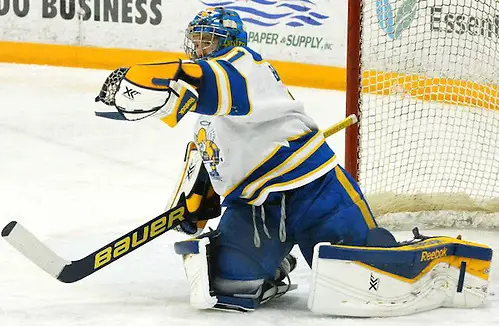 Tyler Bruggeman is off to an impressive start for St. Scholastica, winning four times in his first six starts.
Needless to say, he is pleased with the way things have gone so far during his senior season.
"It's gone pretty good," Bruggeman said. "I've been a little inconsistent at times, but overall, I'm happy with the start. I feel comfortable out there and I've done a good job of making saves. The defense in front of me has played well, too."
Bruggeman, a two-time All-Academic NCHA selection, started 21 games a year ago for the Saints and said he spent a lot of time in the offseason working on playing with more composure in goal.
"My big focus was on not being as erratic in the crease and avoiding putting myself in bad situations," Bruggeman said. "I've played with a lot more composure and have kept things more simple this year."
It's paid off.
Bruggeman has allowed only 14 goals and made a career-best 49 saves in a 4-2 win over Northland last month.
He said one of the biggest adjustments he had to make coming into college was dealing with how hard shots are taken at the college level.
"It seems like there is so much more traffic in front of the net and the shots are a lot harder," Bruggeman said. "It takes time to get used to it, but I've adapted well to it and have learned how to handle different situations."
The Saints are 4-1-1 through six games, fashioning a 3-1 record in NCHA action. St. Scholastica has been off since Nov. 24, but is ready to get back to work.
"We've focused on staying sharp during the break and we want to come out playing well this weekend [against Marian]," Bruggeman said. "The league is very competitive and you have to be at your best each night, but we feel like we have a talented, well-rounded team and that we can be there at the end of the year competing for the championship."
No matter how it plays out, Bruggeman is thankful he's had an opportunity to play college hockey for the Saints.
"I've taken full advantage of the opportunities I've had as a player and I'm getting a good education," Bruggeman said. "I love playing here and have had a great time being a student-athlete."