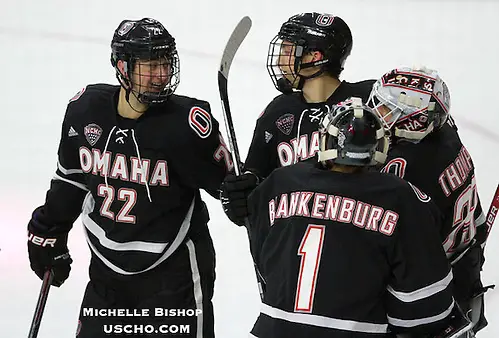 Nine months ago, Omaha's hockey team found itself in dizzying heights.
A first-ever NCAA tournament game victory quickly gave way to the Mavericks' first appearance in the Frozen Four. UNO's momentum from that 2015 postseason run has carried over into the new campaign, as indicated by sixth-ranked Omaha's 11-2-1 record.
Sweeping Ohio State at home last weekend saw UNO hold steady in the USCHO.com Division I Men's Poll this week. More importantly, the two wins over the Buckeyes kept Omaha's perfect nonconference record (8-0) intact.
The first four of those wins came in the first two weeks of the season at then-No. 6 Minnesota State and No. 20 Vermont. Home wins over Air Force on Oct. 23-24 and Ohio State last weekend later helped UNO reach a 6-0 home record thus far at the new Baxter Arena.
Speaking after last weekend's sweep of the Buckeyes, including an ultimately close win Saturday, Omaha coach Dean Blais suggested not everything is easily falling in his team's favor.
"We've got the school record for wins going into December, but we're just finding a way to win," Blais told USCHO on Monday. "Sometimes we'll get outplayed, outshot, outeverythinged, but then the clock winds down and we're on top.
"With Ohio State on Saturday, we're up 5-2 [late in the second period] and it goes to 5-4 and we're kind of scrambling and Ohio gets a couple of chances, but we held them off and got an empty-netter and won 6-4.
"We've got to be a little bit better defensively. We like to score goals and we've got a lot of offensive-minded players, but we've got to have better defense."
That's not the only thing the Mavericks need to work on — for instance, they've converted on only seven of 54 power-play opportunities so far — but more than enough is going UNO's way. A prolific offense helps plenty, and junior forwards Jake Guentzel (eight goals, 14 assists) and Austin Ortega (12 G, 6 A) are leading the way there.
It's not just those two who are contributing, however. Fourteen games into the season, the Mavericks' camp is a harmonious one.
"This is the most depth that I've had here going on my seven years [at UNO], Blais said, "and in the nonconference games, we felt that, win or lose, we're going to play all those guys because it's just fair to them and hard to work them every day in practice and not give them any games.
"That was our goal at the start of the year, and with the whole team, once we found out there wasn't much of a difference between our fourth and fifth lines and our seventh and eighth 'D', we'd have to have one or two guys sit out but they weren't 'me first' and accepted it."
As for the Mavericks' perfect home record thus far, Blais indicated that it's not only his players making that happen.
"I think what's really a motivator is that all games are sold out," he said of UNO's first six games in its new building. "That's huge because, at [downtown Omaha's] CenturyLink Center, we'd have 7,000 or 8,000 people in there but the building seats 17,000, and now that figure fills our [new] place out.
"With that building, the acoustics are good and the students are fired up, and we're making it a tough place to come into."
UNO won't have that advantage this weekend as the Mavericks travel north for a marquee matchup against No. 7 St. Cloud State (11-3, 5-1 NCHC). Two weeks later, Omaha will try to win its final two nonconference games of the season at home against Arizona State on Dec. 19-20.
'If you're looking for a helping hand, it's at the end of your arm'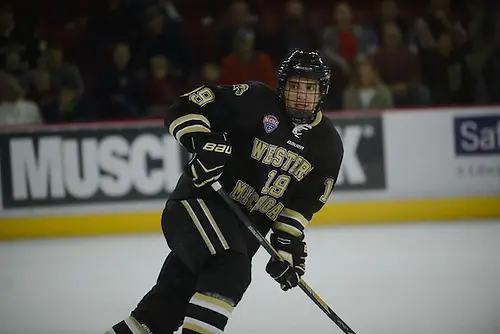 Western Michigan has struggled this season compared to Omaha, and especially lately. The Broncos (2-8-1, 2-4) have lost each of their last six games and eight of their last 10.
Life doesn't promise to get any easier for Western this weekend when it travels to face No. 17 Minnesota-Duluth (5-5-3, 2-3-1-1). The Broncos know how to win in the Twin Ports — they picked up a shootout win and outright victory inside Amsoil Arena last season — but this series will provide different challenges.
One of them is the teams' makeup and level of experience.
"I was looking at their lineup and I believe they dress 14 or 15 upperclassmen," WMU coach Andy Murray said, "and we'll probably have about seven or eight in there.
"It's a great challenge for our team in a tremendous building."
Western's two most recent losses came last weekend at Notre Dame's Shillelagh Tournament. Rensselaer capped its recent nine-game unbeaten streak Friday with a 4-1 win over the Broncos.
What Murray considered an RPI own-goal was the Engineers' lone defensive blemish.
"We had 28 quality scoring chances and actually didn't score the goal — [RPI] shot in their own net — so we're certainly having difficulty putting the puck in the net," Murray said. "When that happens you tend to press a little bit and you leave yourself open.
"I'm disappointed in the game against RPI, and the effort was there but in terms of being constructive and finishing plays off, we didn't do it."
Western's 3-1 loss Saturday to the tournament host Irish was a similar story. All the Broncos can do now, however, is continue to try and break their slump.
"The effort was there, [but] we just need to be smarter and finish our plays off," Murray said. "We're a team that's going through a tough situation right now.
"'Tough' is a very light word when you've lost six in a row, but you've got to keep your head up, you've got to come to work every day, and if you're looking for a helping hand, it's at the end of your arm."
Players of the week
Offensive player of the week — Drake Caggiula, North Dakota: The senior forward picked up five points in two wins last weekend at Michigan State. Caggiula scored two goals in each game against the Spartans, and his 21 points this season have him tied for fourth place in the country among all scorers.
Defensive player of the week — Tucker Poolman, North Dakota: A sophomore blueliner from nearby East Grand Forks, Minn., Poolman picked up three points last weekend and helped a Fighting Hawks defensive corps that killed eight of Michigan State's nine power-play opportunities.
Rookie of the week — Trey Bradley, Colorado College: One of CC's leading newcomers picked up a goal and an assist last weekend in a home-and-home series with crosstown rival Air Force. Bradley also had a hand in two of the Tigers' three power-play goals against AFA.
Goaltender of the week — Cam Johnson, North Dakota: After sitting out the previous month with an injury, the sophomore helped lead the Hawks to their road sweep in nonconference play. Johnson allowed only one goal in each game and stopped 57 of the 59 shots he faced in the Friday-Sunday set.