Since the season began, Holy Cross' focus has been on the most immediate steps in front of the team. The past is a learning tool and the future is too far ahead. All that matters is the next game and the ability to pick up points.
It's an approach that's helped the Crusaders become one of the hottest teams in the nation. Since starting the year 0-4, Holy Cross is 9-2, with a five-game home winning streak helping the team to the eighth-best undefeated streak.
And it has the Crusaders primed to potentially end the first half of the season as Atlantic Hockey's first-place team, a possibility previously unthought of due to the collective strength of Robert Morris and Mercyhurst.
"We had a good home stand [over the past two weeks]," said coach David Berard. "We had three wins in the first week, and we were fortunate to play at home during the holiday break. Last week, we played a good team in Mercyhurst and won two very good games. [The Lakers] are a great program, and it was a good series of hockey, but we know that we have to put that behind us and move to another good team this weekend against Bentley."
Utilizing a narrow-minded approach to the road in front of them, the Crusaders are one of Atlantic Hockey's deepest teams, capable of playing any type of game. They were consistent in scoring a goal per period in a 3-0 victory over American International, and they scored goals in bunches in a 5-2 win over Niagara. In their second game against Niagara, they rallied from down 2-0 in the first period to win in overtime.
Last weekend, they took an early 3-0 lead and held on for a 5-4 victory over Mercyhurst, and they put away the Lakers with a 7-3 win on Saturday after taking a 5-0 lead into the third frame.
"We've been really focused on the process as a team," said Berard, "which means we look to improve week to week. We really look for our team to play in the present. We learn from the past but don't dwell on it, and we can't look too far ahead.
"After every weekend, there's an evaluation of the positives and negatives, which helps us plan for how to attack the week ahead and prepare for different challenges."
It may sound cliche, but it's a true approach that's found a home at the Hart Center. The Crusaders are one of Atlantic Hockey's most balanced teams.
Mike Barrett is tied for the team lead with Jake Bolton in points with 14, but Barrett has nine goals and Bolton has 13 assists. There are five additional goal scorers with five or more strikes, and there are eight others with five or more assists.
Seven players have 10 or more points but among that group, only one – Barrett – has more goals than assists.
Add to that a complete team defensive effort. Paul Berrafato has emerged as the team's top goalie with a 2.36 GAA that ranks well into the nation's top half, but he's had to face only 23.8 shots per game.
"Our guys have really bought into the process," said Berard. "There's been steady improvement. Everyone on the roster's been getting better, and as a result, our game is really starting to round out. We have really played solid all-around hockey where different lines get it done at different times. Our D corps is starting to score some goals. When you get different contributions from different people, it translates into really good, solid team hockey."
Holy Cross is going to need that team approach this weekend when it finishes off the first half of the season on the road at Bentley — the two teams' only games this year. The Crusaders and Falcons split last season, a perfect microcosm for a rivalry that's been divided nearly right down the middle since the turn of the decade.
"We have tremendous respect for Bentley," said Berard. "They're our closest opponent location-wise, and the games almost always seem to go back and forth. They are tightly played, emotional games, and they seem to always have an impact at a time when someone is fighting for a spot in the standings. These are games that will go either way, and we know that we have two games, on the road, in a tough place to play."
This is all Chris' fault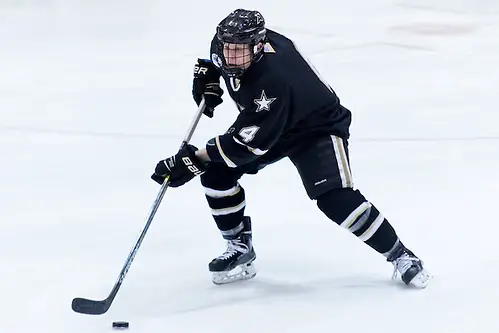 This weekend represents the last Atlantic Hockey games before college hockey's annual semester break and hiatus. While we typically use the end of the season as a retrospective on our preseason predictions, it's worth seeing how Chris Lerch and I are faring with where we thought teams would finish versus where they presently reside.
Before the season, we saw Atlantic Hockey teams finishing in the following order:
1. Robert Morris
2. Bentley
3. Rochester Institute of Technology
4. Canisius
5. Sacred Heart
6. Mercyhurst
7. Air Force
8. Niagara
9. Holy Cross
10. Army West Point
11. American International
At present, the standings look like the following, with how far off we are if the season ended today:
1. Robert Morris (0)
2. Holy Cross (+7)
3. Mercyhurst (+3)
4. Bentley (-2)
T-5. Air Force (+2)
T-5. Army West Point (+5)
T-7. RIT (-4)
T-7. Canisius (-3)
T-7. Sacred Heart (-2)
10. Niagara (-2)
11. AIC (0)
A hearty congratulations to pretty much everyone for making us look bad. Special kudos are in order for Holy Cross and Army West Point, who are the biggest risers over our preseason prediction thus far.
In my opinion, this is another reflection of the "no days off" nature of Atlantic Hockey. Eight points separate first place from the three-way tie for seventh, but teams have played anywhere from eight to 12 games.
There are two major takeaways. First, the second half of the season should be unbelievably exciting. Second, I'm blaming pretty much everything we're wrong about on Chris.
Playing the 'what if?' game
A couple of weeks ago, American International radio broadcaster Seth Dussault pitched Chris and me an idea that's been a lot of fun to toss around. The NHL changed its overtime format this year to a three-on-three style of play that's encouraged wide-open skating and fast, exciting hockey. Seth asked what we would choose for each team if the AHC went to a similar format for its extra frame.
I had a better idea. Instead of answering it myself, who would you choose as your representatives in a three-on-three format? There's plenty to think about: Do you go for a defensive style or do you go for an all-out assault? Do you play three forwards or utilize a puck-moving defenseman? The possibilities are endless.
With this as our final featured piece before the semester break, take some time through the holidays to think about who you want representing your favorite team. Shoot me an email at [email protected] with your thoughts. In the second half of the year, I'll pick some of the choices for one of our weekly columns.
Have some fun with it, and let me know your reasoning. Let the debating begin!
Players of the week
Player of the week — Canisius' Shane Conacher: Conacher had five points as Canisius notched a weekend split in the ever-tough confines of Cadet Ice Arena at Air Force. He ranks ninth nationally with 19 points this season.
Goalie of the week — Robert Morris' Terry Shafer: Shafer made 37 saves on Friday as the Colonials shut out RIT 4-0. His fifth collegiate shutout tied him for the Colonials program record. He also brought his season save percentage up to .923 while lowering his GAA to 2.57.
Defenseman of the week — Holy Cross' Jake Bolton: With a goal and assist on Saturday, he helped the Crusaders polish off a four-point weekend against Mercyhurst. He also led the team in blocked shots on the weekend as the Crusaders moved into second place in the conference.
Rookie of the week — Army West Point's Trevor Fidler: A three-point weekend and a plus-5 rating highlighted the weekend for the Black Knights' diaper dandy. Army West Point's sweep of Sacred Heart elevated the team into a tie for fifth in the conference.
Happy holidays
With this beginning our final week of games before the end of the first semester, let me be the first to wish all of you the very happiest and healthiest of holiday seasons. Wherever and whatever you celebrate, may it be filled with good hockey and greater memories.