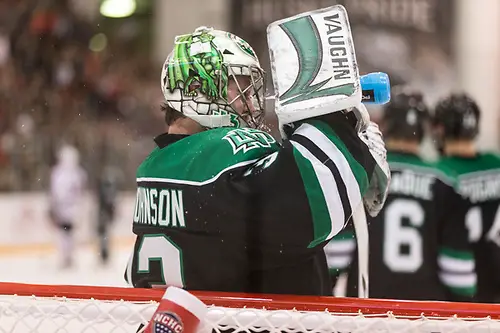 Over the last decade or so, games between North Dakota and Denver have been fiercely competitive and have led to memorable moments as the intensity built.
When the two squads faced off last weekend, more of the same was expected. When Denver scored just 1:22 into Friday's game, and then North Dakota senior captain Drake Caggiula responded just 26 seconds later, it looked like the battle was on.
That was the closest Denver ever got, as Fighting Hawks goalie Cam Johnson held the Pioneers scoreless in the rest of the series and North Dakota rolled to 5-1 and 4-0 wins.
"The biggest thing is if you have a little bit of success on a Friday, trying to follow that up on a Saturday," said North Dakota coach Brad Berry. "Playing with consistency is a big thing here that we are trying to get through to our team. We just wanted to create a mindset of trying to take away space throughout all three zones when we didn't have the puck, and I thought our guys did a good job of that consistently throughout the weekend."
USCHO Live!: Hear North Dakota coach Brad Berry
Johnson, who earned NCHC goaltender of the week honors for his 40 saves on the weekend, continued his strong play since returning from an injury. North Dakota also has another strong goalie, Matt Hrynkiw, who played well earlier in the year for the injured Johnson after having not played a minute in college hockey his first two seasons.
"The truth at the beginning of the year is our two scholarship goalies came down with injuries that put us in our situation where Matt was called upon after not playing at all his first two years of college hockey," said Berry. "For him to come in and do what he did, he's earned it in our eyes going forward here. Cam battling back from his injury and doing very well over the course of the last two or three weekends, he also has earned it.
"It's a position of strength that you like to have as an organization or coach, to have two guys that can go in the net and do the job. We go about it on a weekly basis, based on performance in practice and performance the past weekend. Again, they've both earned it and we'll make decisions every week accordingly."
Offensively, North Dakota is led by Caggiula, sophomore Nick Schmaltz and freshman Brock Boeser, who are all averaging more than a point per game. Boeser is just one of a group of 11 freshmen on this North Dakota team.
"A lot of times, the freshmen come in here and they are given a spot and some ice time, but they have to earn it from time to time," said Berry. "We lost a lot of players last year, 10 players, and they were high-minute players with impact roles. There's a balance between putting them in a position and making them earn it. They've been working hard to earn that and it's good, because our early start can be attributed not to just to the seniors and juniors that are contributing but also the freshmen and sophomores that are chipping in."
This weekend, North Dakota ends its first-half schedule with a trip to Duluth, Minn., to face the league-rival Bulldogs. Berry is expecting another stout test.
"Again, we're getting into another quality and very good NCHC team in Duluth. They are a lot like Denver in that they are well-coached, well-structured and they have depth at every position. They have an older group, more experienced, so we are going to have to make sure we bring our 'A' game, and playing in their environment we have to make sure we are ready for anything from the drop of the puck Friday night."
Colorado College building confidence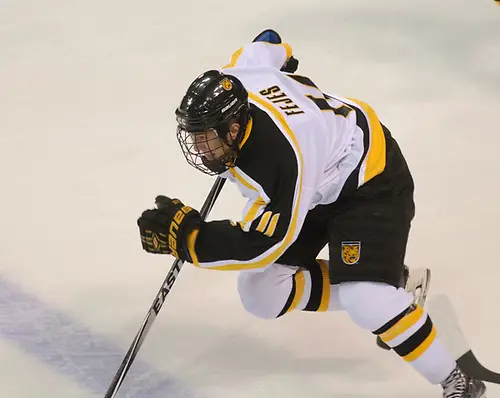 Momentum can be a funny thing.
Take the Colorado College Tigers. CC started its season with 13 straight losses. Hosting Air Force at home two weeks ago after losing to the Falcons on a last-second goal the previous night, CC fell behind 1-0 in the first period and then was down 2-1 in the second. After tying the game in the second, CC scored twice in the third and held on for a 4-3 win.
Last weekend, CC hosted Miami. In both games, the Tigers trailed. They were down 1-0 entering the third period Friday; they were down 1-0 after one period Saturday, and tied 2-2 entering the third.
On Friday, Hunter Fejes got a tying goal at 10:05 of the third, then scored the game-winner at 17:14. On Saturday, Fejes was the hero again, getting the game-winner at 18:47.
"Momentum is a funny thing, and it gives them confidence," said CC coach Mike Haviland. "You can see it building now, and hopefully it keeps going. I'm real proud of the way they responded Friday and Saturday from behind both nights and found a way to win."
Fejes has four goals in his last four games, while Luc Gerdes has come up with five points in CC's three wins.
"We needed some of our older guys to step up and some of them did that," said Haviland. "Hunter got the goals, but some of the guys made the plays around him, Luc Gerdes and Sam Rothstein, and Cody Bradley gets a big goal. It's nice to see some of those upperclassmen come on. We need that. We need everybody on board to win hockey games. That's something that maybe we were lacking early on in the year, but they are starting to play well now."
While the three wins are nice, CC is still struggling offensively. Trey Bradley leads the team in points with nine, averaging .562 points a game, while everyone else's average is under half a point. CC is last in the country offensively, averaging 1.69 goals per game.
"We want to generate pucks to the net and bodies to the net and simplify our game," said Haviland. "We're not a team that is going to win 6-5. I think we have figured out our identity. We have to win games 2-1, 3-2 and maybe 4-3. I think we've figured it out as a team and have accepted that this is who we are as a team and this is how we have to play.
"For me, I'm glad to see us commit to defense, and I think that's a huge thing. When everyone commits to the defensive side, you start to get some wins because you are being a little more stingy, and I think that's what we have to continue to do."
One aspect of CC's game that has helped defensively has been the play of freshman goaltender Jacob Nehama. Even during CC's losing streak, Nehama at times turned in impressive numbers, such as the 52 saves he made on the road at UMass-Lowell and 31 saves against Boston College.
"He's made critical saves at critical times of the game, and all of a sudden, it gives the team confidence, which is what this team needs," said Haviland. "When you have a goalie that makes the big saves at big times, whether it's a 2-1 game when they have a power play, and he made big saves against Miami and Air Force, it gives us life on the bench and you can see the confidence level grow too when a guy is making those crucial saves."
This weekend, CC is on the road against Western Michigan. CC has yet to win on the road, and that is something the team struggled with last season, too, getting only one win on the road all year.
"I thought we played pretty well up in Lowell and in Denver," said Haviland. "They're all losses, but they are all one-goal games. Denver scored into an empty net with three seconds left. We haven't been on the road much. I think it's kind of good for our team to get these wins before we go on the road because we've got this confidence.
"Something is building in the room. You can sense it with each other and they are coming together. And now we go on the road, and it's not easy to win on the road in any building, especially going into Western Michigan, a tough, tough building."
NCHC players of the week
Offensive player of the week — Austin Farley, Minnesota-Duluth: Farley scored six points in the Bulldogs' sweep of Western Michigan, giving him 13 points in his last four games. In Friday's 7-0 win, he assisted on the first two goals, while Saturday, he tied a career high with four points in a 6-2 win, assisting on two goals in the second period, including on the game-winner and scoring two power-play goals in the third period. He was named the game's first star on Saturday and finished plus-1 in both games.
Defensive player of the week — Andy Welinski, Minnesota-Duluth: Welinski helped the Bulldogs sweep Western Michigan by chipping in four points and helping limit Western Michigan to only two goals on the weekend. On Friday, he notched three assists, including one on the short-handed game-winner in a 7-0 win, while posting a plus-2 rating. On Saturday, he had an assist on the final goal in a 6-2 win while again posting a plus-2 rating. He was important on special teams, as the penalty kill went 3-for-3 and the power play went 7-for-12.
Rookie of the week — Jacob Nehama, Colorado College: Nehama helped CC earn a sweep of Miami, the Tigers' first-ever NCHC sweep and first in conference play since November 2012. He made 20 saves in Friday's 2-1 win and was named the game's second star, and made 34 saves Saturday in a 3-2 win while being named the game's third star. He posted a .947 save percentage and 1.50 GAA while stopping 54 of 57 shots on the weekend and helping CC go 5-for-5 on the penalty kill by making five saves.
Goaltender of the week — Cam Johnson, North Dakota: Johnson helped North Dakota to an impressive sweep of No. 9 Denver by limiting the Pioneers to one goal on the weekend. On Friday, he made 22 saves in a 5-1 win, including stopping 12 in the third period, and followed that with 18 saves Saturday while being named the game's third star in a 4-0 win. He helped North Dakota go 10-for-10 on the penalty kill, making seven saves on the PK Friday and another five on the PK Saturday. He stopped 40 of 41 shots on the weekend for a .976 save percentage and 0.50 GAA.