There are plenty of athletes whose arch of life paints a picture worthy of a major motion picture. Too few of them, though, are women.
For former Harvard all-everything defenseman Angela Ruggiero, it might actually be possible to craft not just a movie, but maybe one or two sequels.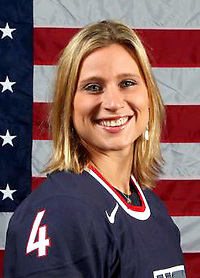 Maybe it's about her Olympic career, in particular her leadership roles while earning four Olympic medals. It could be about her life as a celebrity as part of the well-known reality series "Celebrity Apprentice," where late in the game she heard the words "You're fired!" by now-candidate for President of the United States Donald Trump. You could tell the story of her role as an ambassador of sports both with the "Right to Play" program and as a member of the International Olympic Committee.
On Thursday, just a month after being inducted to the Hockey Hall of Fame in Toronto, she hit the Hall of Fame daily double with an induction into the U.S. Hockey Hall of Fame at a ceremony in Boston.
"One month later; it's crazy," said Ruggiero of the honor. "I think when I first started playing I was the only girl playing in the state [of California]. I feel lucky that I was on the cusp of that first wave of women who got the chance to play."
Ruggiero says she fell in love with the game the first day her father put her on the ice at age 7. Sure there were tears that day, but her ability to, by the end of that practice, let go of the board already had her hooked.
Now, 28 years later, she has a resume that would make most 35 year olds jealous.
Thursday the length of that resume became longer when she became just the fourth woman, joining Karen Bye Dietz, Cindy Curley, and Cammi Granato, to earn a spot in the U.S. Hockey Hall of Fame.
Ruggiero said that the two Hall of Fame inductions in such a short period of time has allowed her to pause and reflect on what she has accomplished. But she also said that the biggest adversity of her life came back in just her third year in the game.
"One of the challenges that I thrive off of was when I got cut when I was nine," said Ruggiero. "It was because I was a girl. My brother made the team.
"The team went up to Canada to play and I got left home because I was a girl. That was pivotal because again I had to look inside myself to determine if I liked the sport enough to keep training."
The decision to keep playing has paid dividends. At Harvard, she was a four-time all-American, won a national championship in 1999 and, in her senior season, captured the Patty Kazmaier Memorial Trophy as the top player in the game.
As a member of Team USA, she won a gold medal, two silver medals, and a bronze at the Olympic Games and participated in 10 women's IIHF World Championships, winning gold four times.
She played professionally twice for two men's minor league teams, as well as in the Canadian Women's Hockey League from 2004 through 2011 before retiring in December 2011.
From there, she has launched what might be her most important career to date.
She is now a member of the athlete's committee for the IIHF and serves as a member of the IOC representing the United States. With experience in the women's pro game, which expanded this year with the creation of a second professional league, and a degree from Harvard, Ruggiero might be one of the best positioned to lead the continued expansion for women's hockey globally.
Ruggiero says that she believes in a time where athletes like tennis star Serena Williams and fighter Ronda Rousey grab national headlines, women's hockey could be well positioned to take a similar path.
"You saw the ratings for [women's Olympic hockey] in Sochi," said Ruggiero. "I think they were better than the men, which is exciting to see how many people stopped their day and everyone is talking about it. That right there shows me there is potential."
Ruggiero also said that making professional women's hockey successful in the U.S. and worldwide will take the coming together of many parties, including the two current professional leagues in North America as well as the National Hockey League, the IIHF, and USA Hockey.
Asked if she would like to be the person to bring those parties together, Ruggiero didn't shy away.
"It's understanding what the right sustainable business model is," said Ruggiero. "We have to figure out how to make this a revenue-generating sport. I'm not involved but I think about it a lot.
"I'd love to be involved. I think the time is right in women's hockey. It's not going [away], just people are looking for the answer and the solution.
"I see a lot of people trying to independently do something and I think we need to figure out what we can all do together. "
It's possible then, if Ruggiero can successfully once again be a leader, she could add another item of "commissioner" of women's hockey to that enviable resume.