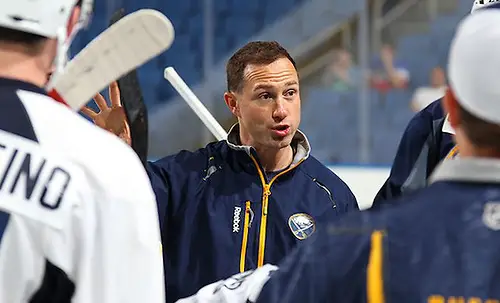 Editor's note: This is part of an occasional series of stories checking in with college hockey personalities, past and present.
Angelo Ricci now admits that when he arrived in Denver, he thought it was a cow town.
That was nearly 25 years ago and, save for a couple of years of playing pro hockey after graduation from Denver in 1995, he's made Colorado his home.
"The quality of life just grows on you," said Ricci. "Once you're here, it's hard to leave."
Nowadays, the Chicago-area native is the director of hockey operations for the ultra-successful Colorado Thunderbirds AAA youth organization, having helped develop and produce college hockey standouts such as Drew, Nick and Quentin Shore (all at Denver), Austin Ortega (Omaha), Ryan Massa (Omaha), Christian Heil (Colorado College), Fredrik Olofsson (Omaha), Gustav Olofsson (Colorado College), Jaccob Slavin (Colorado College), Matt Cope (Robert Morris), Josiah Didier (Denver), Landon Smith (Quinnipiac), Rob Nichols (Connecticut) and Tyler Pham (Army).
Olofsson and Slavin made their NHL debuts in November one day apart — Olofsson for Minnesota, Slavin for Carolina — and Slavin scored his first NHL goal Dec. 8 in Dallas.
This year alone, two T-Birds alums are with CC (Heil and Derek Shatzer) and five each with Air Force (Dylan Abood, Ben Carey, Evan Feno, Max Hartner and Tyler Ledford) and Denver (Grant Arnold, Dylan Gambrell, Brad Hawkinson, Quentin Shore and Troy Terry) to show the impact on T-Birds players staying in-state for their NCAA careers.
Ricci also coaches the T-Birds' 16U team and led a stacked squad to the 2010 USA Hockey 16U national championship. The following season, the main core of that team moved up to the T-Birds' 18U team with Ricci and lost in the semifinals at nationals. Last spring, the 16U squad lost in triple-overtime in the national semifinals and in 2014, lost in a four-overtime championship game in Green Bay to Team Wisconsin.
He's also a skills consultant with the Buffalo Sabres, works with the team's AHL affiliate, the Rochester Americans, and helps runs on-ice skills for the Sabres' summer NHL development camp.
Still, he's most proud of making the T-Birds, now in their 14th season, one of the most respected and recognizable AAA programs in not only the Rocky Mountain region but the country. The T-Birds have seven levels of youth hockey — 11U, 12U, 13U, 14U, two 16U teams (American and National) and 18U — as well as a 20U Tier III team in the first-year, six-team, Rocky Mountain Junior Hockey League.
"The biggest thing we have with the Thunderbirds is the culture we've created," Ricci said. "That's the best word I can use to describe it because it embodies the mentorship, the coaching, development, success and environment, but don't get me wrong, it doesn't happen overnight. We're always learning new things and we want to integrate those things into our program.
"We also could not have done all of this without our team administrator, Kim Feno. Kim does it all for us and I am truly thankful for her being with us throughout this whole journey."
Ricci arrived at Denver in January 1991 as a transfer from Wisconsin, going to school at DU and playing for the USHL's Omaha Lancers on the weekends.
"Omaha had such a huge impact on my life and was the first time I left home — my senior year at 17 years old," said Ricci.
To this date, Ricci is still the all-time leading scorer for Omaha (176 points in 89 games) and holds the single-season points record when he rattled off 37 goals and 91 points in 1989-90.
Ironically enough, his first NCAA game was with the Pioneers during Thanksgiving weekend in 1991 … on the road … at Wisconsin.
"I heard some boos that night," Ricci said. "It was kind of funny."
Over his four years at Denver, Ricci compiled 64 goals and 97 assists for 161 points in 144 games. He's 12th all-time in Pioneers scoring, tied with Paul Comrie.
During his junior days, Ricci played for the Lancers under Frank Serratore, now Air Force's coach and also an individual who was instrumental in kick-starting the Thunderbirds, along with Ricci and several others.
When Ricci was leaving Wisconsin, Serratore had just taken the Denver coaching job and things "just started to fall into place" for Ricci.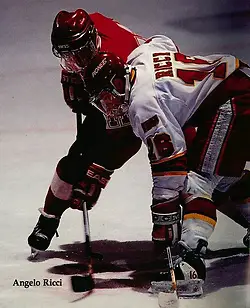 Post-graduation and minor pro days, Ricci started to migrate toward coaching, saying he was always intrigued by the aspect of skill development.
"Even in my summers at Denver, I traveled to places like L.A., Phoenix, Las Vegas, Utah and all over Colorado and we'd do teaching on the ice for like 6-8 weeks over the summer," Ricci said. "Then it was just in my blood and I remember sitting in Denver about a year after I quit playing and an opportunity came up to be a director of skill development in Arvada in 1997."
Ricci worked as a coach and hockey director with Arvada from 1997 to 1998, then with the Arapahoe (1998-2006) and Littleton programs (2006-09) before settling down with the T-Birds in 2009 in his current role. He has coached with the program since 2005.
Away from the rink, Ricci been married to his wife, Melanie, for 15 years. The couple has a 9-year-old dog, Gordie, and a 19-year-old cat, Marley.
Aside from his work with the T-Birds, Ricci also hosts a weekly hockey radio show on ESPN Radio 105.5 FM in Denver, in addition to a weekly webcast called "Between The Pipes."
"I've been fortunate to stay involved in the game," Ricci said. "I love teaching and I love working with the players. It's been a great ride and I really love Denver. I won't lie — I've had some pretty good offers elsewhere to leave and coach, and any coach that says they wouldn't want to coach at their alma mater is lying to you, but it's such a great setup here with the Thunderbirds and I haven't had any reason to leave. Granted, that may change, but this is home. Denver is home."
With the ongoing battle between the NCAA and Canadian Hockey League for recruits, Ricci has seen his share of T-Birds players wind up playing major junior hockey in the Western Hockey League. He said he sees both sides of the equation.
"Every case is different and what's right for one player may not be right for another," said Ricci. "It's been said a thousand times so I don't think I'm saying anything new, but it's a marathon, not a sprint. Every player develops at their own pace and the biggest thing we try and educate our families, parents and players on is not to compare yourself to anyone else. You can look at Johnny over here or X player here — you have to worry about yourself. Everyone's paths are so different. We've had kids leave early not prepared after they should have played another year of 16U or 18U and there is a negative impact, though there are a few exceptions.
"The general rule is to go someplace where you'll play and develop and when you make the critical leap to the next level, that's when you're ready to go."
Looking ahead, Ricci said he hopes to keep growing hockey in Colorado, which also has several other AAA organizations, including the Colorado Rampage and Rocky Mountain RoughRiders, at the younger levels.
With the T-Birds, Ricci's goal is squarely set on building year after year, and that includes continuing the spring and summer programs and goaltending sessions.
"The development and advancement are key, but at the AAA level, when you are playing a game and competing, you want to win," said Ricci. "We are all competitors and want to have success, but at the end of the day, it's how many players we have impacted in a positive way so they are prepared to play at the next level. Anyone that comes to our program will develop on and off the ice and will be a well-rounded individual from an academic, social, athletic and family standpoint. Overall, we've done a pretty good job of identifying the right players from the right families and I also believe our coaching is second to none.
"I believe we offer the complete package here."