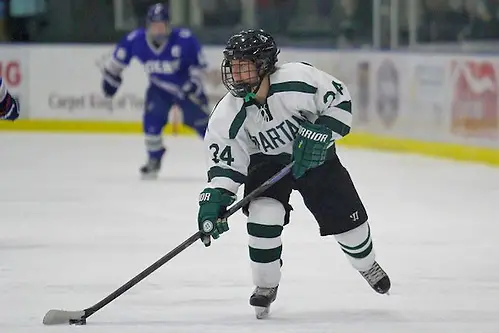 After her freshman season at Elmira, Taylor Steadman made a tough decision to leave school and pursue another opportunity at Castleton.
Was it an easy decision? No.
Was it one that paid off in the long run? You bet.
"I loved Elmira, playing for Coach [Dean] Jackson, and I made lasting friends there," Steadman said. "I will never be able to duplicate that year. However, I wanted to pursue a different educational path, which led me to Castleton. It was the curriculum that I wanted to pursue that first made me look at Castleton and the fact that the women's hockey program had improved so dramatically in the few years leading up to my attendance helped seal the deal."
Now a senior for the Spartans, Steadman is having a career year with 10 goals and 13 points in 14 games. Prior to 2015-16, the Hartford, Vt., product had never tallied more than nine goals and 19 points in one season.
Away from the rink, Steadman is pursuing a bachelor's in mathematics with a directed study toward engineering and a business minor.
"I'm sure I will find some way to use my degree to enhance my success as a coach," explained Steadman. "Stats are very important in the sports world. You can learn a lot from personal and team reflection."
She is also looking to stay involved in the game after graduation.
"I am very interested in coaching hockey at the college level," said Steadman. "I have wanted to coach for several years and over the summer, I coach for as many teams and camps that I can manage. I can't imagine not being involved in the game and I want to help impart my knowledge and love for the game on generations to come."
Castleton (10-2-2, 5-0-1 NEHC) is ranked 10th in the Jan. 11 USCHO.com Division III Women's Poll and sits second in the NEHC standings behind No. 9 Norwich.
The Spartans play at Plymouth State on Friday before hosting Norwich on Saturday evening.
"It has been a great three years for the team and myself," beamed Steadman. "Great coaching has led us to break school records all three years. I personally feel that I have improved as a player and enjoyed a great deal of success here at Castleton, but more importantly I believe that I have grown as a person and as a student. Our success as a team will only continue this season if we continue on our journey.
"If after every game the whole team leaves everything they have on the ice, there will be no doubt that the outcome was fair and we will be successful."
As for the whole college hockey experience, Steadman said it's been a great ride, but one that she's hoping to end on a positive note.
"While the bond you form with your teammates is front and center, the relationships you build with opponents, coaches, trainers, fans — especially young and upcoming fans — is amazing and immensely rewarding," said Steadman. "I have no doubt that the relationships I formed playing college hockey will always be a huge part of my life and the sport will always be part of me. It is surreal, but I challenge myself to make a difference every shift on the ice and if I spend time worrying about things I can't change, I will lose that focus.
"I don't think of this as my last semester playing college hockey; I can't change that. I simply focus on making it the best and most successful season possible."
NOTEBOOK
Perfect Plattsburgh (12-0-0) again took home all 15 first-place votes in the USCHO.com Division III Women's Poll this week. … Two of the three games that went to overtime Tuesday ended in ties as No. 2 Elmira and No. 6 Amherst played to a 2-2 stalemate and the Colby-University of New England contest finished 3-3. … The other OT game on Tuesday saw Maegan Sheehan lift Bowdoin over Southern Maine 3-2 with a power-play goal 50 seconds into the extra session. Marissa Fichter had tied the game for Bowdoin with a short-handed goal at 14:20 of the third period. Katie Couture scored both goals for USM in the first period. … Plattsburgh's Camille Leonard stopped all 16 shots Tuesday to gain her NCAA women's Division III-best seventh shutout as the Cardinals blanked No. 7 Middlebury. Kayla Meneghin popped two goals for Plattsburgh, while Erin Brand had two helpers. … No. 8 Wisconsin-River Falls and St. Scholastica played a wild one Tuesday, but UWRF came away with a 7-5 win. CSS led 3-2 after 40 minutes, but River Falls scored five in the third and took the 'W.' Carly Moran scored twice with four assists, Chloe Kinsel a goal and four assists, and Amy Auran recorded two of each for the Falcons. Taylor Guzzo had a goal and two helpers for the Saints.