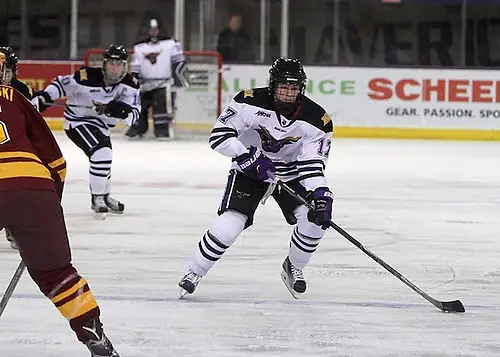 There's a school of thought in some sports that star players are not effective as coaches. That certainly doesn't seem to be an issue in women's hockey, where the top two teams in the rankings are coached by people who earned Olympic gold medals as players.
Boston College coach Katie Crowley won gold with the United States in 1998. Wisconsin's Mark Johnson garnered gold on the men's side for the United States in 1980.
This season, a former Olympic teammate of each has debuted as a head coach in women's Division I. Jenny Potter is now in charge at Ohio State. John Harrington is the new coach at Minnesota State. Early on, they find themselves at the other end of the spectrum of success from Crowley and Johnson.
Harrington's Mavericks sit last in the WCHA. Potter's Buckeyes are one spot higher.
Minnesota State's struggles aren't a surprise to anyone. It finished last in the league as a very young team last year. This year, the Mavericks are even younger. Of the 25 players on the roster, 10 are freshmen and another 10 are sophomores.
They've done okay outside of the conference, posting a 3-2-1 record, but they dropped their first 14 conference games before breaking through with a tie on Friday versus St. Cloud State, ending a string of 23 straight losses to WCHA opponents. Harrington hopes that as the remainder of the 28-game league schedule plays out, his team feels more comfort.
"It's going to be interesting to see, because we've told our young people, now you've had a chance," he said. "You've gained experience. We've got to grow up a little bit now. We're veterans. We're young veterans, but we're veteran players. I think going into the second half, when we're playing everybody for a second time, there's going to be no surprises. What the jerseys look like or who the personnel are on the other teams or what their tendencies were, that's not going to be a surprise for us. I'm excited about that, and I think our girls are too. Now is a chance, and we have to win some games in the league and get some momentum going ourselves."
For a team that doesn't win often, with only one WCHA win over the last season and a half, it may have to start with some smaller victories.
"We have to have the confidence that we can go out and we can compete within the game and compete in the little games within the games," Harrington said. "Those loose puck battles, the battles in front of the net."
When those battles are lost, there are consequences, which MSU learned earlier this season when it played Minnesota for the first time.
"Minnesota scored 11 goals and 10 of them were inside the hash marks inside the dots," Harrington said. "We were losing a lot of battles within that area."
The Mavericks proved to be quick studies. They lost the next day, but tightened up considerably, falling by a 2-1 score. They didn't allow problems to snowball as they had in the series opener.
"We talk about that all the time about having that next, best shift," Harrington said. "Whether things go good or things go bad, we have to keep playing the game."
It's one thing to say that, but another for the team to put it into practice.
"That's just a confidence thing," Harrington said. "It's an experience thing."
The development has shown up in other areas as well.
"To start the season with such a young team, I noticed every week like coming to practice that Monday, there's a little bit different pace, a little bit different hardness as far as shooting the puck and passing the puck that our young players show that maybe they didn't show that previous week or the previous few weeks," Harrington said. "I know we're growing as a team, and they've kept a tremendous amount of enthusiasm for the game and enthusiasm for our team."
Sometimes that enthusiasm can build. In the Mavericks' first game of 2016 versus Lindenwood, they entered the second period with a two-goal lead but saw it slip away. Early in the third period with the score tied, MSU came up with an effective penalty kill that culminated in a two-on-one short-handed rush. Although the opposing goaltender denied the scoring chance, the Mavericks seemed to gain momentum.
"Those are the sorts of things that do give your bench a lift," Harrington said. "I know the bench really gets excited, just like they do on a big blocked shot or they see somebody do those sorts of things for us, or we get a big save from [Brianna Quade] in our goal."
Playing for an underdog team, Quade is often asked to come up with a big save, facing an average of more than 30 shots a game. Obviously, she can't stop all of them, but she's demonstrated an ability to bounce back.
"That's Brianna; she is that way," Harrington said. "She's able to just put that in another compartment, but she does learn from those situations. We've had some conversations about some of the goals, and it's interesting to talk to her about how she processes those things, but she has a great demeanor for the position. She understands how valuable she is to our team."
While the Mavericks' team defense ranks 30th out of 35 teams, yielding 3.59 goals per game, their offense has proven to be even more of a problem, ranking 33rd and scoring just one and a half goals on average.
"In any hockey now, the goals are scored down by the net front in the blue paint, on top of the crease there," Harrington said. "You've got to get traffic. The goalies now are so good that you've got to get traffic there. You've got to get people screening and deflections and rebounds."
That can be tough for a young team that hasn't had the hours in the weight room of its more-experienced competition, but in that game versus Lindenwood, the Mavericks came through three times with goals on tips and second-chance opportunities in the dirty areas.
"We talked about that this week as the second and third chances," Harrington said. "We've got to get the puck to the front of the net, and then we've got to find loose pucks and not let them clear the puck."
In particular, its top line of Hannah Davidson centering Amanda Conway and Katie Johnson, the team's lone senior, took control versus the Lions.
"That line has been really good," Harrington said. "I think one of their strengths is their ability to work the puck low. They do a great job of working it side to side down low to kind of spread things out where they can work it back inside. I think it's a great example for the rest of our lines to see how they do that and protect the puck and maintain possession. If you can do that, you're going to give yourself the chance to get a scoring chance, because the defense is going to have to break down if they're spending that much time in their D zone."
Eventually, they capitalized on a scoring chance against Lindenwood, and Davidson scored the goal to give the team its first win since October.
Next up, MSU travels to Minneapolis to measure itself against the Gophers once more and see how much was learned in those first-half lessons.
Expectations coming into the season were slightly higher for the Buckeyes. They finished last season with a winning overall record, and over the last four seasons under Nate Handrahan, their combined record was three games over .500 with only one losing season. In the preseason poll, the league's coaches slotted OSU in the sixth position, the same spot they finished last year.
This isn't the same team though. Five of the seven leading scorers graduated, including the top two and four of the top five. Sisters Kari and Sara Schmitt not only figured prominently in the offense, they anchored the blue line.
Ohio State was hoping to get a lot of minutes out of a new sister act on its blue line, but injuries kept sophomore Jessica Dunne out of the lineup throughout the 2015 portion of the season, and prized freshman Jincy Dunne will miss the campaign entirely.
"Not knowing any of the players beforehand entering the season, I think the team is trying to figure out everyone's strengths and weaknesses," Potter said. "I think the freshmen did a great job stepping into the lineup and garnering a lot of minutes and improving their play a ton. Having Jess back in the lineup, she has a lot of skill and is a very smart hockey player, so it was great to have her back in the lineup. We look forward to having Jincy back next year, which will obviously help our team as well, as well as our incoming freshmen."
Ohio State has also had to deal with an injury to its top goaltender.
"Kassidy Sauve will be back next year, which will help our team tremendously as well," Potter said.
For now, the starting job has fallen on sophomore Alex LeMere, who didn't see action last year. The inexperience in goal and on the blue line have combined to raise the Buckeyes' average goals allowed by almost two goals above what it was last year.
"Goalies have been a little up and down, but no different than our forwards and defensemen," Potter said. "Everyone hits their stride, and hopefully, our team hits their stride in the second half."
Ohio State just completed its season series against Minnesota, a team that has dominated the Buckeyes in recent years. The game on Saturday was encouraging. The Gophers needed a late empty-net goal to seal a 3-1 victory. That was a big improvement over the series in Columbus in October, when OSU lost two one-sided games.
"The first few games that we played in the season were a little hari-kari in that everyone being on the same page," Potter said Saturday. "You're playing a team that was a national-championship team the year before. They have their systems. Their freshmen come in; everyone knows what the deal is. They already know everything that's supposed to happen. For my team, it was like everything was new for everyone. I think they've done a fantastic job. They're buying in. I think that was a big thing tonight, for them to know it's working. For them to continue buying in. For them to continue buying in and continue doing the hard work not only physically, but mentally."
Sunday was a bit of a relapse as the Buckeyes got behind by four goals in the first 14 minutes and lost by nine. As a player in the league, Potter was usually on the other side of such scores.
"I knew it was a tough league," Potter said. "I know that every game that you show up in, you've got to play your best. There's no weekend off. That's what is great about being in the WCHA. That's what I find exciting. It makes you a better team. It makes you a better coach. You always learn something, whether it is system-wise, those teams are always going to challenge you and your players to be better."
This week, the Buckeyes and Mavericks trade opponents with Ohio State hosting St. Cloud State, a team that swept the Buckeyes in St. Cloud.
"It think our team has worked extremely hard physically," Potter said "I think they've come a long ways as a team as far as gelling together, learning the systems, which is pretty normal with a new coach and new systems. I think the second half, I told them that it's going to be the big difference maker, putting in all that work. It won't be easy. It will never be easy, so they've got to keep working hard."
Such is life in a league where half the teams are ranked in the top 10. When you're not one of the ranked teams, the odds are good that your opponent that week is.
Potter and Harrington have already beaten the odds to win Olympic gold. In the years to come, they'll look to join their former teammates in leading teams to the upper echelons of the college game.