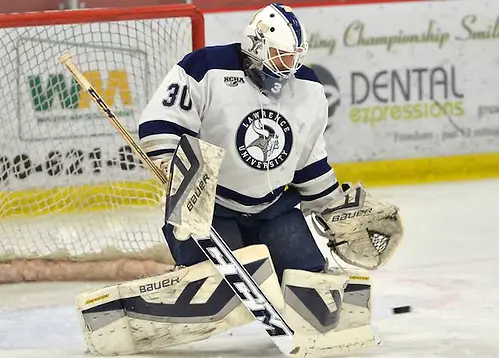 Mattias Soderqvist had to do more than just adapt to college hockey.
He had to adjust to life in a new country as well.
Fortunately, the standout Lawrence goaltender had a couple of years to get used to life away from Sweden as he played two stints of junior hockey in the United States in the NAHL and USHL.
That experience paid off when he made the transition to college.
"It definitely helped me get ready because I had time to get used to a new country and a new language," said Soderqvist, now in his third season with the Vikings. "The hardest thing was being so far away from home and dealing with that while trying to focus on hockey, too. But I love it here. It's been a lot of fun."
Soderqvist has certainly made an impact for the Vikings, ranking third in the NCHA in saves with 293. He is 4-6-1 in 11 starts and recorded his first collegiate shutout last weekend in a 2-0 win over Concordia (Wis.). The effort earned him NCHA Defensive Player of the Week honors for the third time in his career.
"I didn't start off the season the way I wanted to but I kept believing in myself and kept working hard," Soderqvist said. "It's paying off lately. It felt great to get the shutout. I give credit to my teammates for making that happen."
Having a plan has been vital to Soderqvist's growth as a goaltender. He said sticking to that plan night in and night out is one of his biggest improvements.
"I stick to the game plan that I've worked on with my coaches and I stay calm out there," Soderqvist said. "I know if I do that I'll give our team a chance to win. I expect myself to be at my best every time I play."
Soderqvist said the college game is no doubt played at a faster pace than junior hockey, but getting used to the speed was as big of a process as becoming accustomed to the way the game is played in the United States compared to Europe.
"It's more of an outside game in Sweden. Over here, the shots come from everywhere and guys won't hesitate to crash the net," Soderqvist said. "You can't take a second off. You always have to be engaged during the game."
It hasn't been an easy year for Soderqvist and the Vikings as they are 4-8-1 overall and 3-4-1 in the conference.
But the Vikings showed signs of promise last weekend in a series with Concordia. The Falcons came into the weekend riding a four-game win streak but had to settle for a 2-2 tie with the Vikings Saturday after being blanked Friday.
"We're starting to play better and it felt good to play well against Concordia" Soderqvist said. "We just all have to keep working hard to play our best hockey."
Although Soderqvist still has one year left after this season, he has no intentions of hanging up his skates in 2017.
"I want to keep playing after college," Soderqvist said. "I don't know if I'll play here or in Europe yet, but I definitely want to play professional hockey."
Tommies shine on the power play
St. Thomas sits atop the MIAC with a 6-2 record. The Tommies are three points ahead of second-place Augsburg and are 8-5-2 overall on the season.
One of the keys to the Tommies' success has been their play on special teams. They went 3-for-4 on the power play in a 6-2 win over St. Mary's Saturday, earning a split in the weekend series. Meanwhile, St. Thomas forced the Cardinals into an 0-for-6 showing on the power play.
The Tommies have scored 44 goals this year and 12 have come off the power play. Four players have scored at least two power play goals, with Connor McBride leading the way with three. Opponents have struggled to convert in those situations against the Tommies, going just 7-for-57.
McBride has scored eight goals overall on the season and has also dished out four assists. Michael Dockry is second in scoring with five goals and six assists. Those two have helped St. Thomas win three of its last five games.
St. Thomas will step out of conference play this week to take on Wisconsin-Stout and Wisconsin-Eau Claire. They are the final two nonconference games of the season for the Tommies, who will play five of their final eight MIAC games on the road. The Tommies are 2-4-1 on the road this season.
Pointers on a roll
Wisconsin-Stevens Point is on a hot streak at the moment, winning its last four games.
The fourth-ranked Pointers have been a force offensively during the streak, scoring 27 goals. They will look to continue that trend this weekend when they play at St. Mary's and Augsburg.
The good news for the Pointers is they are 6-0 against the MAC this season. They are also 5-2 away from home and own a 10-3-1 overall record.
Joe Kalisz has played a pivotal role in the offensive success for Stevens Point, scoring 12 goals and dishing out 13 assists. Eight other players have tallied at least 10 points this year for a Pointers team eager to make another trip to the national championship game.
Lawrence Cornellier ranks second in points as he has come through with 11 goals and four assists. Alex Brooks is the team leader in assists with 11. He has also come up with three goals.
The Pointers, averaging nearly five goals per game, have struck for 69 goals in all off of 115 assists. They have allowed only 35 goals as Max Milosek and Jesse Gordichuk have split time in goal this year. Milosek has started nine games and owns a 7-2-1 record.
Bulldogs keep streak alive
Adrian has won nine consecutive games and is showing no signs of slowing down anytime soon. The Bulldogs are 12-1-1 overall and 8-1-1 in the NCHA as they sit atop the South Division of the conference standings.
The fact that Adrian has scored 79 goals has a lot to do with its success. The second-ranked Bulldogs' explosive offense has been nearly impossible to slow down, They are coming off a weekend where they scored 19 goals in a sweep of Aurora. Two home games against Lake Forest are up next for Adrian.
Nine players have racked up at least 10 points on the year, with Mathew Thompson paving the way with 10 goals and 11 assists.
Connor Armour has been a viable play-maker for the Bulldogs, dishing out 11 assists to go along with his three goals. Six other players have scored at least six goals, with Jeremy Olinyk striking for eight goals and 11 assists.
What is equally impressive about the Bulldogs' offense is the unselfish play that has helped fuel the success. Adrian has tallied 133 assists on the year.
Best of the West
The West Region once again features some of the top teams in the nation. Four of the top 10 teams in the USCHO.com Division III Men's Poll are from the region, including No. 1 St. Norbert and No. 2 Adrian. Stevens Point is fourth in the nation and Eau Claire is eighth.
Wisconsin-River Falls and the Milwaukee School of Engineering are in the top 15, ranking 13th and 15th, respectively, this week.